When Is MLB Opening Day 2022? Date, Schedule For First Baseball Games
All 30 teams are scheduled to play when baseball returns for MLB Opening Day 2022. Meaningful games are set to start on March 31, beginning the seven-month journey toward the World Series.
Opening Day 2022 is highlighted by rivalry games. Of the 15 games on the schedule, only four contests feature two teams that aren't in the same division.
The New York Yankees will play in one of those matchups when they visit the Texas Rangers on Opening Day. The Yankees were eliminated in the 2021 American League Wild-Card Game. The Rangers had a disappointing 60-win season, giving Texas the AL's second-worst record.
The reigning champion Atlanta Braves visit the Miami Marlins to start their championship defense. Atlanta has won the NL East four years in a row.
The Los Angeles Dodgers will host the Colorado Rockies in the first of 162 games. Los Angeles enters the season as the MLB favorites after three trips to the World Series in the last five years.
In the only Opening Day matchup between a pair of teams that made last year's playoffs, the Boston Red Sox are scheduled to host the Tampa Bay Rays. Tampa Bay won the AL East, but the Red Sox upset the Rays in the ALDS.
Boston was defeated by the Houston Astros in the ALCS. Coming off their loss to the Braves in the Fall Classic, the Astros start the 2022 season against the Philadelphia Phillies.
The MLB lockout could threaten the scheduled start to the season. Commissioner Rob Manfred has indicated that Opening Day will be delayed if a new CBA isn't reached by the end of February.
Here is the complete schedule for MLB Opening Day 2022.
Colorado Rockies at Los Angeles Dodgers, TBD
Kansas City Royals at Cleveland Guardians, TBD
St. Louis Cardinals at Pittsburgh Pirates, 1:05 p.m. EST
Washington Nationals at New York Mets, 1:10 p.m. EST
Arizona Diamondbacks at Milwaukee Brewers, 2:10 p.m. EST
Tampa Bay Rays at Boston Red Sox, 2:10 p.m. EST
Toronto Blue Jays at Baltimore Orioles, 3:05 p.m. EST
New York Yankees at Texas Rangers, 4:05 p.m. EST
Atlanta Braves at Miami Marlins, 4:10 p.m. EST
Chicago Cubs at Cincinnati Reds, 4:10 p.m. EST
Minnesota Twins at Chicago White Sox, 4:10 p.m. EST
San Francisco Giants at San Diego Padres, 4:10 p.m. EST
Philadelphia Phillies at Houston Astros, 7:09 p.m. EST
Los Angeles Angels at Oakland Athletics, 10:07 p.m. EST
Detroit Tigers at Seattle Mariners, 10:10 p.m. EST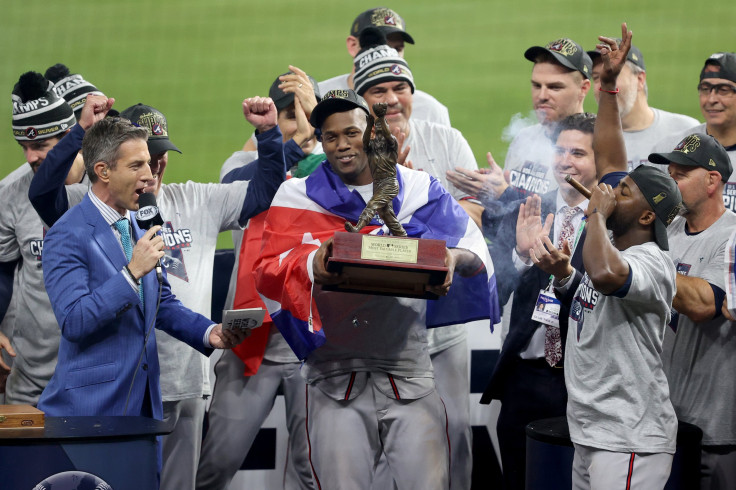 © Copyright IBTimes 2023. All rights reserved.