When Will Julian Assange Be Released? WikiLeaks Asks Investigators To 'Do The Right Thing' One Year After UN Decision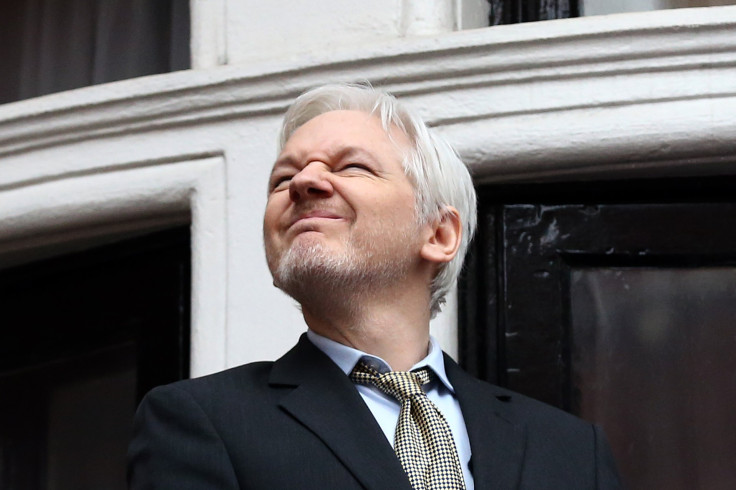 A year has passed since a United Nations committee decided WikiLeaks founder Julian Assange was being arbitrarily detained by the United Kingdom and Sweden, but he's still living in hiding in London — and he's calling for change.
WikiLeaks put out a news release Monday demanding the European countries "do the right thing," ensure Assange's free movement around the world and "restore [his] liberty."
"These two states signed treaties to recognize the UN and its human rights mechanisms," Assange said in the release. "This refusal to respect the umpire's decision comes at a terrible cost: Other states can now illegally detain Swedish and UK citizens with effective impunity, and the UN human rights system more broadly is imperiled."
The UN Working Group on Arbitrary Detention, a collection of international human rights experts, announced Feb. 5, 2016 that they believed Assange was unfairly confined and put on house arrest following allegations of sexual assault stemming from a 2010 visit to Sweden. The group found that his detention was arbitrary because he was kept in isolation while in prison, and Swedish prosecutors weren't being diligent enough in handling Assange's case in a speedy manner. It wanted to see his detention "be brought to an end, that his physical integrity and freedom of movement be respected, and that he should be entitled to an enforceable right to compensation," panel leader Seong-Phil Hong said in a statement at the time.
Assange has been living in the Ecuadorian embassy in London since 2012 in order to avoid extradition. He stays in a small room that has a bed, computer, shower, treadmill, sun lamp and kitchen equipment, according to BBC News.
The UN group reaffirmed its decision in November after an appeal from the British government, causing WikiLeaks to renew its efforts to free Assange. WikiLeaks, which under Assange's leadership has published emails from former Alaska Gov. Sarah Palin, cables from U.S embassies and internal messages from Hillary Clinton's campaign chairman, shared Monday a link to justice4assange.com, a website demanding his fair treatment and release.
Amid all of this, however, Assange may end up being extradited for another reason.
Assange previously said that if former President Barack Obama commuted the sentence of fellow whistleblower Chelsea Manning, he would travel to the United States to face espionage charges. Obama did so last month, and Assange recently told ITV investigators should now know "the ball is in their court."
© Copyright IBTimes 2023. All rights reserved.