Where Do They Celebrate Day Of The Dead? Pictures Of Costumes, Face Paint And Sugar Skulls For Día De Los Muertos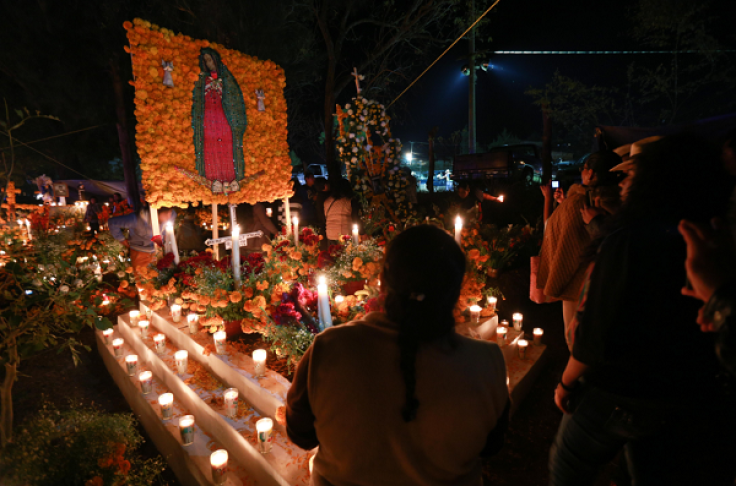 Día De Los Muertos, or Day of the Dead, starts on Nov. 1 and ends on the following day, Nov. 2. The Mexican holiday, which celebrates the lives of deceased ancestors, coincides with the All Saints Day and All Souls Day – Catholic holidays dedicated to honoring the saints of the church and those who have died but not yet gone to heaven respectively. The official date for Día De Los Muertos falls every year on Nov. 2, however, celebrations can start as early as Halloween.
Although Day of the Dead originated in Mexico, Hispanic and Latino people from countries all over Central and South America, Europe and Asia celebrate the festive holiday. Day of the Dead has also become widely recognized throughout the U.S. thanks to the more than 55 million Hispanic and Latino people living throughout the country.
Rather than dressing in all black and mourning the deaths of loved ones, Día De Los Muertos is actually a colorful and vibrant celebration meant to remember relatives and friends who have died. While most people who recognize the international holiday decorate their homes and the grave sites of their ancestors with altars, relics, candles, foods and drinks favored by the deceased, many cities will join in on the festivities by hosting parades, community-wide ceremonies and street parties.
Many people will wear face makeup resembling skulls and indulge on sugar skulls, a popular skull-shaped candy lined with colorful rows of icing, sugar and glitter, on Day of the Dead. However, the décor represents much more of a joyous and fun occasion than a scary one. Whether celebrators are partying in cemeteries or in the streets, observers can still be seen wearing elaborate, bright-colored Catrina and Catrin costumes reminiscent of the famous La Calavera Catrina (the elegant skull) drawing, flamboyant floral headbands and crystal-crusted sombreros.
© Copyright IBTimes 2023. All rights reserved.