While Syria Fights, Syrian Refugees Wait In The Mud And Freeze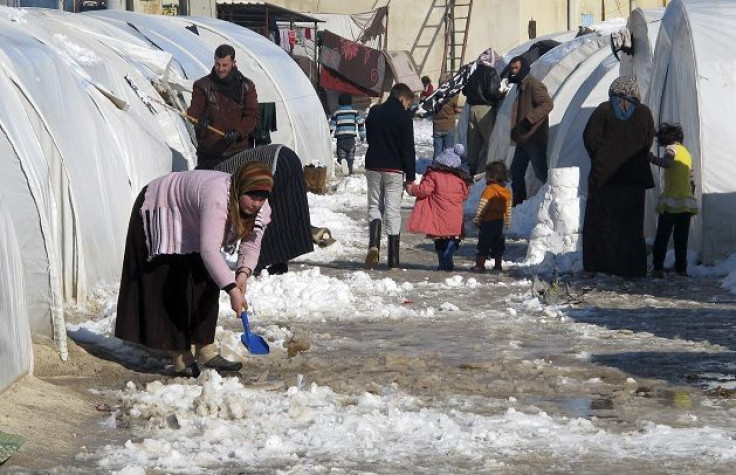 Mud, cold, rain, snow and no working toilets, much less hot showers -- this is what the residents of the Za'atri refugee camp in Jordan are facing this winter.
In a press release Thursday, Unicef noted that the Syrian children in the Za'atri camp are facing deteriorating living situations, including flooding and lack of adequate plumbing, increasing the threat of disease spreading. Areas used for playgrounds and schools have either flooded or collapsed -- and Unicef has combined forces with other organizations to restore services that have fallen apart since the winter began.
"The next 72 hours will be a critical test of our ability to meet the basic needs of children and their families at Za'atri," Unicef Jordan Representative Dominique Hyde said in the statement. "Alongside the government of Jordan and our other partners, we are doing everything possible to ensure services are maintained and that children stay warm and dry."
Unicef added they are "working around the clock" to distribute warm and dry clothing and blankets and to replace mattresses damaged in the rains.
However, Hyde noted, Unicef has run out of money.
"The resources we raised in 2012 have been exhausted, and no fresh funds have come for this year," he said. "We urgently appeal to the international community and donors in general to commit fresh funding as soon as possible."
Approximately 55,000 registered Syrian refugees live in the Za'atri refugee camp -- another 10,000 have arrived in Jordan since the beginning of January alone.
The U.N. announced on Thursday that Secretary-General Ban Ki-Moon will hold a high-level conference to discuss raising more funds for the Syrian refugees. Unicef says they need at least $1 billion to handle the needs of both the 2 million Syrians displaced within the country itself and the more than 500,000 refugees who have fled Syria into various neighboring countries.
Getting that money into and around Syria will not be easy. In an interview on Thursday, the head of the Red Cross in Syria, Marianne Gasser, said in a video message that transportation around the country has been severely impaired.
"It took us nine-and-a-half hours from Damascus to reach Idlib city [in the northwest of the country]," Gasser said. "In normal situations, it would take us less than four hours."
Gasser said that she and her team visited a Red Crescent hospital, one of only two functioning hospitals in Idlib, where there once used to be nine.
"Health personnel told us there is no electricity and no water since 12 days," she said. "Some equipment was damaged because of the fighting, and they lack of a lot of medicines for chronic diseases, especially for children."
She also said that most of the displaced persons were either living with relatives or friends or being sheltered in schools and public buildings without proper sanitation.
© Copyright IBTimes 2023. All rights reserved.