Who Are The Martyrs Of Yarmouk And What Do They Want With 20 Filipino UN Peacekeepers?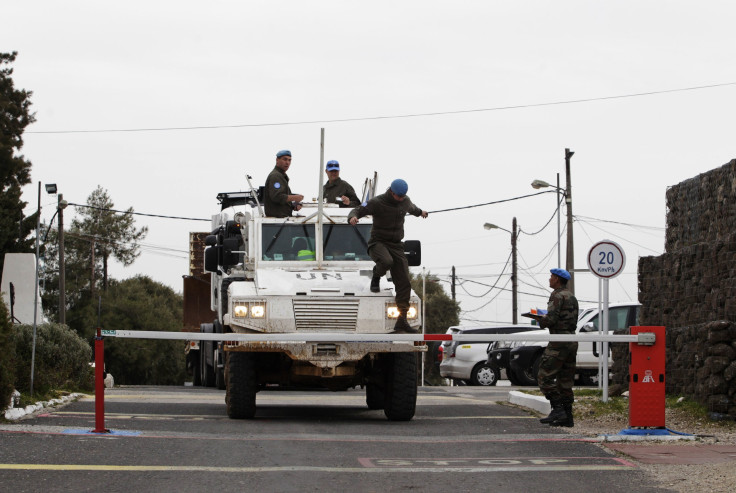 Negotiations began on Thursday for the 21 Filipino U.N. peacekeepers who were kidnapped by Syrian rebels near the Golan Heights on Wednesday. So far, no progress has been made. The Philippines government said on Friday that the personnel who were in Syria have not been freed, as was previously expected, Al-Jazeera reported.
"I don't know exactly know what happened, why the expected release did not happen, but the demand is still there," a spokesman for the government, Raul Hernandez, told reporters in Manila.
Meanwhile, a spokesman for the Syrian rebels, who call themselves the Yarmouk Martyrs Brigade, denied that there were even talks going on. "There are no negotiations between any parties," spokesman Abu Essam Taseel said in a statement. "Negotiations should be between [the United Nations] and the regime of Bashar al-Assad to stop the bombing [around Jamlah, where the Filipinos were kidnapped] and lift the blockade of the area so it can be safe."
Since their kidnapping, several videos posted online by the UK-based Syrian Observatory for Human Rights have featured the kidnapped U.N. personnel saying they are being treated well, BBC said on Thursday, but are clearly parroting the words and demands of their kidnappers.
"We cannot go home, because the government of Assad [does] not stop the bombing. To our family, we hope to see you soon, and we are OK here," the hostages said.
Supporters of the Syrian opposition forces have condemned the kidnapping. A spokeswoman for the Syrian Expatriates Organization, Sawsan Jabri, said this will "not be justifiable.
"It's unfortunate to have this from the opposition," Jabri said. "This is not acceptable by any means, not from government or from the opposition."
Jabri also said they had no idea who the brigade might be. The Free Syrian Army is not an organized enterprise and is comprised mostly of roving bands of young men who give their units names seemingly at random. Some, like Jabat al-Nusra, are known entities that have played a big role in the fighting. Others, such as this newly emerged Martyrs of Yarmouk, are unknown.
"We have no idea who the group is for certain," Jabri said, adding that when she saw the group's videos, she couldn't place the speaker's accent. The dialects of Arabic vary greatly from between countries and regions, often so much so that native speakers from different areas may not understand each other.
"I saw the video, and I thought: Who is this group? They are not known. And the accent is not something we're used to hearing. It's weird; it's not Syrian. It's very unclear what area they are from.
"I think we have to wait a little bit and see who is responsible and who they are," she added.
Sarab al-Jijakli, a spokesman for the National Alliance for Syria, also said the details of who the group was were very thin. "In the video, they look like young kids," al-Jijakli said. "They're probably very localized, and they probably got into something they didn't understand and are only just now realizing the ramifications.
Now, after their refusal to release the hostages, the Martyrs are probably concerned the regime of Assad is about to strike in order to make Assad look like the good guy.
"They're playing into a prime opportunity for the regime. It's a problematic situation that shouldn't have happened," al-Jijakli continued. "They should be concerned that, if they release the hostages without any major publicity, the regime might come in and bomb them all [as a PR move]. That's probably something they've realized. It's a predicament they shouldn't have gotten into.
"No one was condoning this behavior," Jijakli emphasized. "They screwed up, and now [Assad] is looking at an opportunity to pounce. We hope [the hostages] are released and we can move on with addressing the real enemy."
U.N. spokesman Martin Nerisky said the U.N. will continue its peacekeeping operations near the Golan Heights.
© Copyright IBTimes 2023. All rights reserved.