Who Is The Best NBA Player? Kevin Durant Called Top Basketball Star With LeBron James Eliminated
LeBron James lost more than just an opportunity to win another championship when the Los Angeles Lakers were eliminated from the first round of the 2021 NBA playoffs. The reigning NBA Finals MVP might no longer be the league's best player, a title that Kevin Durant has arguably seized this postseason.
No one has been better than Durant through the first two rounds of the playoffs. Durant had a historic 49-point triple-double in the Brooklyn Nets' Game 5 victory over the Milwaukee Bucks, prompting two-time NBA MVP Giannis Antetokounmpo to recognize his opponent as the top performer in the sport.
"He's the best player in the world right now," Giannis Antetokounmpo told reporters after Milwaukee's Game 5 loss.
The opinion expressed by Antetokounmpo is being echoed by other players and countless basketball fans. Durant has led the Nets to the doorstep of an appearance in the Eastern Conference Finals, putting up monster numbers as his two co-stars deal with serious injuries.
Brooklyn has a 3-2 series lead over Milwaukee, even though the Nets have been without either James Harden or Kyrie Irving for every contest. A clearly limited Harden was essentially used as a decoy in Game 5 as Durant posted 49 points, 17 rebounds, 10 assists, two blocks and three steals in one of the greatest individual playoff games of all time.
In 10 playoff games, Durant is averaging 33.1 points, 9.1 rebounds and 4.4 assists per game while shooting 52.3% from the field.
It was around this time in the playoffs two years ago that Durant looked like the NBA's best player as James watched the postseason from home. Then came Durant's calf strain and the subsequent Achilles tear that forced him to miss all of last season. Durant was limited to just 35 games in the 2020-2021 regular season as he dealt with a hamstring injury and Brooklyn took a cautious approach with him.
Durant is playing as if he hasn't missed a beat since suffering an injury that was supposed to alter the trajectory of his career. Not only has he started in every playoff game as the league's superstars continue to go down with injuries, but Durant didn't miss a single second of Brooklyn's Game 5 win over Milwaukee.
The last time someone played an entire NBA playoff game, LeBron James fell one assist shy of a 35-point triple-double as he carried the Cleveland Cavaliers past the Boston Celtics in Game 7 of the 2018 Eastern Conference Finals. In many ways, it was similar to what Durant did in Tuesday's Game 5.
Heading into his 19th NBA season, James might no longer have that kind of performance in him against a championship contender. The 36-year-old was unable to lead the Lakers past the Phoenix Suns in the first round. Los Angeles was defeated in three straight games after Anthony Davis suffered a groin injury and was effectively lost for the series.
At 32 years old, Durant might be playing the best basketball of his career. It's a career that includes four scoring titles, two NBA Finals MVP awards, a regular-season MVP award and 10 All-Star appearances before Durant joined Brooklyn.
In each of the two seasons prior to tearing his ACL, Durant and the Golden State Warriors beat James' Cavs in the Finals. Durant was the best player on a roster that included Stephen Curry. Even when Harden and Irving are healthy, there's no question that Durant is Brooklyn's No. 1 player.
James has defied the odds before, and he could do it again next season. The 36-year-old was still recovering from a high ankle sprain that he suffered on March 20. James is only eight months removed from winning a championship and proving that he was still the NBA's top star.
If Durant leads the Nets to a title, it could be hard to dispute the notion that he has reached the same level as James, if not outright surpassed him.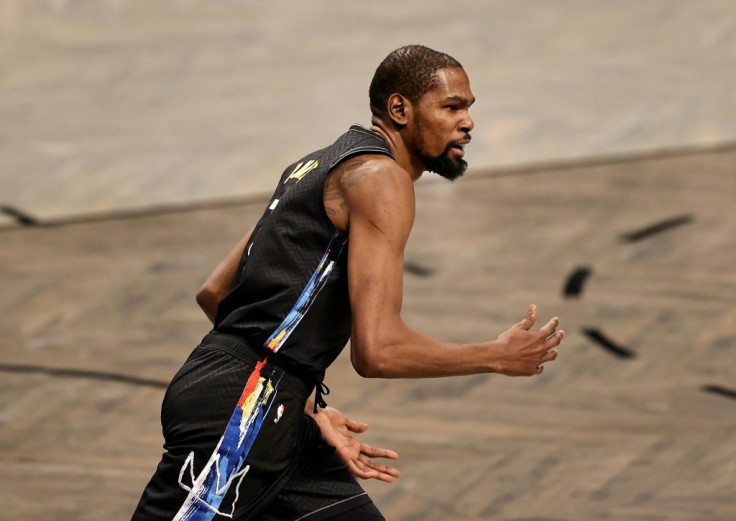 © Copyright IBTimes 2023. All rights reserved.