Who Is Bongbong Marcos? Philippines VP Candidate Popular Among Millennials Unfamiliar With Father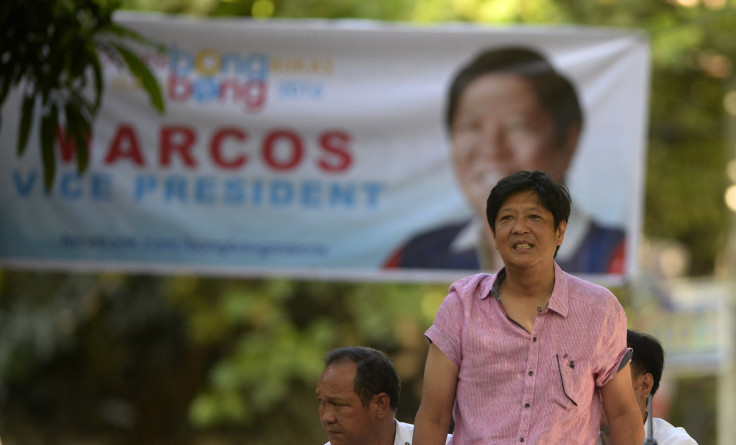 While the United States' political scene buzzes about a candidate named Marco, the Philippines is debating one named Marcos.
Ferdinand Marcos Jr., known as Bongbong, has been campaigning for vice president in the country's upcoming elections for months. But now that a survey has put the senator in first place, pundits are examining his support base — and activists are ramping up their criticism of the candidate.
Marcos is the son of Ferdinand Marcos, who served as president and later dictator of the Philippines from 1965 to 1986. After the elder Marcos imposed martial law, government officials were accused of arresting, torturing and executing dissenters, leading to nearly 1,000 civil and criminal cases against the family, according to the New York Times. The leader was ultimately ousted by the People Power revolution and died in Hawaii shortly thereafter amid allegations the family had stolen money from the Philippines.
Decades later, however, Bongbong Marcos has become a popular choice for vice president, which in the Philippines is its own ticket. As of Feb. 15, he was tied for first place with Sen. Francis Escudero, each with 26 percent support, Business World reported. Richard Javad Heydarian, a political science expert at De La Salle University, told Bloomberg this was due in part to the young age of Marcos' fans.
"The millennials are falling into a post-People Power state of mind, choosing to half-forget the horrors of martial law," Heydarian said. "With growing frustrations over the failures of post-martial-law leadership, from heavy traffic to uneven development, people are embracing historical amnesia and flirting with the idea of strongman rule."
Local Rep. Terry Ridon told told the Inquirer last week that he thought young voters would feel otherwise had they experienced the senior Marcos' rule in the '80s. "If the millennials were alive during the dictatorship, they would be the first to call out the Marcoses for their opulence and excesses, similar to what social media does now against the high and mighty among us," he added.
Marcos has insisted he has nothing to apologize for, citing thousands of kilometers in roads built, an improved literacy rate and robust agricultural policy as his father's legacy, according to Bloomberg.
But some Filipinos disagree, and they're not standing by while the youth carry him to victory in the May election. A group of former inmates and alleged torture victims have formed the Campaign Against the Return of the Marcoses to Malacañang in an effort to end his bid for vice president.
"We will hound his campaign," activist Bonifacio Ilagan told Agence France-Presse. "He will redeem the family, rewrite history and bring back his father's abusive leadership framework."
© Copyright IBTimes 2023. All rights reserved.
FOLLOW MORE IBT NEWS ON THE BELOW CHANNELS