Who Is Chung Mong-Joon? FIFA Presidential Candidate Aims To Replace Sepp Blatter, End Corruption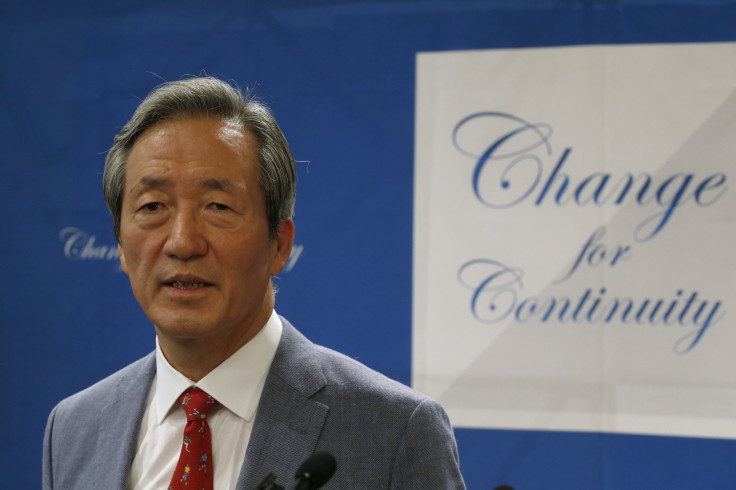 Chung Mong-Joon, the former president of South Korea's soccer association, announced his candidacy Monday for FIFA's presidency. Chung vowed to fight widespread corruption within FIFA's leadership, months after longtime FIFA President Sepp Blatter stepped down from his post amid the unprecedented arrests of nine organization executives on bribery charges.
"The real reason FIFA [the international soccer governing body] has become such a corrupt organization is because the same person and his cronies have been running it for 40 years. Absolute power corrupts absolutely," Chung said of Blatter's leadership during a press conference in Paris, the Associated Press reported. "It has pained me to witness the spectacle of the FIFA president being booed by the fans at football stadiums everywhere."
The U.S. Justice Department on May 27 indicted nine current and former FIFA executives, as well as five marketing officials linked to the organization, on charges they accepted millions of dollars in bribes in exchange for preferential treatment for the disbursal of media and sponsorship rights. Blatter won re-election two days later, only to resign his post in June amid the corruption scandal. He vowed to spearhead FIFA's attempts at self-reform before relinquishing his position to a successor by Feb. 26, 2016, after the organization's next election.
Chung, 63, was instrumental in bringing the World Cup to Seoul, South Korea, in 2002, CNN reported. He served on FIFA's executive committee until 2011. A billionaire executive in the Hyundai Group, Chung also ran a failed campaign to become South Korea's President in 2012. Within FIFA, he currently holds the title of honorary vice president.
Chung will compete against Michael Platini, the current head of Union of European Football Association, who also announced his candidacy. FIFA vice president Prince ali bin al-Hussein, who Blatter defeated in last May's elections, is also expected to enter the race.
Though Platini is considered an early favorite to replace Blatter, critics allege his ties with FIFA's existing leadership run too deep for him to lead meaningful reform.
"Michael Platini was a great football player, and he is my good friend. His problem is he does not seem to appreciate the seriousness of the corruption crisis at FIFA," Chung said Monday, according to Reuters.
© Copyright IBTimes 2023. All rights reserved.