Who Is Filomena Tobias? Miami Heat Fan Who Gave Joakim Noah Middle Finger Known As 'Black Widow'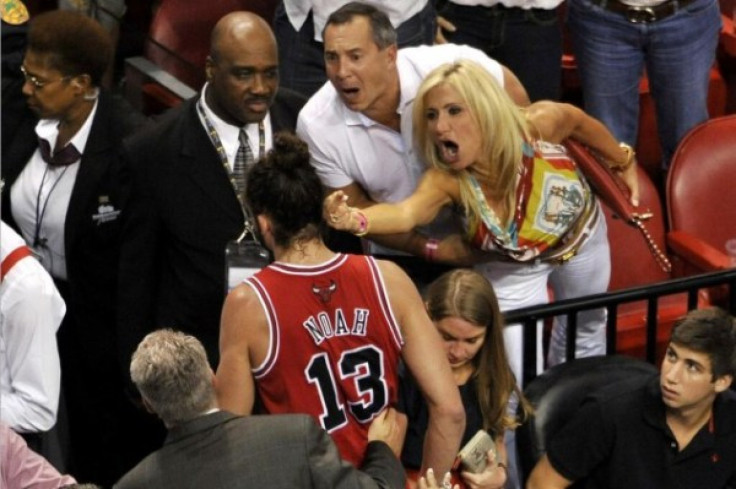 The Game Two matchup between the Miami Heat and Chicago Bulls got very chippy, as LeBron James and company won 115-78 to even up the second-round playoff series.
Nine technical fouls were handed out as the contest turned into a blowout. Both Joakim Noah and Taj Gibson were ejected.
A day later, the most talked about part of the ejections was the fan reaction that it drew. As Noah started to walk towards the Bulls locker room, the TNT cameras caught a woman giving the middle finger to the Chicago center. The picture began to circulate on the Internet and the Heat fan's identity has been discovered.
Filomena Tobias is the name of the woman who was caught yelling at Noah. She is the widow of former CNBC commentator Seth Tobias. Filomena, who used to go by Phyllis, may not have been recognized at first, but this isn't the first time she's been in the public eye.
Seth Tobias was the fourth husband of Filomena, until he was found at his home in 2007. A New York Magazine piece chronicled the sordid details of his mysterious death, which included an Internet psychic accusing Filomena of being the killer.
The incident, along with her other three marriages, has earned Filomena the nickname of the "black widow." The affluence of her former husbands has made her wealthy, allowing her to purchase good seats at Heat games.
Filomena's daughter, Victoria Racanati, told the Sun Sentinel that her mom wasn't happy about all the attention she is getting.
"She's embarrassed, but she is being a good sport," said Racanati "She was having fun just like any other fan. All she has to say is that people need to get a life."
The two teams will play Game Three on Friday and return to Miami for Game Five.
© Copyright IBTimes 2023. All rights reserved.