Who Is Gilbert Diendere? Burkina Faso Military General Leads Coup, Overthrows Transitional Government With Allies Of Former Ruler Blaise Compaore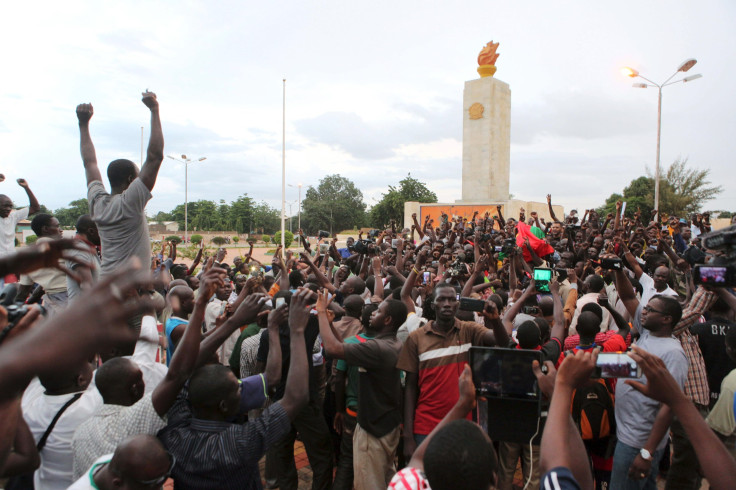 Bukina Faso's military overthrew the country's transitional government Thursday and declared control, sending the West African nation into turmoil weeks before elections are scheduled to take place. The military coup was apparently led by Gen. Gilbert Diendere, a former aide to Burkina Faso's ousted ruler, Blaise Compaore, the Associated Press reported.
Protesters gathered in pockets around the capital Ouagadougou throughout the morning, shouting in support of interim President Michal Kafando and Prime Minister Isaac Zida, who were detained by soldiers inside the presidential palace. Army troops fired warning shots to disperse the crowds while authorities canceled flights, imposed a curfew and sealed the country's borders, the New York Times reported.
There were reports on social media of fatal shootings and injuries Thursday, but they could not be independently verified. "We already count a dozen deaths," one person in Ouagadougou said on Twitter. Another posted a photo of wounded people at the Yalgado Ouédraogo Hospital in the capital.
Kafando, Zida and several ministers were holding a meeting Wednesday when presidential guards loyal to Compaore "burst into the cabinet room and kidnapped" the interim president, the prime minister and two ministers, interim parliament speaker Cheriff Sy said Wednesday in a statement to Agence France-Presse.
News outlets were reportedly shut down around the country. Radio Omega, a private Burkinabe radio station, said on Twitter its service was cut off and journalists' motorbikes were set on fire. Several other broadcast stations reportedly stopped transmitting as well, Reuters reported.
During a broadcast on state television Thursday, Lt. Col. Mamadou Bamba declared a new "National Democratic Council" had put an end "to the deviant regime of transition" in Burkina Faso and the interim president had been stripped of his powers.
Kafando was appointed interim president in Burkina Faso's transitional government in October, after then-President Compaore was forced to resign amid massive demonstrations calling for an end to his 27-year rule. The African Union had threatened the small landlocked country with sanctions unless Compaore handed over power to civilians and political parties agreed on a transitional plan in the run-up to the November elections, according to South Africa's News24.
© Copyright IBTimes 2023. All rights reserved.