Who Is Jake Olson? Blind USC Football Player Makes Successful Debut Against Western Michigan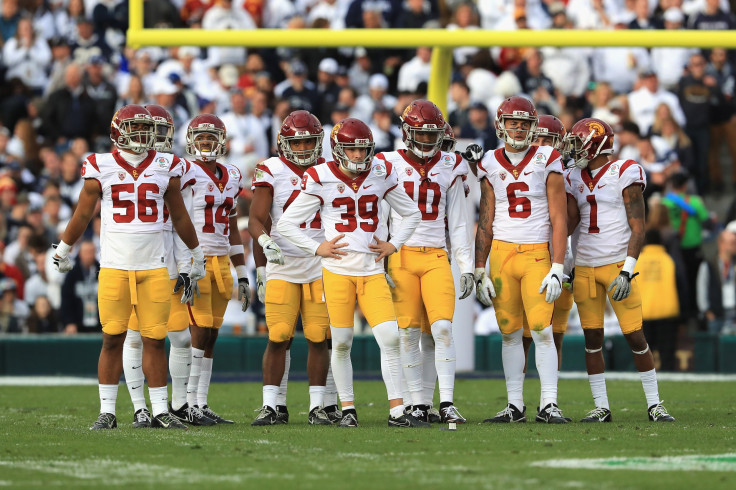 Jake Olson, a USC football player who is legally blind, made his debut Saturday when he successfully snapped an extra point in a blowout win over Western Michigan. When Olson ran onto the field in the fourth quarter with USC leading 48-31, the crowd at the Los Angeles Memorial Coliseum roared with excitement.
"I loved being out there," Olson told reporters after the game. "It was an awesome feeling, something that I'll remember forever, getting to snap at USC as a football player."
"What a pressure player," head coach Clay Helton told the Los Angeles Times. "Is that not a perfect snap at that moment? It's beyond words."
This is anything but a regular PAT.

Jake Olson, blind since age 12, just snapped for the first time in a live game. https://t.co/amyHcFoVue

— Pac-12 Network (@Pac12Network) September 3, 2017
Olson, 20, was born with retinoblastoma, a form of eye cancer, which lead to the surgical removal of his left eye when he was 10 months old as well as his right eye when he was 12 years old. Olson travels around with the aid of his service dog Quebec.
A native of Orange County, California, Olson grew up admiring the Trojans and forged a close relationship with the USC program. He attended many of their games and even accompanied them onto the field sometimes.
"I'd been able to walk out of the tunnel a couple times back when I was here in 2009, and a couple times in Seattle, but never with a uniform on, and that just makes it much more cool," Olson told USA Today in 2016. "It is one of my favorite parts."
Blind since 12 years old, blind long-snapper Jake Olson snapped a perfect ball for the #Trojans final XP pic.twitter.com/coKHPOoMft

— Michael J. Duarte (@michaeljduarte) September 3, 2017
Olsen's first officially joined the Trojans in 2015 through a scholarship with the Swim With Mike program. In July, he successfully executed two clean snaps in practice, prompting Helton to tell reporters that he hoped to have Olson on the field for a game. "I'm having conversations with our medical staff. I just want him to be ready if the opportunity arises," Helton said.
Last year, Olson, who is a business administration major, explained that his dream was to eventually land a starting role with the Trojans. He said he wanted to become the team's go-to snapper for extra points and fields goals.
"I just have to continue to take steps forward until everyone is on board and some of those doubts that I know some coaches have are gone," he tweeted in 2016. "I'm waiting to have more opportunities to show the coaches that I have the talent to go out there and snap."
The 6-foot-4 redshirt sophomore used to play flag football in middle school. In his junior year of high school, he got a chance to play contact football. Before Olson got the opportunity to play for the Trojans, he strengthened his body in the weight room with former strength and conditioning coaching intern Nick Donnelly.
Donnelly expressed his initial apprehensions about working with a blind athlete. He feared that something could go wrong, however, Olson assured him otherwise.
"He says to me, 'Coach Nick, I'm not made out of glass, I'm fine,'" Donnelly told USA Today. "He doesn't want sympathy, he doesn't want you to walk on your toes with him. He wants to be treated like a Division-1 athlete. He wants to lift like an athlete, he wants to practice like an athlete."
Olson's resilience awarded him the opportunity to snap for the Trojans. He said he couldn't have accomplished Saturday's successful snap on his own.
"It's an operation, from a holder just making sure I'm lined up straight and it just creates a lot of trust."
© Copyright IBTimes 2023. All rights reserved.