Who Is Lamont Marcell Jacobs? Italian Sprinter Shines In The 100 Meters
Sprinter Lamont Marcell Jacobs has made history Sunday when he set a European record in the men's 100-meter dash, finishing in 9.80 seconds, to win the gold medal at the Tokyo Olympics.
Jacobs, 26, set the bar as the first Italian man to win the competition and despite having the slowest reaction time out of the blocks. He held off American Fred Kerley by 0.04 seconds.
Before his victory, few sports fans had ever heard of him. Not only had Jacobs never won a medal in the Olympics, he had never finished first in the 100 meters at any major competition.
"It was my childhood dream to win an Olympic Games, and obviously, a dream can turn into something different, but to run this final and win it is a dream come true," he told reporters after his win.
"I want to thank my family that has always supported me, my children, and my mom, who has been my number one fan since I was a child, and my team who have followed me and those who support me."
Jacobs is now forever immortalized as an Olympic gold medalist. Here are some things people may not know about the superstar sprinter.
Jacobs Was Born In Texas
Although he represented Italy at the Tokyo Olympics, Jacobs was actually born in El Paso, Texas. His father is American and his mother is from Italy. During an interview with Corriere Della Sera, Jacobs' mother Viviana revealed she returned to Italy shortly after her son was born.
"I met Marcell's father in Vicenza. He was a soldier in the U.S. Army. I was 16 and he was 18. We got married and moved to Texas," she explained.
"After about three years, Marcell was born. But 20 days later, his father was transferred to South Korea. It was impossible to follow him, so I decided to go back to Italy. Marcell wasn't even a month old."
Jacobs Tried Several Sports Before Landing On Athletics
The Olympian's mother also revealed Jacobs competed in several sports before finding his perfect match. "Coming from a family of motorcyclists, I always advised against that choice," she said.
"For the rest, he tried everything, from swimming to basketball: I wanted him to discover his passion. Plus I had to make him tired because he did not stand still even while he slept!"
Eventually, a coach at school suggested Jacobs try out athletics.
Jacobs Began Gets Noticed In 2016
While he was a relative unknown before sprinting to Olympic gold, he received some attention in 2016 when he won the long jump competition with a distance of 7.89 meters at the Italian Championships.
He gained more attention early this year at the European Athletics Indoor Championships in Torun, Poland, where Jacobs won gold in the 60-meter dash.
He Didn't Set The World Record
The world record is 9.58 seconds, which was set in 2009 by Jamaica's Usain Bolt, who has won the 100-meter dash at the Olympics in 2008, 2012, and 2016.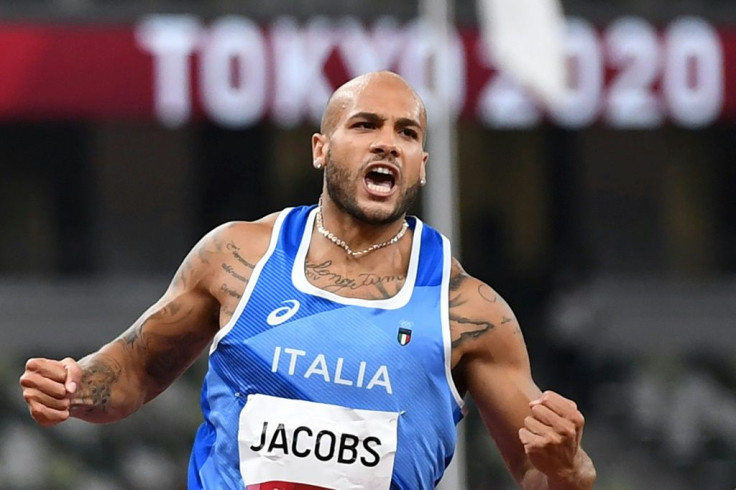 © Copyright IBTimes 2023. All rights reserved.