Who Is Mary Pat Christie? Governor's Wife Was Wall Street Trader, Family Breadwinner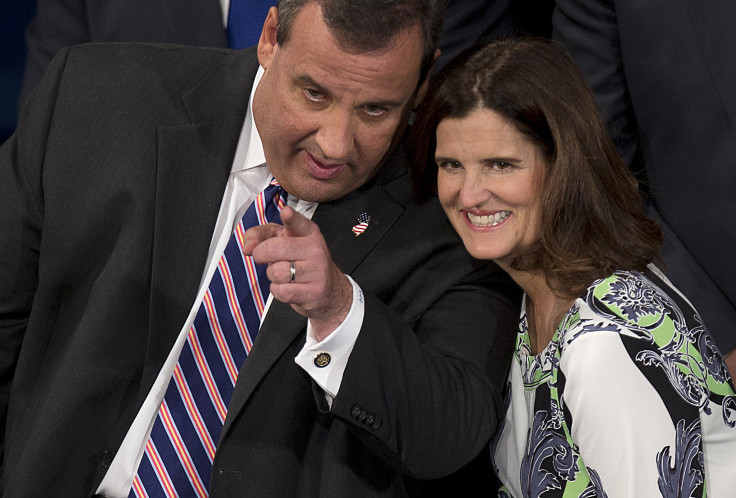 Mary Pat Christie took the reins from the man who would become her husband as student body president at the University of Delaware following Chris Christie's graduation in 1984. More than 30 years later, New Jersey Gov. Chris Christie is set for a different sort of presidential run. The brash, tough-talking candidate entered the ever-crowding Republican field of presidential hopefuls on Tuesday. Mary Pat was expected to accompany her husband on the campaign, taking a hiatus from her former high-powered position on Wall Street that made her the primary breadwinner of the Christie household.
Mary Pat Foster grew up in Paoli, Pennsylvania, while Chris was from Livingston, New Jersey, where he scheduled his announcement speech Tuesday. The two met at the University of Delaware, where they both went to college. Chris Christie, one year older, was student body president his senior year before Mary Pat took over. Even then, Chris was a bit more pointed in his approach to leading, while Mary Pat was perhaps more considered.
"She led more by listening, by understanding situations, by developing really good decisions, and Chris was much more of an 'I've got the answer!' type," said Timothy Brooks, the dean of students at the time, to Bloomberg in 2013.
Mary Pat and Chris married in 1986. Mary Pat earned an MBA from Seton Hall University and rocketed to success in bond trading. Amid rumors her husband was mounting a presidential run, she announced a hiatus from her job as managing director at the specialty investment firm Angelo, Gordon & Co in April. Before working at Angelo, Gordon & Co., Christie previously had stints at JPMorgan Chase, Fleet Securities, Cantor Fitzgerald, and Mendham Capital Management, a firm she co-founded, reported Bloomberg.
"Mrs. Christie has decided to take a hiatus from her work in the finance world to spend more time with her family and young children," a spokesman for the governor said at the time, according to the Wall Street Journal.
Mary Pat's successes in the finance world meant she earned a living that dwarfed her husband's salary. It was a point that Chris Christie often brought up, even saying her success allowed him to enter politics. The New Jersey Governor's office reported last year that Mary Pat earned more than $475,000 at Angelo, Gordon & Co., reported Politico.
"I've always been the breadwinner," Mary Pat Christie said in 2013, according to Bloomberg. "I really just wanted him to be happy in his career, and he is."
Christie was once asked if his wife earning more was emasculating or affected him in a negative way. He reported a relatively hefty income of just over $160,000 last year.
"Listen," Christie replied, according to Bloomberg, "I just have three words for you: joint checking account. That money all lands in the same place, baby."
With the presidential campaign set to get under way, the hectic lifestyle will perhaps be more manageable with Mary Pat able to be around. The couple has four children, two sons and two daughters, two of whom are college-age. Mary Pat herself was the ninth of ten children. Chris Christie addressed Mary Pat's stepping down in April and commented on how life changed with her able to be around the family more.
"Mary Pat stepped down because Mary Pat wanted to step down," Christine said on his monthly "Ask the Governor" radio show.
"She's been thinking about this for a while," Christie added about his wife's decision to leave her job. "It makes my life easier when she's around and not in New York every day." With his wife around he said he could, "react to things in a way that's completely natural and not have to worry about what I say."
During Christie's time as governor, Mary Pat has spearheaded a number of projects, including a Hurricane Sandy relief effort that utilized her business knowledge. She organized the Hurricane Sandy New Jersey Relief Fund, which raised nearly $40 million. She also launched the New Jersey Heroes in 2010, which recognizes and celebrates the work done by individuals and non-profit organizations in the state. She has handed out $800,000 in grants and scholarships to thirty "heroes" to date, according to the New Jersey Governor's website.
Mary Pat has also been a major fundraiser for her husband and plays a part in many important decisions. "She's a co-equal branch of the enterprise," New Jersey state Sen. Joe Kyrillos, a close friend of the Christies, said in 2011, according to the Daily Beast. During his campaign for governor, "She was part of every meeting, part of every conference call, part of every briefing," Kyrillos told the Daily Beast.
© Copyright IBTimes 2023. All rights reserved.