Who Is Peter Kassig? American Threatened As ISIS' Next Beheading Victim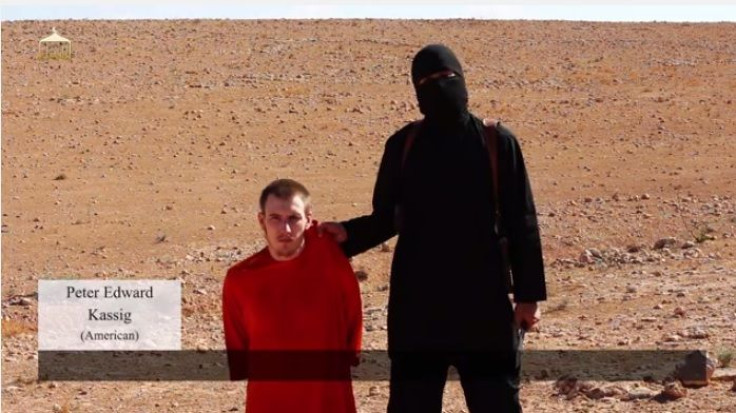 The video released Friday by the Islamic State group of the beheading of British hostage Alan Henning ended with the presentation of Peter Kassig, an American aid worker who the terror network says will be executed if the air campaign against ISIS does not end. Kassig, 26, is a former U.S. Army Ranger from Indiana who founded a Syrian refugee aid group called Special Emergency Response and Assistance after he was deployed in Iraq in 2007, according to a fundraising campaign statement posted in his name on the FundRazr.com crowdfunding site.
He said in the statement that the outpouring of support he received after CNN ran a story on his experience as a volunteer medic in a hospital in Tripoli, Lebanon, drove him to become interested in helping people in war zones. "I felt that more could be done to help people and that the most effective way to bring assistance was through a close connection to those who were in desperate need, by meeting them where they were," Kassig wrote.
ISIS, or the Islamic State group, has killed a total of four people since August in brutal beheading videos. A U.S.-led coalition has launched airstrikes against the militants in Syria and Iraq, and the videos are aimed at protesting the attacks. In each video, a masked executioner slices the victim's throat and then cuts to video of the next alleged target. The target is then killed in a subsequent video in a trend that suggests there is little hope that Kassig will be released. The other victims were British aid worker David Haines and U.S. journalists Steven Sotloff and James Foley.
As of Jan. 8, 2013, Kassig was living in Beirut, working with SERA to help Syrian refugees in Syria and Lebanon, according to Time. The organization had just completed its first operation within Syria, distributing donated supplies including propane fuel tanks, cooking stoves and food to refugees.
Kassig was described as "tattooed and pale" in the CNN piece, which explained that he joined the Army Rangers in 2006 and was honorably discharged after his "brief tour" in Iraq for medical reasons, after which he returned to the U.S. He trained to become an emergency medical technician, CNN wrote, adding that he "fell in love, got married and quickly divorced" before enrolling at Butler University. But he wasn't satisfied in the U.S.
"I needed to make a drastic decision. It was a huge identity thing; it was time to re-evaluate," he told CNN. "I needed a game changer."
He completed his semester of college and then returned to the Middle East to dedicate himself to helping refugees. He was presumably working with his refugee organization until he was abducted by ISIS. The details of when he was kidnapped have not been released publicly. The Daily Beast reported in October that he was working at the time as a medic in the city of Deir ez-Zor in central Syria.
Kassig appears to have been acutely aware of the dangers of working on the ground in Syria. He discussed how he dealt with such concerns in an interview posted on the website Syria Deeply in February, long before ISIS became a household name and its beheading videos repeatedly shocked the world.
"We speak to people, meet with leaders of camps and LCCs (local coordination committees) speak to everyday people and trying to understand from them what they need, what they see as the problems, as the potential dangers," he said. "From all that you're able to gain a fairly decent idea of an appropriate direction to go.... You have to be really careful, extremely patient and very conscientious of every potential impact you're going to have on that population."
© Copyright IBTimes 2023. All rights reserved.