Who Is Rodrigo Duterte? 'Trump' of Philippines, 'Punisher' Projected For Presidential Win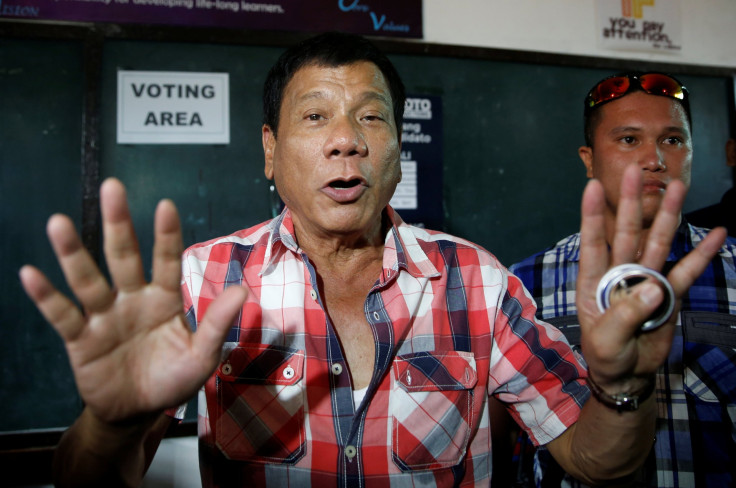 Early results indicate that the Philippines is set to elect 71-year-old presidential candidate Rodrigo Duterte, a tough-talking, crass mayor dubbed "the Punisher" for his lax attitude toward extrajudicial killings. Duterte has captured voters with blunt promises to kill criminals and end corruption within six months, his obscenity-filled campaign featuring jokes about rape and bragging about Viagra-fueled sexual conquests, the Guardian reported Monday.
The campaign has earned the mayor the moniker of "the Donald Trump of the Philippines," a reference to the blustery presumptive Republican nominee in the United States presidential election. Duterte has been accused of being more than just crass, however, with human rights groups alleging he's allowed death squads to kill more than 1,000 criminals under his more than 20 years of leadership as mayor of Davao City. He's denied it at times and at other times has seemingly bragged about it.
At his final rally in Manila on Saturday, he made remarks that he would kill criminals, NBC News reported. "All of you who are into drugs, you sons of b------, I will really kill you," Duterte told a large cheering crowd. "I have no patience, I have no middle ground. Either you kill me or I will kill you idiots."
Duterte seems to have engaged enough voters with such tactics to win. The Guardian reported that with 4 percent of precincts reporting results Monday, an unofficial count had the candidate leading with more than 600,000 voters, nearly double the second-place contender. The results weren't expected until at least Tuesday.
On top of his comments about killing criminals, Duterte has made staggering remarks about an Australian missionary who was raped and killed in his town in 1989. "I looked at her face — son of a b---- — what a waste. What came to mind was, they raped her, they lined up," Duterte said. "I was angry because she was raped, that's one thing … but she was so beautiful, the mayor should have been first. What a waste."
He's called Pope Francis "son of a whore" and is an admitted womanizer but went into the election the front-runner nonetheless. And while many have jumped on board with the tough-talking mayor — seemingly having grown weary of poverty, corruption and violence — others are fearful of Duterte's leadership. Departing President Benigno Aquino III, who has successfully expanded the country's economy, has called Duterte a threat to democracy and compared him to Adolf Hitler.
The elections have already sparked violence, with NBC News reporting that at least 15 people have been killed, with 4,000 arrested for violating a gun ban.
© Copyright IBTimes 2023. All rights reserved.