Who Is Thomas Perez, The Presumptive Nominee As US Labor Secretary?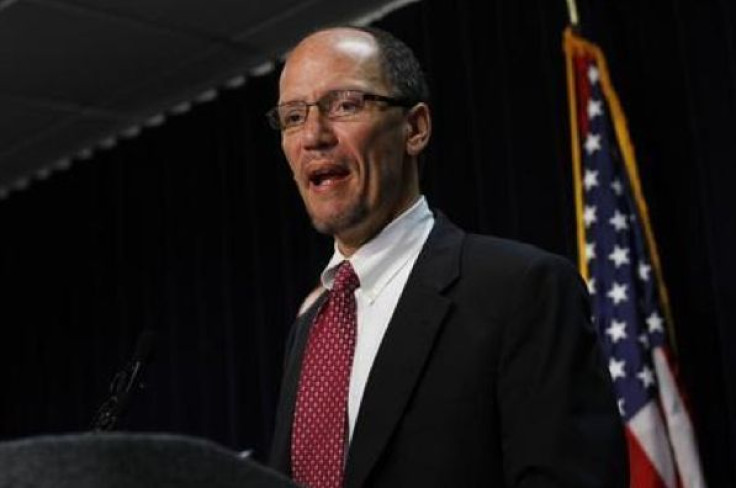 Thomas E. Perez, the assistant attorney general for the Civil Rights Division of the U.S. Justice Department, appears to be President Barack Obama's choice as secretary of labor as he continues to reshape the White House cabinet for his second term in office, according to Reuters, which cited a source familiar with the matter Saturday.

The presumed nomination of Perez, who is of Dominican descent, seems to be a nod to the significance of the Hispanic vote in the 2012 presidential election, Reuters reported.

Perez would replace Hilda L. Solis, the first Latino woman to head a major federal agency. Solis resigned Jan. 22.

White House officials could not immediately be reached to either confirm or deny the reported selection of Perez as the next secretary of labor, Reuters said.

Currently observing its centennial year, the Labor Department in 2010 had a $13.3 billion budget and 17,477 full-time equivalent employees, according to its "FY 2010 Department of Labor Budget in Brief." Assuming Perez does indeed get the gig there, he clearly will have his managerial skills tested over the next four years.

Perez has served in his present position since 2009, according to the Justice Department.

Before spending his entire career in public service, Perez earned a bachelor's degree from Brown University in 1983, a master's degree in public policy from the John F. Kennedy School of Government in 1987, and a juris doctorate from Harvard Law School in 1987.

Perez was subsequently employed by the federal government between 1989 and 2001, mostly in the Civil Rights Division of the Justice Department.

Along the way, Perez either prosecuted or supervised the prosecution of a number of high-profile civil-rights cases, including a hate-crime case in Texas involving a gang of white supremacists who went on a deadly, racially motivated crime spree.

He also served as deputy assistant attorney general for civil rights under Attorney General Janet Reno. Among his other responsibilities, he chaired the interagency Worker Exploitation Task Force, which oversaw a variety of initiatives designed to protect vulnerable workers.

In addition, Perez served for several years as special counsel to U.S. Sen. Edward Kennedy, D-Mass., and he was Kennedy's principal adviser on civil-rights, constitutional, and criminal-justice issues.

For the final two years of the Clinton administration, Perez served as the director of the Office for Civil Rights of the Department of Health and Human Services.

From 2001 to 2007, Perez was a professor at the University of Maryland School of Law.

Between 2002 and 2006, Perez also was a member of the Montgomery County (Md.) Council, representing 175,000 residents. He was the first Latino ever elected to the council, and he served as its president in 2005.

Before returning to the Justice Department in 2009, Perez served as the secretary of Maryland's Department of Labor, Licensing, and Regulation, or DLLR, which protects state residents by enforcing a wide range of consumer-rights, wage-and-hour, and workplace-safety laws. In this capacity, Perez was a principal architect of a sweeping package of reforms to address the foreclosure crisis in Maryland.

Perez continues to live in Maryland with his wife, Ann Marie Staudenmaier, an attorney with the Washington Legal Clinic for the Homeless, and their three children.
© Copyright IBTimes 2023. All rights reserved.