Why Is It So Warm Winter 2015? Fall Arctic Oscillation To Blame For December Heat Wave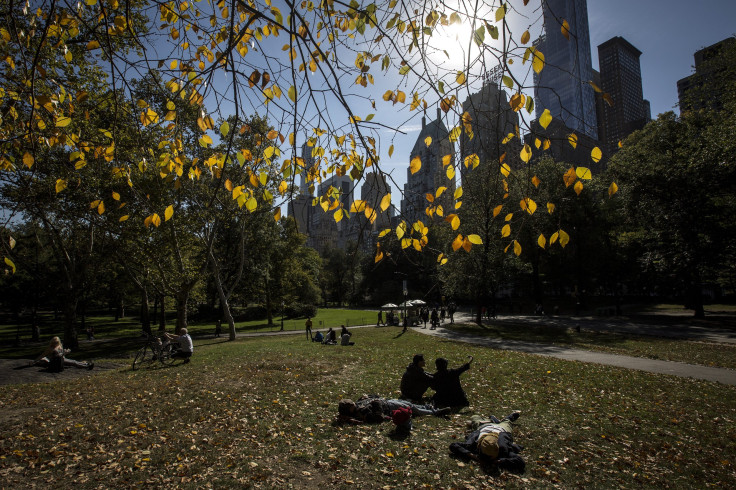 Stop, do not pack away the Birkenstocks just yet. Temperatures Saturday and Sunday across the country were forecast to soar past their seasonal averages, offering near record-breaking December weather, the Weather Channel reported Friday. While some meteorologists say El Nino is to thank for unseasonably late warm weather, others are looking at a phenomenon known as "Arctic Oscillation."
The extremely warm weather in, for example, such as normally chilly cities as Chicago, is "really associated with the strengthened polar vortex," Mike Halpert, deputy director of the Climate Prediction Center at the National Weather Service, told CNBC Thursday.
"I would not associate the lack of snow in Buffalo [New York] with El Nino," Halpert said on a call with reporters Thursday. "It is much more likely the Arctic Oscillation."
Arctic Oscillation is a change in air pressure at the North Pole that affects how far south cold air travels from the Arctic. Basically, the polar vortex is a ring of cold wind in the North Pole that is currently suffering from low pressure that keeps it trapped in the region.
For example, extreme cold and snowy weather in early months of 2014 was because the polar vortex in the North was able to move toward the equator. The result was record cold weather and snow that fell over half the United States.
However, some experts say El Nino is still responsible for the current weather and could see parts of the country have a much milder overall winter.
"The strength and location or 'flavor' of the El Niño event suggests that a very warm 1982-83 or 1997-98 winter is quite possible," said Dr. Todd Crawford, WSI chief meteorologist. "However, there is some risk of big blocking this winter, driven either by a premature weakening and westward shift [toward the dateline] of the El Nino impacts or by just a general tendency for stronger high-latitude blocking. While this blocking potential does add colder risks for the upcoming winter, we are still leaning towards a slightly cooler variation of the very warm 1982 and 1997 strong Nino events."
© Copyright IBTimes 2023. All rights reserved.
FOLLOW MORE IBT NEWS ON THE BELOW CHANNELS