Why PFL Would Be Perfect Setting For Cris Cyborg Vs. Kayla Harrison
KEY POINTS
People have been talking about a dream match between Cris Cyborg and Kayla Harrison
Cyborg is expected to be a free agent later this year, and PFL could try to bring her in
PFL would be a perfect avenue to stage Cyborg vs. Harrison
It's the women's mixed martial arts (MMA) dream match that everyone is talking about--an encounter pitting Bellator's Cris Cyborg against Kayla Harrison of the Professional Fighters League (PFL).
Cyborg, a Muay Thai wrecking machine from the mean streets of Curitiba, Brazil, has been a champion everywhere she's gone, from the now-defunct Strikeforce promotion, to Invicta FC, to the UFC, and most recently in Bellator.
Just last weekend, Cyborg dismantled Arlene Blencowe en route to her sixth-straight win and a fourth-straight successful defense of the Bellator women's featherweight championship.
Harrison, meanwhile, is a two-time Olympic gold medalist in Judo and successfully transitioned into a career in MMA.
The Olympian is a perfect 12-0 in her prizefighting career and 11-0 in PFL.
In her first two seasons with the league, Harrison basically obliterated the competition on her way to back-to-back reigns as PFL's queen in the lightweight division.
Of her 12 career wins, 10 have come by way of stoppage.
Both have led dominant combat sports careers, and many believe that the two women's MMA juggernauts are on a collision course, sooner rather than later.
A Cyborg-Harrison encounter could have been a step closer to reality, had the latter jumped to Bellator during her widely-publicized free agency.
Harrison instead decided to re-sign with PFL which essentially made her a household name within the league.
Harrison's decision to remain with PFL drew a response from Cyborg, which in turn led to a bit of a back-and-forth between the two champions.
With Cyborg and Harrison now competing in different organizations, the general belief is that this matchup will join many other dream matchups that fans may just never get to see.
All hope isn't lost yet, however, as Cyborg is expected to become a free agent later this year.
While Bellator should be seen as the frontrunner to retain the hard-hitting Brazilian, PFL has managed to bring in a number of big-name world champions in the past and is expected to make a big play to land Cyborg.
If PFL does manage to acquire Cyborg, here are a few reasons why they would be the perfect setting for a Cyborg-Harrison showdown.
For starters, Cyborg could test herself in a heavier weight division.
The Brazilian has mainly competed at 145-pounds in her career, so a jump to PFL should mean that she can forget about cutting weight and compete in the 155-pound weight class.
This opens up a host of other intriguing matchups apart from the one with Harrison, including a possible showdown against another big name on the PFL roster in Claressa Shields.
Another reason is that Cyborg will get the chance to compete in the million-dollar PFL Women's Lightweight Tournament, the same one that Harrison has dominated in the last two seasons.
Cyborg noted that during her past dip in free agency, PFL made a "competitive" offer, which is likely outside of the million-dollar purse that she could also take home if she can become the women's lightweight champion.
With PFL, Cyborg would also be competing on a truly global stage.
PFL is currently broadcast to over 160 countries worldwide, as well as a host of other platforms that contribute to the league's massive global and digital reach.
Apart from being seen on ESPN and ESPN+ in the U.S., Cyborg's fights can also be seen in major markets such as Europe, Asia, Africa, Australia, and South America.
PFL has also positioned itself at the top of the highly-aggressive MMA industry alongside the UFC.
Of course, the biggest reason would be finally getting to square off with Harrison.
Imagine a PFL women's lightweight championship contest between Cyborg and Harrison, which could be the biggest all-female MMA bout of all time.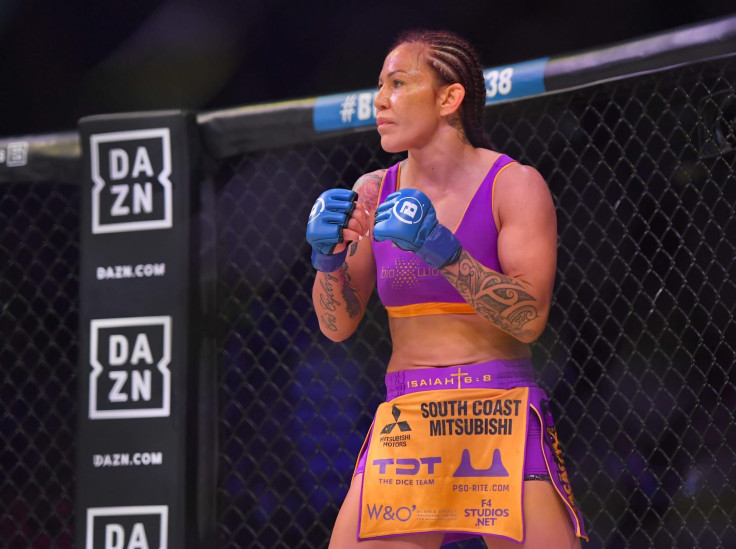 © Copyright IBTimes 2023. All rights reserved.