Why Was Michael Sam Cut By The Rams? Personnel Decision, Not Homophobia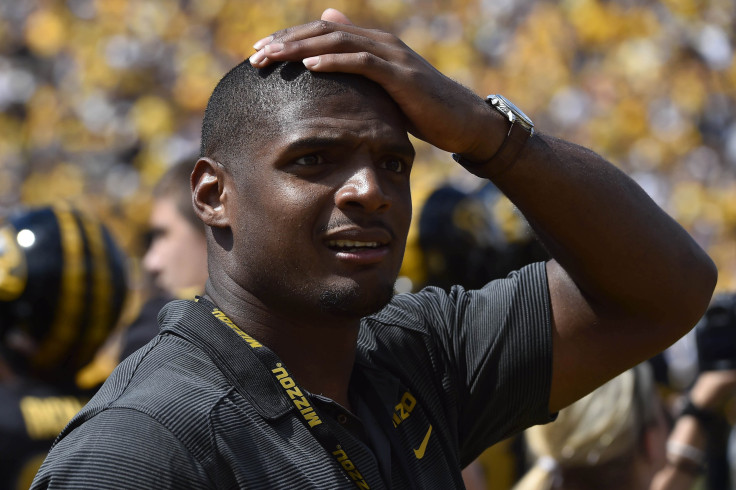 The St. Louis Rams' decision to cut openly gay rookie defensive end Michael Sam despite a strong statistical performance this preseason led some to question whether his sexuality played a role in his dismissal from the team. But from a football perspective, Sam was always a long shot to make the Rams' final squad.
Sam was among the Rams' final cuts Saturday as the franchise trimmed its roster down to the required 53 players ahead of the 2014 NFL season. The Rams instead opted to retain Ethan Westbrooks, an undrafted rookie defensive end from little-known West Texas A&M University. Sam's supporters were further galvanized when they learned that Sam would not receive a spot on St. Louis' practice squad. The decision was made despite an impressive preseason in which Sam recorded three quarterback sacks – two of which came at the expense of Cleveland Browns rookie Johnny Manziel.
Almost immediately, critics suggested that Sam's sexual orientation may have played a role in the Rams' decision. NBC football analyst and former NFL player Ross Tucker suggested that Sam "performed much better than most expected" and deserved a roster spot in the league. Meanwhile, Buffalo Bills offensive lineman Eric Wood openly blamed ESPN – which aired a widely-criticized report on Sam's shower habits last week – for turning Sam's bid to earn a roster spot into a "distraction" that no NFL team wanted to incur.
Others argued that the Rams' initial decision to draft Sam belies any notion of a bias against him during the team's final roster cuts.
"[The Rams] already stood up tall and said, 'look, we're going to take the player, we're going to take the fanfare, we're going to take the distraction, we're going to take this kid and give him a fair shot,'" David Meltzer, chief executive officer at Sports 1 Marketing and a longtime athlete representative, told International Business Times. "I think it was harder to cut him than it would have been to keep him."
Even before his sexual orientation became a topic of national debate, Sam was not considered a top NFL prospect. At 6-foot-2 and 261 pounds, he lacks the ideal height and weight associated with NFL defensive ends and is considered too slow to play outside linebacker.
In the days leading up to the draft, Sam failed to improve his standing at the 2014 NFL Combine – the series of drills through which talent evaluators from all 32 NFL teams determine which collegiate players are physically ready to contribute at the professional level. He recorded an unimpressive 4.91 in the 40-yard dash and managed just 17 reps on the 225-pound bench press test.
Sam's less-than-ideal measurables caused him to drop to the seventh round of the draft – a development that immediately shadowed his chances to make an NFL team. From 1994 to 2013, only 47 percent of seventh-round draft picks earned a spot on a Week 1 roster, ESPN notes.
But the Rams would certainly not have cut Sam due to his height, size or draft position. Similarly undersized players, such as New Orleans Saints quarterback Drew Brees or Philadelphia Eagles running back Darren Sproles, have enjoyed successful careers despite concerns about their frames. "Height and size are always factors, but once [players] go through training, once they go through camp, once they get on the practice squad, the players come out," Meltzer said. "[Sam] got the opportunity like everyone else to show his talent."
The NFL's talent evaluators aren't necessarily swayed by preseason statistics, no matter how impressive. Coaches are more concerned with a player's long-term potential or how he fits into their particular defensive scheme than how many sacks he records against another team's second- or third-string players.
"Statistics are not translated to why or how a player plays in preseason. One, because of who they're playing against," Meltzer added. "So, the three sacks could be attributed to a defensive scheme where he was left wide open, or the [quarterback] was scrambling because of other people's rush and he ended up in the right place. I imagine that the film tells you where they thought [Westbrooks] had more potential for their scheme and for what they do there. [Coach Jeff] Fisher, obviously, is a great coach and a fair coach, and he's looking for the best player."
The Rams possess one of the NFL's deepest and most talented defensive lines. Fisher chose to include nine defensive linemen – five of which were defensive ends – on his final roster. In the end, the odds simply weren't in Sam's favor.
Moreover, the suggestion that the Rams had more interest in Sam as a means of generating publicity or revenue than as a player isn't borne out by the numbers. By July, Sam had the sixth-highest selling jersey among all NFL players. "[Cutting Sam] is a bad business decision. They could've made so much money by having him on the squad," Meltzer said.
Sam took his release in stride. Shortly after learning that he'd been cut, Sam took to Twitter to thank the Rams for giving him his first chance at an NFL roster spot.
Sam cleared waivers on Sunday and is currently a free agent. Still, Meltzer believes that he has both the talent and the fortitude to make it in the NFL.
"I think he has the right perspective. I think he does have enough talent to make the league. He may have to play on a practice squad, but he has the right speed and football intelligence," he told IBTimes. "I don't think there's very many teams, if he has the talent, that will stray away from him. I think the biggest problem, which was that initial fanfare, is over now. The next team to take him, it's not going to be as big of a story."
FOLLOW MORE IBT NEWS ON THE BELOW CHANNELS