Wikileaks Whistle-Blower Bradley Manning Acquitted Of Aiding The Enemy, The Most Serious Charge. Convicted Of Five Other Counts Of Espionage And Theft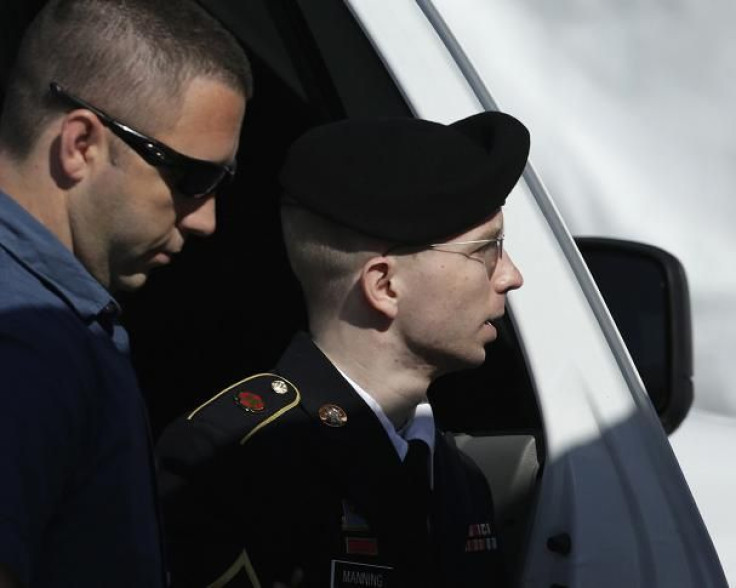 Pfc. Bradley E. Manning, the accused WikiLeaks whistle-blower, was acquitted on Tuesday of "aiding the enemy," the most serious of all the charges leveled at him and the one that carried a potential death sentence.
He was convicted of five other counts of espionage and five counts of theft. Army Colonel Denise Lind, chief judge of the 1st Judicial Circuit, U.S. Army Trial Judiciary, handed down the ruling at 1 p.m. EDT on Tuesday, July 30.
In total, Manning was convicted of all but two of the charges against him. His sentencing is expected tomorrow morning. The court-martial began on June 3, 2013. Manning could face up to 154 years in prison following his convictions. In February 2013, Manning pleaded guilty to 10 lesser charges, which could carry a combined sentence of up to 20 years in prison.
Manning, 25, was accused of being responsible for the largest leak of classified information in U.S. military history to Julian Assange's notorious WikiLeaks, including the Afghan War Logs and the Iraq War logs. These files amounted to 91,731 pages of classified documents that covered the period from January 2004 to December 2009 and were published by the New York Times, the Guardian and Der Spiegel.
Manning was arrested on May 27, 2010 in Kuwait and has been in custody ever since. He is charged with a total of 34 code violations for a series of documents and videos that he leaked to Wikileaks. The charges included aiding the enemy, which by martial law carries a maximum penalty of the death sentence; nine counts of failure to obey a lawful order or regulation; and 24 counts of embezzlement and theft, espionage, and computer fraud and abuse.
In his 35-page statement to the court, read on March 1, 2013, Manning said he backed up all the information he took onto paper, CDs, local computer drives and shared backup drives, and that he believed "the information would help document the true cost of the wars in Iraq and Afghanistan." He stated that after trying to contact the New York Times and Politico without receiving a response, he was directed to the Wikileaks Organization submission website.
Much of the cache of what Manning gave Assange was published between April and November 2010. In May of the same year, Manning introduced himself online to computer hacker Adrian Lamo, who eventually approached the FBI and submitted several days worth of his chatlogs with Manning, who was using the screename "bradass87." Manning was arrested on May 27, around the same time when Lamo first talked to the FBI, and the chatlogs were published in Wired magazine in June 2010.
The Manning verdict carries weight for a fellow whistle-blowers and leaker of classified documents, including Edward Snowden, who after leaking classified NSA documents in June 2013 and remains couped up in the Moscow airport, and for Julian Assange himself, who is couped up in the Ecuadorian embassy in London after being offered refuge but being unable to leave the U.K.
© Copyright IBTimes 2023. All rights reserved.
FOLLOW MORE IBT NEWS ON THE BELOW CHANNELS