Will Japan Attack North Korea? Missile Threats From Pyongyang Pushes Tokyo For Possible First Strike Options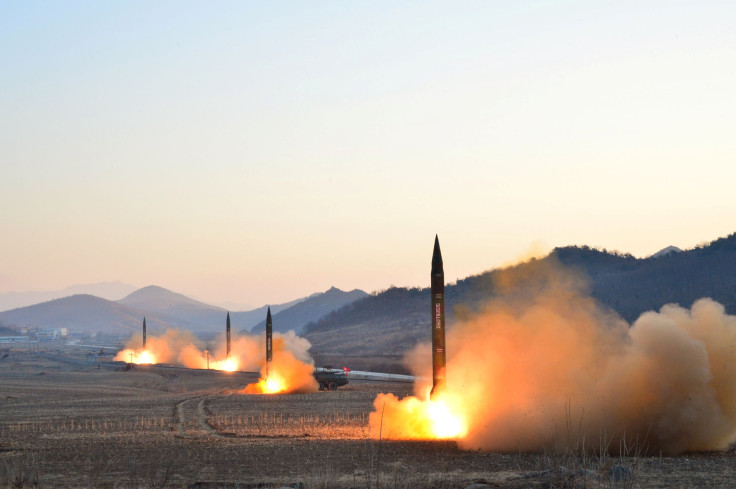 After North Korea launched four ballistic missiles Monday as part of drills targetting the U.S. military bases in Japan, influential Japanese lawmakers have pointed out that Japan will develop its ability to strike preemptively at the missile facilities of its nuclear-armed neighbor, Reuters reported.
For decades, Japan had avoided taking the costly step of acquiring weapons like cruise missiles with the aim of striking other countries and relied on its U.S. ally to fight off its enemies. However, with the increasing Pyongyang missile threats, including Monday's launch of four ballistic missiles, Japan is pushing for a stronger defence mechanism, Reuters reported.
Talking about Japan's striking possibilities, Itsunori Onodera , a former defense minister who heads a ruling Liberal Democratic Party committee said: "If bombers attacked us or warships bombarded us, we would fire back. Striking a country lobbing missiles at us is no different." He said: "Technology has advanced and the nature of conflict has changed."
Previous administrations have not taken steps for tougher defense policy but Japanese Prime Minister Shinzo Abe's Liberation Democratic Party (LDP), has been pressing him to do so.
"It is time we acquired the capability," said Hiroshi Imazu, the chairman of the LDP's policy council on security. "I don't know whether that would be with ballistic missiles, cruise missiles or even the F-35 (fighter bomber), but without a deterrence North Korea will see us as weak," he said.
Meanwhile, officials have indicated that Japan has already done the ground work on how it can acquire a strike capability. However, any weapon that Japan acquires to hit North Korea would also put parts of China's eastern seaboard in danger zone, which will likely cause anger to China.
"China has missiles that can hit Japan, so any complaints it may have are not likely to garner much sympathy in the international community," said Onodera.
Monday's attack was instantly condemned by all the world leaders. Abe told reporters he and President Donald Trump talked over phone about 8 a.m. Tuesday local time (6 p.m. ET Monday) and agreed that the missile launches were "a clear violation of UN Security Council resolutions" and a threat to the international community, CNN reported.
This was not the first time North Korea launched ballistic missiles in Japan's territory. It has fired four times before also with the last one in September 2016 when North Korea launched three ballistic missiles about 1,000 kilometers to land in Japan's Air Defense Identification Zone, provoking a strong response.
© Copyright IBTimes 2023. All rights reserved.