Will LeBron James And Cavaliers Lose? Why The Warriors Could Win NBA Finals
Lebron James' basketball career has been as dreamlike as playing NBA 2K17 on Pro mode.
James trail-blazed the contemporary NBA "superteam" in 2010 when he signed with the Miami Heat to team up with superstars Dwyane Wade and Chris Bosh. After taking his talents to South Beach, he won two titles in four years — only to return to the Cleveland Cavilers to forge a brand new superteam with Kyrie Irving and Kevin Love. After falling to the Golden State Warriors in the 2015 finals, Cleveland surpassed a relatively young Warriors team a year ago, regaining James' supremacy over the league.
The Warriors figured out that if they were to stand a chance, they had to construct an even better super team, so they added Kevin Durant from Oklahoma City. LeBron's brilliance forced Golden State's evolution into the juggernauts we see today. And now his Cavs and the entire NBA doesn't stand a chance.
READ: Could The Cleveland Cavaliers Trade Kevin Love? NBA Finals 2017 Ignite Latest Speculation
Sunday night's Game 2 caused concern among NBA fans and Cavilers fans alike who were wishing for a competitive series, as it looks like a sweep in the making. Game 1 was a bit different; the Warriors had a different coach, the Cavs donned their all black uniforms but the result was still the same: a double-digit beatdown. Now Cleveland will have to protect home court to keep their championship hopes alive.
However, to win the series, they will also have to steal a game in Oakland. Well aware of this, the Cavaliers failed to make Golden State the least bit nervous; the Warriors solidified a lead at the 7:38 mark of the first quarter and never let it go. And that was with Cleveland playing decent basketball.
The Cavs played pretty good defense despite offering up 40 points in the first quarter and 132 in the game. The Cavs shot 45 percent from the field, almost split their turnovers in half from 20 in Game 1 to nine in Game 2 and had LeBron being Lebron as he put up 29 points, 11 rebounds and 14 assists, only missing six shots. Still, they lost by 19 points, only a three-point increase over their 22-point Game 1 loss. The Cavaliers are playing their best basketball, but it doesn't even matter.
READ: Cleveland Cavaliers vs. Golden State Warriors 2017: Game 3 Start Time, TV Channel, Live Stream Info
Last year, the Cavaliers were also down 2-0 in the finals and were hearing many of the same talks about not being able to come back. Cleveland also lost Game 2 of the 2016 finals by 33 points, a way bigger margin than Sunday night's defeat.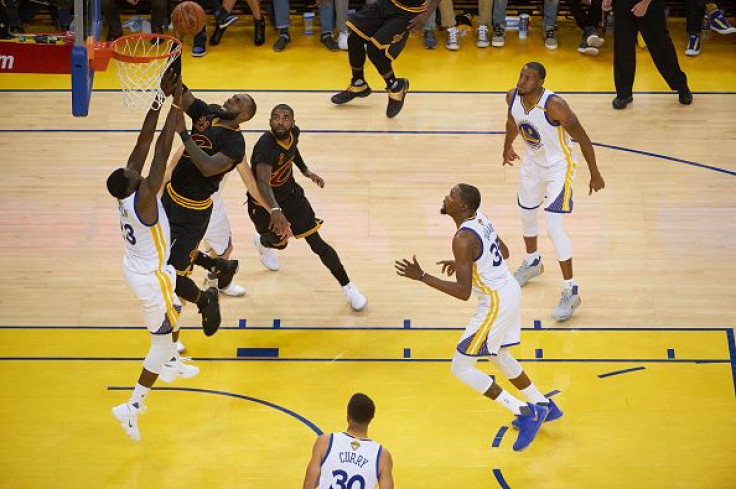 Looking at the past, the Cavaliers and James didn't play well in Game 2 last year; they did this year — Kyrie Irving omitted — and it still didn't make a difference. It's worth noting that while the Cavaliers did the impossible by overcoming being down 3-1 last year, the current deficit feels even more insurmountable. Golden State has lost just one of their last 30 games.
These Cavaliers are possibly a more well-rounded team than the one that won a championship last year thanks to Kyle Korver and Deron Williams, while the Warriors added Kevin Durant. The most unguardable scorer in the NBA and probably the second-best basketball player in the world doesn't just make the Warriors whole; he makes it practically impossible for teams even stand a chance.
Conventional basketball thinking says having LeBron would be ample enough to steal at least one or two games for the Cavaliers. If Irving comes out at least a tad bit stronger and the Cleveland crowd ratcheted up the intensity, it might be enough for them to get three wins. And virtually anything's possible Game 7.
If you think the Cavs have a shot to win it all, it's unlikely — even in a video game.
© Copyright IBTimes 2022. All rights reserved.
FOLLOW MORE IBT NEWS ON THE BELOW CHANNELS