Will Michele Bachmann Lose Re-Election? New Poll Shows Slim Lead Over Democrat Jim Graves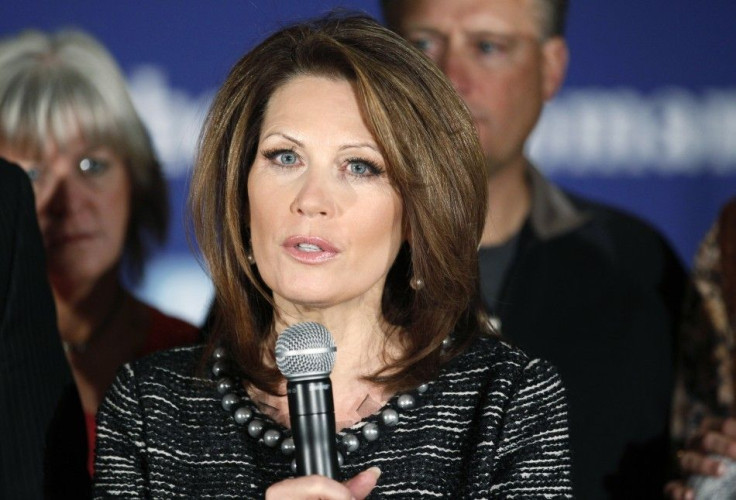 Last summer, Rep. Michele Bachmann, R-Minn., was considered among the frontrunners for the Republican presidential nomination after winning the Iowa Straw Poll in August 2011. Now her re-election to her congressional seat may be in jeoardy, according to a new poll that shows the Minnesota congresswoman has only a 5-point lead against her Democratic challenger, businessman Jim Graves.
The poll, conducted by Greenberg Quinlan Rosner Research from June 12 to June 14 and released Tuesday, shows Bachmann leading Graves 48 percent to 43 percent, with 9 percent undecided.
It should be noted that Greenberg Quinlan Rosner is a consulting firm whose hundreds of clients include many major corporations, but the advocacy groups it has served are mostly liberal-leaning, and its U.S. candidates, from Bill Clinton to local councilmen, virtually all Democrats.
This poll will likely only embolden Democrats who would love, for largely symbolic reasons, to see Bachmann lose, wrote Rachel Weiner of The Washington Post. Her outspoken conservatism, which was on full display during her 2012 presidential bid, has made her as enemy No. 1, or close to it, for many Democratic strategists and activists around the country.
Bachmann's presidential bid made her a national household name, but it may have actually hurt her in Minnesota's 6th Congressional District, the memo said. The district's lines were redrawn following the 2010 Census and now include Washington County and the city of St. Cloud, according to TwinCities.com.
While she is well-defined and almost universally known, her support is below 50 percent in a two-way contest for U.S. Congress, the memo states. Her weaker standing leaves her vulnerable to defeat in this November's election against businessman Jim Graves.
The poll found that two-thirds respondents -- 66 percent -- rated Bachmann's job performance as either just fair or poor and 39 percent rated her excellent or good. Most voters also had a negative view of Bachmann, with 51 percent registering such feelings compared to 35 percent who view her in a favorable light.
Greenberg Quinlan Rosner also found that voters are not wedded to either Bachmann or Graves, who beat out two other candidates in the Democratic primary. A little more than a third of respondents said they will definitely vote for Bachmann while 29 percent said they are certain they'll choose Graves in the November election.
The Democratic consulting firm touted Graves' credentials.
Bachmann faces a big challenge this year, Greenberg Quinlan Rosner wrote in the memo. Jim Graves is a compelling candidate - a man who was born and raised in St. Cloud and is the product of a middle-class family; a man who built a successful Minnesota business from the ground up.
The memo says when respondents were read bios of Graves and Bachmann, the Democrat moved up to a 53 percent to 42 percent lead.
© Copyright IBTimes 2023. All rights reserved.