Will US Go To War With China Over South China Sea? Beijing Should Be Given 'No Access' To Islands In Disputed Region, Rex Tillerson Says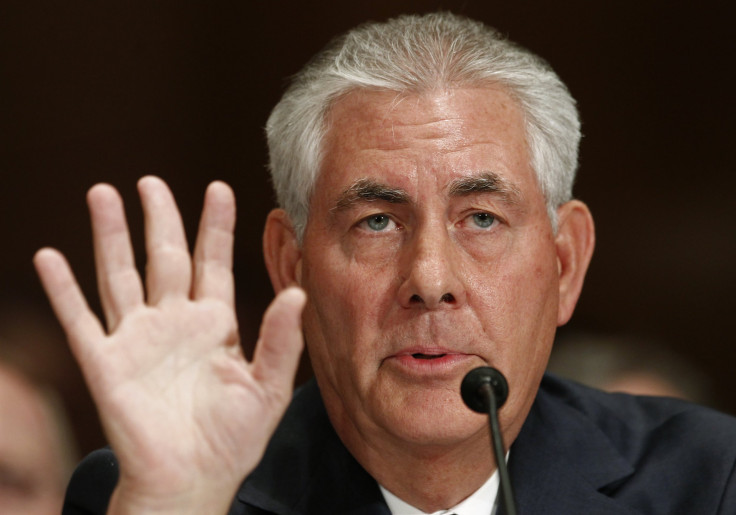 Amid growing tensions between the U.S. and China, President-elect Donald Trump's pick for secretary of state said Wednesday that Beijing should be barred from islands in the disputed South China Sea region.
Rex Tillerson, the former CEO of oil giant ExxonMobil, made the comments at his confirmation hearing before the U.S. Senate Foreign Relations Committee. He likened China's building of islands and militarizing them to "Russia's taking Crimea" from Ukraine.
"We're going to have to send China a clear signal that, first, the island-building stops and, second, your access to those islands also is not going to be allowed," he said.
China has laid claims to almost all of South China Sea. About $5 trillion worth of maritime trade passes through the waterway annually. Beijing has also reportedly been building runways and ports on islands in the contested waters to assert its claim over the region. Beijing has consistently defended its actions, saying it does not intend to start a conflict and that its operations will add to the safety of the region.
According to Tillerson, Beijing's activity in the South China Sea was "extremely worrisome" and would be a threat to the "entire global economy" if it would dictate access to the waterway. He also said that inadequate response from the U.S. has led the situation to escalate.
"The failure of a response has allowed them just to keep pushing the envelope on this. The way we've got to deal with this is we've got to show back up in the region with our traditional allies in Southeast Asia," Tillerson said.
Furthermore, he also said that China's island-construction work in the disputed waters and declaration of an air defense zone in the East China Sea it contests with Japan are "illegal actions."
"They're taking territory or control, or declaring control of territories that are not rightfully China's," he said.
However, Chinese experts said that Beijing is likely to retaliate if Washington bars China from accessing the South China Sea.
"What's been built has been built... It should be noted that rising American military pressure could be used to justify China's military deployment," Wu Xinbo, head of American Studies at Shanghai's Fudan University told South China Morning Post.
It is also doubtful that Tillerson will execute his plans to stop China from going to the South China Sea islands, Yuan Zheng, a researcher at the Chinese Academy of Social Sciences' Institute of American Studies, told the newspaper.
"I don't think the US will stop China from accessing its own islands in the South China Sea," Yuan said. "China is not Cuba, and the South China Sea is not the Caribbean. The South China Sea is not under the U.S. sphere of influence, it's China's territorial waters."
Moreover, Beijing may establish an Air Defense Identification Zone if the U.S. blocks China's access to the islands, Yuan added.
© Copyright IBTimes 2023. All rights reserved.