Wisconsin Football Coaching Search May Include Prominent Names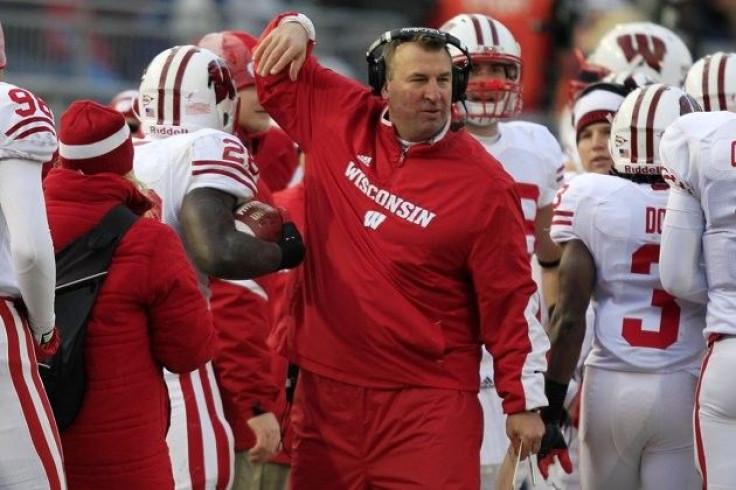 Following the shocking departure of Bret Bielema to Arkansas, the Wisconsin Badgers will have to conduct a coaching search on the fly with candidates in the college and pro ranks.
Badgers athletic director and Bielema's predecessor Barry Alvarez was quoted saying he was "blindsided," and will come back to the sidelines as head coach during Wisconsin's Rose Bowl matchup against Stanford on Jan. 1.
Whoever takes over must follow a very sucessfull tenure. Bielema compiled a 68-24 record in seven seasons, and Wisconsin won three straight Big Ten titles and earned as many Rose Bowl berths, including last Saturday's 70-31 victory over Nebraska for the Big Ten Championship.
Soon after news leaked of Bielema's move, speculation pegged former Badger offensive coordinator and current Pitt head coach Paul Chryst as the obvious replacement.
Chryst quickly released a statement late Tuesday night essentially taking himself out of consideration for Wisconsin's vacancy.
A quarterback for the Badgers from 1986 to 1988, Chryst served two stints as an assistant coach, most recently as the offensive coordinator from 2005 to 2011, and like most prominent programs, Wisconsin would want a coach with strong ties to the school to succeed Bielema.
Chryst had a 6-6 mark in his first season with the Panthers and despite his statement, some reports suggest he could be pried back. However some obstacles would have to be overcome.
One obstacle is how Chryst left last season. He was reportedly unhappy with how he was treated during his last few seasons at Madison, according to the Wisconsin State Journal.
Secondly, The Journal also reported Chryst may have a $6 million buyout in his Pitt contract. A sum that large will have to be taken under consideration by Alvarez during his search.
Alvarez could look in house at current defensive coordinator Chris Ash, who is in his third season with the Badgers. According to the official team website, the Badgers' defense held opponents under 20.0 points per game for the first time since 2006 this season. Ash could also take over head coaching duties on an interim status for the Rose Bowl, but Alvarez would have to act fast due to rumors of Ash possible heading to North Carolina State.
Wisconsin could stick with a more defensive minded coach, but perhaps one with a better pedigree in Notre Dame defensive coordinator Bob Diaco.
Diaco reportedly lost out on the vacant Boston College job, but leading the Fighting Irish to the second ranked defense in the country and their first No. 1 ranking in two decades should get Diaco at least one interview in Madison.
Two other candidates are currently in the NFL, according to Fox Sports. Seattle Seahawks offensive coordinator Darrell Bevell led Wisonsin to a Rose Bowl win in 1994 and his 13 years of coaching experience in the pros might impress prospects during the recruiting season.
Then there is Tampa Bay Buccaneers offensive line coach Bob Bostad, who worked under Bielema from 2006 to 2011 as tight ends and running backs coach. Bostad actually left with Chryst to Pitt last season, and could be a long shot because he's never been a head coach.
© Copyright IBTimes 2023. All rights reserved.