WNBA Rumors: Dream Stunned By Coach's Exit Before 2021 Opener; Rebuilding Seen As Reason
KEY POINTS
Nicki Collen left the Atlanta Dream for college team Baylor
Collen was the 2018 WNBA Coach of the Year
The development comes months after the Dream's new ownership took charge
With 10 days left before the start of the 2021 WNBA regular season, the Atlanta Dream were shocked by the news that head coach Nicki Collen is leaving for women's college basketball team Baylor.
Baylor had already announced the signing officially on Monday. Collen will replace 21-year Lady Bears Hall of Fame mentor Kim Mullkey, who is headed to LSU.
The 2018 WNBA Coach of the Year will inherit a successful basketball program that has translated to three national championships, 17 consecutive NCAA tournaments appearances, and 11 straight Pac 12 titles.
"I am thrilled to be the head coach at Baylor University. I believe it is the top job in the country for women's basketball," Collen said in a statement.
"The success of this program speaks for itself, and I will begin working today to ensure Baylor women's basketball continues to be a program that excels at the highest levels."
The development comes as a perplexing move for the Dream's franchise with little time left before their season-opener against the Washington Mystics on May 14.
Collen even remarked last year that she is looking forward to being part of the process for the Dream in the seasons to come, per The Atlanta Journal-Constitution.
"Ultimately the goal is for me to be here in Atlanta," Collen told AJC's Bria Felicien, who reported in 2020 that Collen and the Dream are working on a contract extension.
"I think we're both excited about that. That doesn't mean we're there yet."
While several questions have been raised around the women's basketball circles, the development suggests that the Dream's new ownership is keen on a franchise rebuild.
As noted by Atlanta Business Chronicle's Eric Jackson, the Dream fired president and general manager Chris Sienko following the 2021 WNBA Draft, a possible indication that the franchise is headed for a reset.
Back in February, the NBA approved the sale of the Dream's franchise from controversial former Georgia senator Kelly Loeffler, who was not supportive of the league's movement for social justice.
The new ownership group includes real estate developer Larry Gottesdiener and former WNBA player Renee Montgomery.
Montgomery tweeted following Collen's departure: "[In sports] we always have the next man up mentality and usually we preach it to players but this time the [coaches] will lead by example. The mission is still the same and the squad is still lit."
Collen went 23-11 in her first year with Atlanta, two years after serving as an assistant for the Connecticut Sun. She led the squad to the semi-finals.
Overall, Collen went 38-52 in three years with the Dream. Mike Peterson has been promoted to interim head coach.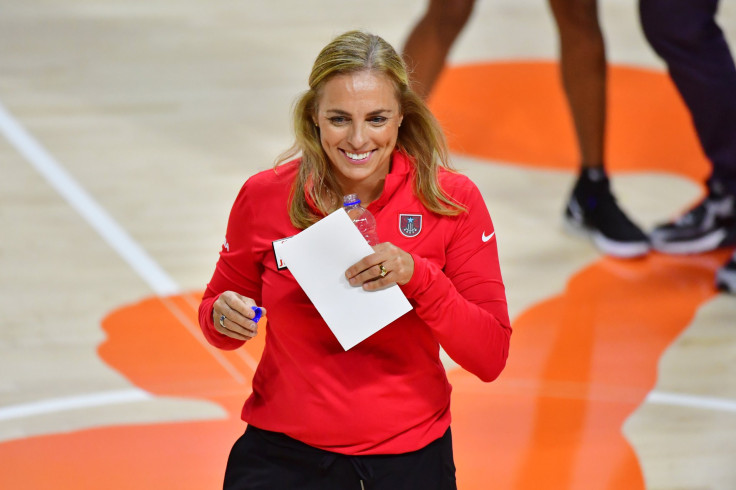 © Copyright IBTimes 2022. All rights reserved.
FOLLOW MORE IBT NEWS ON THE BELOW CHANNELS