'Wolves Probably Cannot Stop Laughing': Klopp After Liverpool's 4-1 Loss
KEY POINTS
Naples thrashed Liverpool 4-1 in UCL's opening game
It was Liverpool's joint-heaviest defeat in the competition
The Reds' next host Wolves in the Premier League on Saturday
Jurgen Klopp said Wolves "probably cannot stop laughing" ahead of their upcoming clash with Liverpool in the Premier League.
Klopp's comments came on Wednesday after Liverpool's embarrassing 4-1 defeat against Napoli in the Champions League. It was Liverpool's joint-heaviest defeat overall in the competition, according to Opta Joe.
The Reds' 4-1 loss was also the heaviest defeat by a Premier League side in their opening game of a Champions League campaign since Arsenal lost 3-0 to Inter Milan in 2003-04.
After the game, Klopp said that his side needs to "reinvent" themselves before adding they have to look for solutions in the middle of the 2022-23 Premier League season. The Reds have a two-day break before their home league game against Wolves on Saturday.
"It looks a little bit like we have to reinvent ourselves. There's a lot of things lacking, and the fun part is that we have to do that in the middle of a Premier League and Champions League campaign," Klopp told BT Sports after the game in Naples.
"In three days we play against Wolves, and if they saw the game tonight they probably cannot stop laughing. They will say it's a perfect moment (to play Liverpool). I would say it's a perfect moment. But we have to try to find a set-up to be much better in pretty much everything," added Klopp in the same interview.
Speaking about the traveling fans, Klopp said, "It's a long flight from Liverpool to Napoli. For all the things they invest, I understand 100 percent it was a very disappointing night so, of course, I put up [my hands], I have to say sorry for that."
After the press conference, Klopp was pictured apologizing to the traveling Liverpool supporters, according to Goal.com.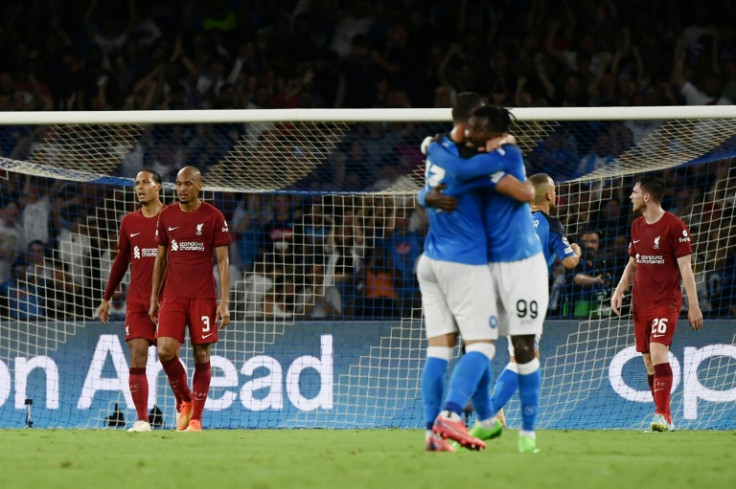 Out of their opening seven games of the 2022-23 campaign, Liverpool have managed to win only two: a 9-0 win over Bournemouth and a 2-1 win over Newcastle, both coming in the league.
The Anfield side has already suffered two defeats this term -- 2-1 against Manchester United at Old Trafford in the league and the latest 4-1 against Naples.
© Copyright IBTimes 2023. All rights reserved.