World Leaders Caught On Hot Mic: Were They Discussing Trump?
A video of the event has circulated online, capturing the whole conversation live. 
World leaders Emmanuel Macron, Justin Trudeau, Boris Johnson, seemed to be chattering about President Donald Trump at Buckingham Palace on Tuesday. A video of the event has circulated online, capturing the whole conversation live.
Macron, Trudeau and Johnson were oblivious of the camera, of which they are unaware that their chat is being recorded according to CNBC. The conversation started when UK Prime Minister Boris Johnson asks French President Emmanuel Macron, "Is that why you were late?"
Canadian Prime Minister Justin Trudeau then steps in and responds with, "he was late because he takes a 40-minute press conference off the top." It's still not clear who Trudeau was referring to in their chat. Other prominent leaders, including Dutch Prime Minister Mark Rutte and Princess Anne, did not mention President Donald Trump by name.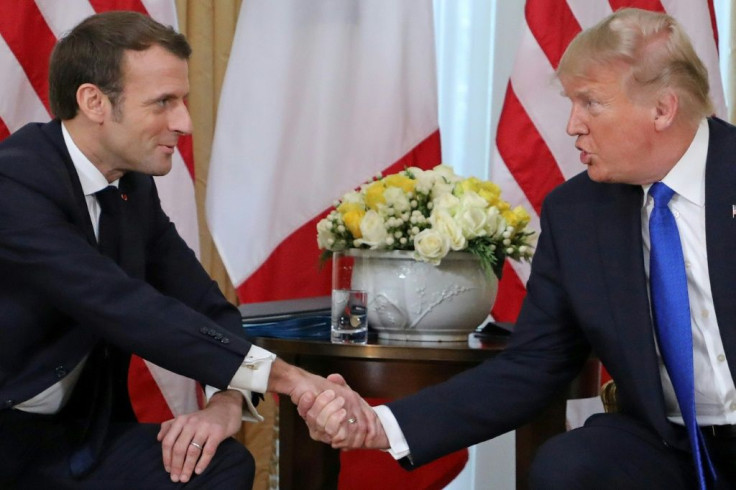 The conversation might have had something to do with the POTUS' press conference alongside NATO Secretary-General Jens Stoltenberg on Tuesday that lasted 53 minutes. A White House transcript of the discussion suggested that it would only last 20 minutes.

During the same press conference, U.S. President Trump and French President Macron manifested different opinions on topics over the middle east. Both leaders had mixed sentiments about Turkey, the Islamic State fighters, and the overall role of NATO.
On Tuesday morning, Trump strongly denounced the comments that were made earlier this year about NATO coming from the French president. In October, Macron told The Economist that the transatlantic organization was experiencing "brain death."
Trump hit back and said that he could see France "breaking off" from NATO, adding that Macron's comments had been "very, very nasty." The leaders of NATO countries are in the U.K. to celebrate the 70th anniversary of the alliance.
They were also able to meet the British Queen, Elizabeth II and her family at a dinner event on Tuesday.
© Copyright IBTimes 2023. All rights reserved.