World Series 2017 Odds: Are The LA Dodgers Or Houston Astros Favored?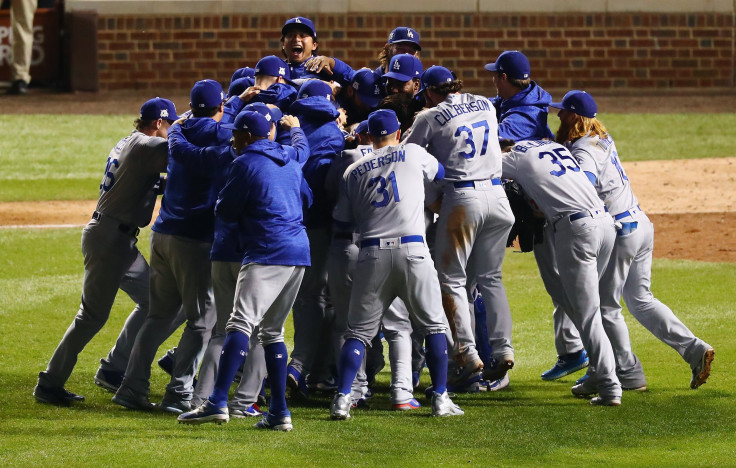 After cruising through the National League playoffs, the Los Angeles Dodgers are expected to complete their season with a championship. L.A. is favored to beat the Houston Astros in the 2017 World Series.
L.A. has -165 betting odds, according to Bovada.lv. Houston is a +145 betting underdog.
It only makes sense that the Dodgers were made the favorites, given how dominant they were in both the regular season and the first two rounds of the playoffs. Los Angeles entered the postseason with a league-high 104 wins, earning home-field advantage throughout the Fall Classic. The team began the playoffs with six straight victories, sweeping the Arizona Diamondbacks in the NLDS and needing just five games to beat the defending champion Chicago Cubs in the NLCS.
With five days in between games, the Dodgers are well rested to start the World Series. Clayton Kershaw will pitch Game 1 in Los Angeles on his normal rest.
Houston enters the World Series with two fewer days off after a grueling ALDS. After needing four games to beat the Boston Red Sox in the ALDS, the Astros fell behind the New York Yankees 3-2 in the ALCS. The Astros won consecutive elimination games at home, allowing just one run over 18 innings.
The Astros won 101 regular-season games of their own, finishing one game behind the Cleveland Indians for the best record in the American League. Dallas Keuchel and Justin Verlander will be on full rest to throw the first two games of the World Series, just as they were for the first two games of the team's previous series.
Both teams have been dominant at home, going undefeated in their own stadiums. L.A. was an MLB-best 33 games over .500 at home during the regular season, and Houston's 53 road wins were tied for the top mark in the league.
It isn't much of a surprise to see these two teams in the World Series. The Dodgers had 10/1 World Series odds at the end of spring training, trailing only the Cubs in the NL. The Red Sox and Indians were the only two AL teams that ranked ahead of the Astros and their 14/1 championship odds at the end of March, according to OddsShark.
No matter which team wins it all, the World Series will end a lengthy title drought. The Dodgers haven't won a championship since they last won the NL pennant in 1988. The Astros last reached the World Series in 2005, but the franchise hasn't won a single World Series game since it came into existence as the Houston Colt .45s in 1962.
© Copyright IBTimes 2023. All rights reserved.