World Series Odds: Are The Padres Legitimate Contenders After Blake Snell Trade?
The Tampa Bay Rays shook up the title race this week by trading their ace in a multiplayer deal. Blake Snell is reportedly headed to the San Diego Padres, improving the National League West team's odds of winning their first-ever title.
Pending physicals, Tampa will send Snell to San Diego in exchange for catcher Francisco Mejia and three prospects, ESPN's Jeff Passan reports. While the Rays may be viewed as the winner of the trade in a few years, the deal unquestionably benefits the Padres in the immediate future.
The deal caused oddsmakers to make big changes, with the Padres receiving +1200 odds to win the 2021 World Series, according to FanDuel Sportsbook. The Rays are behind the Padres with +1600 odds.
Both San Diego and Tampa Bay started the offseason with +1300 championship odds. The Padres had those same odds before the Snell acquisition was reported.
Only the Los Angeles Dodgers (+400), New York Yankees (+550), Atlanta Braves (+900) and Chicago White Sox (+1000) have better World Series odds than the Padres and Rays as 2020 comes to a close.
It was just two months ago that Snell nearly carried Tampa Bay to Game 7 of the World Series against the Dodgers. The 28-year-old was nearly perfect through 5.1 innings, striking out nine batters while allowing only two batters to reach base in Game 6. Snell seemed to be pulled prematurely from his start and Tampa Bay's bullpen faltered against Los Angeles.
In Snell, the Rays are losing one of MLB's best pitchers. The left-hander won the 2018 AL Cy Young award, going 21-5 with a 1.89 ERA. Snell had a 3.03 ERA and 37 strikeouts in 29.2 innings during Tampa Bay's 2020 playoff run.
The Rays will also be without starter Charlie Morton, who signed with the Braves as a free agent.
The Padres defeated the St. Louis Cardinals in the first round of the playoffs before being swept by the Dodgers in the NLDS. Snell is a key addition to a San Diego club that gave up 7.7 runs per game against Los Angeles.
Led by stars Manny Machado and Fernando Tatis Jr., the Padres were third last season in the NL in runs scored. San Diego also finished third in team ERA.
San Diego traded for pitcher Mike Clevinger in August, but he's expected to miss the entire 2021 season with Tommy John surgery. Snell would take Clevinger's spot atop the rotation, making the Padres a real threat to the Dodgers in the NL West.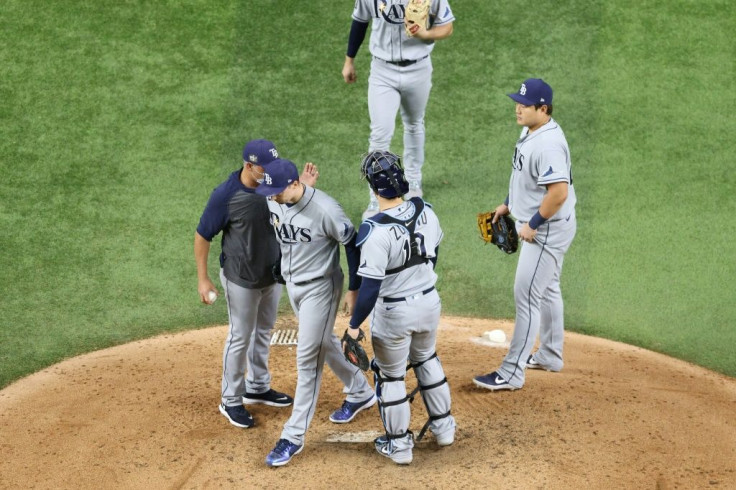 © Copyright IBTimes 2023. All rights reserved.