'World Series Or Bust': What Are Washington Nationals Odds Of Being 2013 Champions?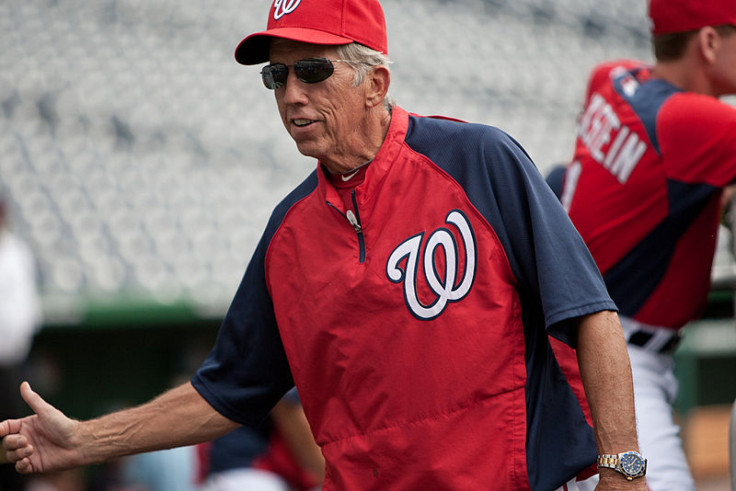 "'World Series or bust,' that's probably the slogan this year. But I'm comfortable with that," newly named National League Manager of the Year Davey Johnson said of his Washington Nationals following the signing of former Angels starter Dan Haren.
Johnson, who won the World Series managing the New York Mets in 1986, wants to hold up the trophy again in 2013 before retiring at the end of the season.
The Nationals were perhaps the greatest success story in baseball during 2012, going from a sub-.500 record in 2011 to a National League East title in 2012 and a 98-64 record. After a long playoff drought, Washington fell in five games in the National League Division Series to the St. Louis Cardinals.
Johnson said the Nationals' signing of Haren to a one-year deal shows that Washington will have high expectations going into the 2013 season.
"I think we're in a perfect position to show the world that we're a pretty good ballclub, and we can go farther into the postseason, and I want to be a part of that," Johnson told the Nationals' official website. "I still have a love of the game, and I have a love of this organization. 'World Series or bust,' that's probably the slogan this year. But I'm comfortable with that."
Bookmakers appear to be comfortable with the "World Series or bust" attitude as well, with the Nationals listed as World Series title frontrunners in 2013.
Sportsbook.ag has Washington at 8-to-1 odds to win the World Series, the best chances of any National League team. The American League's Detroit Tigers, who were sweeped by 2012 World Series champion San Francisco Giants, are also listed at 8-to-1, as are the Los Angeles Angels.
Bookmaker bovada.lv also believes Washington's "World Series or bust" attitude is warranted, with the sportsbook listing the Nationals as World Series favorites at 8-to-1. The Tigers are second favorites at 17-to-2.
© Copyright IBTimes 2023. All rights reserved.