WWE Exclusive Interview: Bella Twins Discuss John Cena, Daniel Bryan, Their Feud, Total Divas And More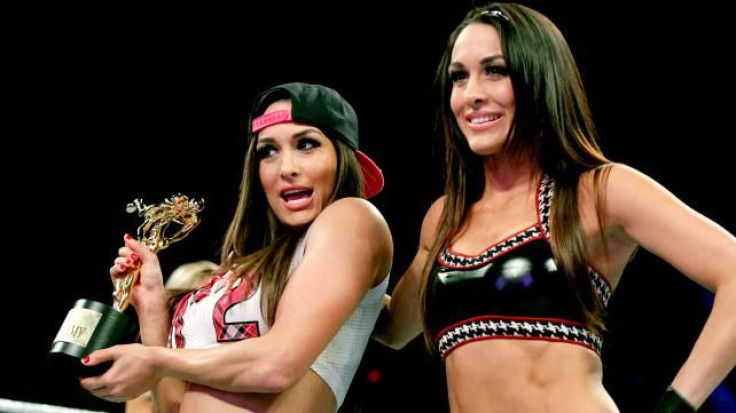 Roman Reigns and Brock Lesnar highlighted the 2015 Royal Rumble, with victories that will likely pit them against each other in the main event of WrestleMania 31. Nikki Bella and Brie Bella also had a match on the card, defeating Paige and Natalya in a tag team match.
Nikki Bella currently holds the WWE Divas Championship, which she will defend at the Fast Lane PPV on Feb. 22. She began her second title reign at Survivor Series, where Brie helped her win the belt from AJ Lee, shortly after the sisters feuded for the first time in WWE.
The Bella Twins were a part of the Starkey Hearing Foundation's celebrity mission in Phoenix on the day before the Super Bowl. They were among several celebrities that helped distribute free customized, state-of-the-art, digital hearing devices to those in need.
Before the event, the WWE superstars and stars of "Total Divas" on E! talked to International Business Times about the feud they had with each other, the importance of storylines occurring organically, and the influence both John Cena and Daniel Bryan have had on their careers. Nikki Bella also revealed an injury she's been dealing with, which recently forced her to change her finishing maneuver.
How would you compare you careers in WWE now to before the start of "Total Divas"?
Nikki: Our careers are the best they've ever been. I'm really enjoying the title reign I have right now. I hope it continues for a very long time and I hope I can do things in the Divas division that will always be remembered. "Total Divas" has given all the divas a different platform to let the world know who we really are and all the hard work we put in, not only into being a diva, but how we actually put hard work into our personal lives because we travel so much. And it's just nice to take the WWE divas more mainstream. I definitely have to say I'm grateful for my career right now.
John (Cena) has also helped me take it to the next level. He has shown me the strength that I had inside me that I never knew. When I got into weightlifting I always was the girl (thinking) "weightlifting's going to make me big and fat." It gave me the strength that I've never seen and I took that to the ring. John has really helped me, not only with my psychology in the ring and telling better stories, but just showing off my strength and the strength that I've always had inside me and never showcased.
Brie: In the last two years, Nikki and I have definitely seen our careers really step up, compared to the past, and I do give a lot of credit to "Total Divas." I think the thing with "Total Divas" is that everyone truly got to see how different we were, which helped showcase singles careers in WWE, which is something we always wanted. 2014 was a really big year for me because I was able to go into a storyline with Stephanie McMahon, and the WWE Divas championship wasn't part of that, but for me it was the biggest story I've ever been a part of in my whole entire career. I've just had a lot of really high moments, so right now we're really enjoying our time with WWE, trying to stay on top and hoping we're going to keep killing it.
Did your feud with each other go the way in which you wanted it?
Nikki: I really enjoyed where the story started. There was nothing better than having that turning moment on Brie at SummerSlam against Stephanie McMahon. Brie and her had such a great buildup, they had such a great story and I loved the start of our story. I feel like we didn't get a chance to end our story. Unfortunately, we didn't end it, and I wanted to go so much longer with it and I felt like we could do so much more. I truly enjoyed my pay-per-view match against Brie. We have a bond that you just can't create. We're born with it and we had this magic in the ring. We had great chemistry, and I wish we could've done a lot more. I was really enjoying our feud and the people were. It was hard for some people to watch because it's like "Nikki's so mean." It was just fun and I think why it was hard for people too is because it's (like) real life. People get interested in moments with their siblings. I wish we went longer, and I wish we could've finished the story. I think Brie needed to do something to me because I was just so mean to her.
Brie: It was a lot of fun to be working with my sister and to go from Stephanie McMahon to my own sister was great. And the nice thing is we all have a really good friendship with Stephanie. I have one with my sister, and I think you go out and there and you make magic. And after we'd be done in the ring we'd go backstage and whether you're crying or hugging, you just let it all out and we're like "OK I didn't mean that." So that's the great thing about having your sister in the story with you.
How did you feel about your feud with Stephanie McMahon at SummerSlam and wrestling on your own?
Brie: I loved it. Nikki and I were both so supportive of doing things on our own. And it was such a time I felt for myself to shine, and because of my husband (Daniel Bryan), I have the confidence to really go on my own. I felt like a year before that in my wrestling I really stepped up when Nikki was injured for five months, and I felt like a strong woman. It felt really great and I love having my sister by my side, but when you can do it on your own you feel even more empowered, which is a very powerful feeling and I just loved it.
How did you react when you found out you and Stephanie McMahon would be in the main event of "Monday Night Raw"?
Brie: My jaw dropped. I was so surprised, but I think I felt more honored. And the greatest part was coming back and Vince just smiling and (saying) "You guys killed it." And I will always relive those moments. It was definitely the highest point of my career and I felt very blessed.
And that story was never planned. It organically happened because of Bryan, and I feel like the "Yes!" Movement was never planned. That organically happened because you just couldn't help but listen to the fans. And I truly believe when storylines happen organically they turn out the best. And it's a credit to my husband because it was he and Stephanie who started, and it was a great place for a wife and a diva to step in. I'm grateful for that.
How have John Cena and Daniel Bryan helped you improve in the ring?
Brie: I give a lot of credit to my husband. When we first started dating a little over four years ago, we would go to the ring early and it would be one on one. He'd be like "I know you can do this, do that," and he was never easy on me. It was like "No Brie, do it 100 times." And he watches all my matches and when I come back he's like "You need to work on this, this and this."
I love watching Japanese wrestling, and then Bryan will be like "Watch this" or "See this." He's taken me higher than the next level. He's taken me 10 levels up and in such an enjoyable way, and I just learned so much. And the thing is my husband wants the best for me and he knows all my strengths. So he really showcases that. And I feel like the same for Nikki.
Nikki: I used to love wrestling Beth Phoenix, and I loved everything Beth Phoenix did in the ring because it was like, "Goodness. That beautiful woman is so strong." And I feel like we kind of missed out on that. We don't have any of our powerhouses, so I when was starting to squat more and more and really realize my strength, I was like "I want to be that strong girl in the ring." I'll never be what Beth Phoenix was. She has strength that is just unheard of and I can't compete with her strength. I just couldn't, but I'm almost there. So John and I would talk and he would say "You have to bring that strength to the ring. Be that powerhouse. Start thinking of moves." And I just started watching all this footage and (thinking) "What are the powerhouse things I could start doing to the girls and what can I start practicing?"
So he totally inspired me and motivated me, and then when I was enjoying the stuff and the reactions, it made me want to do more and more powerhouse things. It's unfortunate because right now I have a strained hamstring, and when you try to do powerhouse stuff with a strained hamstring you just can't, and I had to keep my arsenal very basic at the (Royal Rumble) PPV because I can't squat. I can't lift anyone up. So that's when it sucks when you know powerhouse stuff and you're injured. But I totally took his weightlifting and brought that into the ring.
What is your involvement with the Starkey Hearing Foundation?
Brie: For us this is a little personal because we have a deaf aunt, and where technology has taken everything for these people to hear is just amazing. They're giving people who can't afford hearing aids, hearing aids, which is amazing. So we'll be fitting them, we'll be helping out, which will be great. It will be nice to be meeting a lot of people that need the help and to give them some hearing aids.
Nikki: There's people out there that unfortunately can't afford certain things for themselves, so what I think is so amazing about this charity is they give people hope and they give people these things they can't afford. It's really nice to be a part of that.
It's just very nice to give the gift of hearing, and to help the people in need, and Brie and I are very excited to work with them. We're hoping that this could be a partnership that could go down the road, and I want everyone to look into this mission.
FOR FREE to continue reading
✔️ Unlock the full content of International Business Times UK for free
offer available for a limited time only
✔️ Easily manage your Newsletters subscriptions and save your favourite articles
✔️ No payment method required
Already have an account?
Log in
© Copyright IBTimes 2023. All rights reserved.