WWE SummerSlam 2016: Could Conor McGregor Appear At The Wrestling PPV After UFC 202?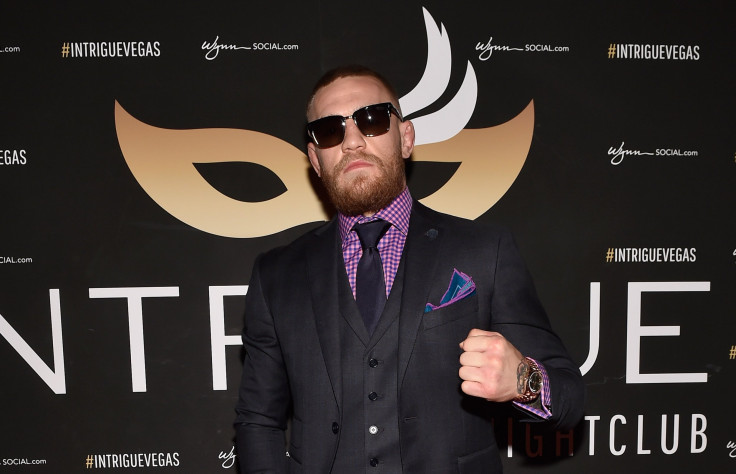 Conor McGregor caused a firestorm in the professional wrestling world over the weekend, calling out most of the WWE locker room. The biggest star in mixed martial arts questioned the toughness of WWE superstars on a conference call to promote his fight against Nate Diaz at UFC 202, prompting speculation that he could be involved with WWE in some way in the future.
McGregor addressed the recent failed drug tests of Brock Lesnar, who defeated Mark Hunt at UFC 200, but only after testing positive for performance-enhancing drugs. The UFC featherweight champion took shots at Lesnar, who will wrestle at WWE's SummerSlam 2016, as well as the other superstars that will wrestle on the card.
"For the most part, those WWE guys are p******, to be honest," McGregor said. "They're messed up p******, if you ask me. Fair play to Brock [Lesnar], he got in and fought, but at the end of the day he was juiced up to the fucking eyeballs, so how can I respect that? And then what's the other guy? The other guy [CM Punk] hasn't fought yet, so I don't know about him yet."
"There's some dons in that wrestling game," McGregor said. "The McMahons, they're dons. Triple H is a don. The Rock is a don. But the rest of them are p******."
It didn't take long for current and former WWE superstars to fire back. Ric Flair, Kurt Angle, Chris Jericho and Roman Reigns were among just a few of the wrestlers that responded to McGregor's taunts on Twitter.
McGregor might have no plans of ever appearing on WWE TV. But because of the nature of professional wrestling, his comments and the subsequent reactions of the WWE stars have to raise some eyebrows about the possibility of McGregor eventually doing something with the company.
Even before McGregor mentioned WWE, there had been speculation that a UFC star could soon make an appearance with the wrestling promotion. WWE and UFC have already done business together this summer with Lesnar fighting for both promotions. Shortly before Lesnar defeated Hunt on July 9, UFC broadcasted a video package promoting the SummerSlam fight between Lesnar and Randy Orton.
Lesnar is under a multi-year contract with WWE, and even some wrestlers within the company believe the former champion was allowed to briefly return to the octagon in exchange for a future appearance by a UFC star inside a wrestling ring.
"I also don't think Vince (McMahon) allowed him (Lesnar) to do out of the goodness of his heart, either," Jericho told USA TODAY in late June. "I'm sure he's going to get something back whether that's Ronda Rousey or Conor McGregor or something."
Rousey has worked with WWE in the past, taking part in one of the most talked about segments at WrestleMania 31, WWE's biggest event of 2015. Rousey didn't have a match, but she did have a physical confrontation with both Triple H and Stephanie McMahon.
Could McGregor do something similar at SummerSlam?
McGregor is set to face Nate Diaz at T-Mobile Arena in Las Vegas on Saturday, Aug. 20, and SummerSlam takes place the next night at Barclays Center in Brooklyn. It's not likely that McGregor would show up on WWE TV less than 24 hours after his fight, and there are no reports that indicate his recent comments were a ploy to set up a storyline in WWE.
But it can't be ruled out that the two sides won't eventually work together. WrestleMania 33 in Orlando in 2017 might be a more realistic time for McGregor, or another UFC star, to do something with WWE.
© Copyright IBTimes 2023. All rights reserved.
FOLLOW MORE IBT NEWS ON THE BELOW CHANNELS