WWE SummerSlam Showcased Foreboding Signs Of Triple H's Creative Reign
KEY POINTS
Iyo Sky and Dakota Kai made their main roster debut alongside a returning Bayley at SummerSlam
The event may also be Brock Lesnar's final WWE appearance after Vince McMahon's retirement
SummerSlam 2022 also saw commentary changes from Michael Cole that could lead to great calls down the road
SummerSlam 2022 marked the first pay-per-view under the reign of Triple H as head of creative, and it certainly was an event to remember as the entire event kickstarted discussions on forums as to what direction WWE is going.
Below are three happenings from SummerSlam that showcased Triple H's fingerprints.
Kicking The Show Off With A Bang
The Raw Women's Championship was up for grabs in the opening match of the card as Bianca Belair sought to defend her title and avenge her loss to Becky Lynch from last year's SummerSlam.
A hard-fought match from both women that worked extremely well as a show-opener, Belair was successful in fending off Lynch as the pair shook hands after the match.
However, what happened after the match had fans buzzing even more.
After nearly a year on the sidelines due to an ACL tear, Bayley made her triumphant return to WWE, but she was not alone.
Recently-released NXT standout Dakota Kai made a shocking entrance alongside Bayley, and former NXT women's champion Io Shirai (now going by "IYO SKY") was also finally called up to the main roster.
It was a momentous moment for all three women as there were no rumors leaked leading up to Kai and Sky's SummerSlam appearance.
Triple H surely knows how to keep pro wrestling fans' heads on a swivel, and it would not be surprising to see some of his former NXT protégés making an appearance in the coming months.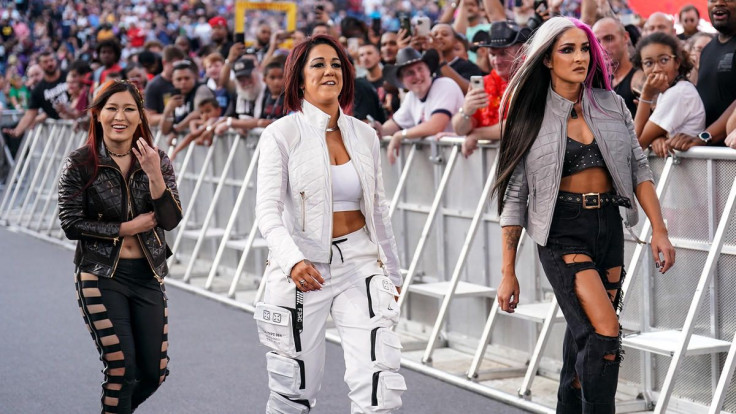 A Main Event To Be Remembered
Brock Lesnar and the undisputed WWE Universal Champion Roman Reigns took on each other in their fifth and possibly final one-on-one encounter in the main event of SummerSlam in a Last Man Standing match.
Both men made the most out of their 23-minute match time as tables were broken, steel steps were dismantled, and Lesnar rode a tractor to the ring and used it to lift one side of the ring.
56-year-old Paul Heyman even took an F5 from Lesnar through the announce table as chaos took hold of the entirety of the match.
At the end of it all though, Reigns stood tall and is on pace to extend his streak of 699 days with the championships after he and his cousins The Usos went for the Braun Strowman approach and buried Lesnar underneath a pile of debris to keep him from answering the ten-count.
From fans' perspective, many were expecting a cookie-cutter Last Man Standing match akin to that of many that happened in recent history, but Reigns and Lesnar made sure to burn the house down and send fans home happy.
Triple H himself was involved in one of the best Last Man Standing matches in WWE history when he took on Chris Jericho at Fully Loaded 2000, so he knew exactly what he was doing in seemingly giving all parties involved creative freedom to craft a brutal match without drawing significant amounts of blood.
At this point, fans have gotten tired of the repeated Lesnar-Reigns matches, and providing a callback to Lesnar imploding the ring during his match with Big Show in 2003 is the perfect bookend to the storied career of "The Beast Incarnate."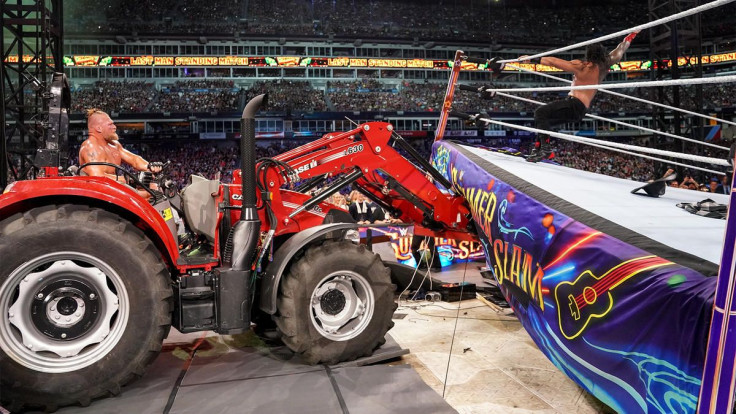 Subtle Commentary Changes
The biggest change from the Vince McMahon era to that of Triple H's was Michael Cole's improved commentary work.
During the match between Pat McAfee and Happy Corbin, Corey Graves snidely mentioned that he liked Cole better when the latter "was not allowed to have an opinion" to which Cole simply responded, "that's changed, a lot's changed."
The reference here could be to the many years when Cole had to deal with McMahon constantly being in his ear via the headset and forced him to split his attention between calling the match and dealing with the former chairman and CEO.
Cole also repeatedly used the term "WWE fans" a lot throughout the broadcast instead of "WWE Universe"–the company's in-house term for their viewers in attendance.
Other small changes to commentary include Cole calling out the names of the moves that were being performed in the ring, using the then-"banned" term belt to refer to a championship and him being able to have casual banter with Corey Graves.
Cole has shown in the past that when he is given relatively free rein to do commentary, like during the NXT UK Championship Tournament in 2017 and 2015's "Beast in the East" special, he can produce magic on commentary.
While he has produced magical calls in the past, fans are eager to see how it will develop in the coming weeks.
© Copyright IBTimes 2023. All rights reserved.