WWE Wrestlers And MLB Players: Who Do John Cena, Brock Lesnar, The Undertaker And More Compare To?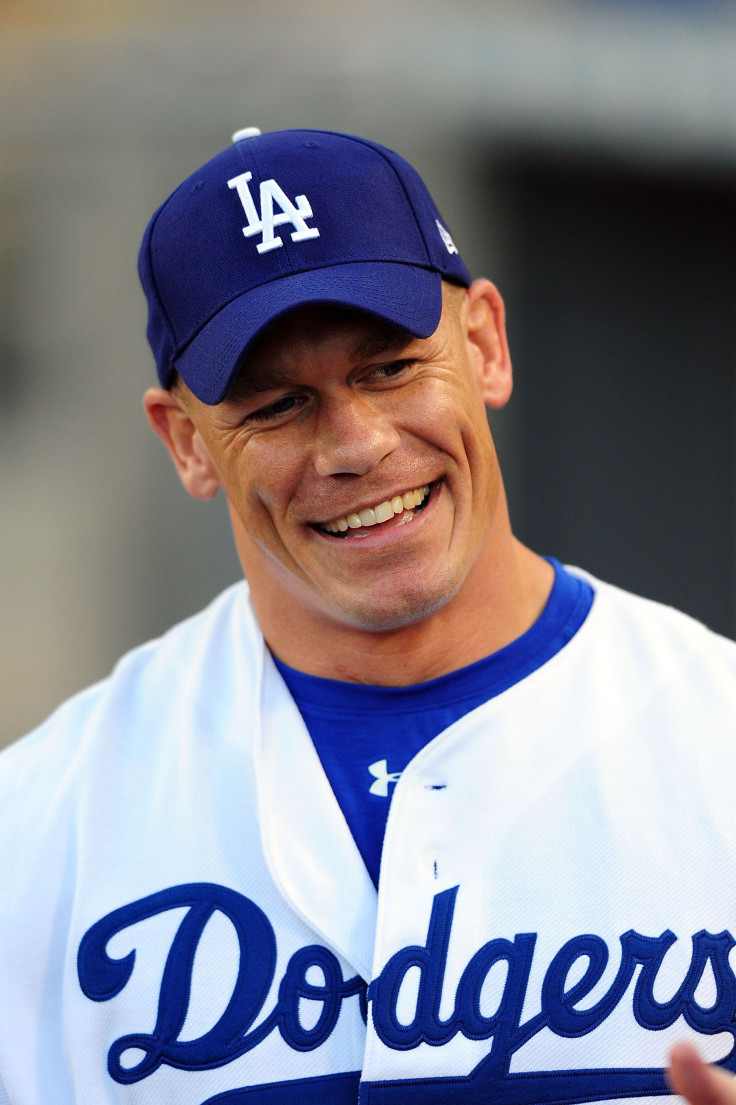 The Fourth of July marks a dead period in the sports world. NBA free agency dominates much of the news, but MLB is the only one of the "Big Four" sports that will have regular-season games for the next two months.
While most sports leagues and TV shows are on their yearly break, WWE continues to roll along. The company has no offseason, continuing to produce new episodes of "Monday Night Raw" and "SmackDown" every week.
Wrestlers have been compared to NBA and NFL players, but since baseball is the only sport going strong in the summer, here's a look at the top WWE superstars and their MLB counterparts.
Albert Pujols is John Cena
Both are the best stars of their generation. Cena is on his way towards breaking Ric Flair's record of 16 world title runs, and Pujols has a chance to break Barry Bonds' all-time home run record. While some fans have grown tired of Cena being on top for so long, his work over the past year can't be denied. His matches with the likes of Brock Lesnar and Kevin Owens have been some of the best on WWE TV in recent memory. Pujols hadn't performed like a top player over the past few years, but he's had a resurgence in 2015, leading the American League in home runs.
Giancarlo Stanton is Roman Reigns
Much like Stanton will be one of MLB's top stars for years to come, Reigns is a future multi-time WWE World Heavyweight Champion. Stanton has already signed the largest contract in American sports history, and Reigns has been pegged as the future face of WWE, though both have faced their share of adversity. Stanton has battled through injuries, and WWE fans turned on Reigns because of the push he received ahead of WrestleMania 31.
Mike Trout is Dean Ambrose
They're two of the most popular young stars in their respective industries, having made an impact as soon as they made their debuts. Trout had his first full season in 2012, and he's been the best overall player in MLB ever since. Ambrose joined the WWE roster in 2012 and was immediately thrust into the main event scene. The Shield became a legendary faction, and he's been WWE's most entertaining babyface over the last year. Despite all their success in a short amount of time, Trout is without a title and Ambrose hasn't won the WWE World Heavyweight Championship.
Alex Rodriguez is Triple H
A-Rod's had such a good career that he's been given two record-breaking contracts, but his history with performance-enhancing drugs has him booed at every ballpark other than Yankee Stadium. Triple H is an all-time great performer, but his perceived "burying" of other WWE talent and bias against smaller wrestlers earned him a poor reputation among a large portion of the fan base. However, both have managed to change certain fans' perceptions, at least somewhat. Rodriguez is still hated around the league, but his resurgence in 2015 has made Yankee fans embrace him. Triple H, once hated by "smart fans," is now praised by that same segment of the audience for helping to build NXT and bring the best independent wrestlers to WWE.
Bryce Harper is Seth Rollins
It took Harper a few years to realize his potential, but he's been the best MLB player this season, and he's likely to be an All-Star for years to come. Even though he's been so much fun to watch, he's one of the most-hated players in baseball. The same can be said for Rollins, who has been WWE's most consistent performer since The Shield broke up in June 2014. Few wrestlers have a more exciting in-ring style than Rollins, but he's still found a way to be WWE's top heel.
Miguel Cabrera is Brock Lesnar
Lesnar is the "Beast Incarnate," and Cabrera is simply the biggest beast in MLB. The way Lesnar dominates other wrestlers in the ring, Cabrera dominates opposing pitchers, having won a Triple Crown and hitting at least .320 in eight seasons. They both have their limitations, in that Lesnar isn't good on the mic and Cabrera plays bad defense. But they still manage to be the best at what they do.
Adam Wainwright is Daniel Bryan
Both have achieved incredible success, though injuries have prevented them from staying on top for as long as they should have. Wainwright has finished in the top three in NL Cy Young voting four times, while winning a World Series in 2006. But Tommy John surgery forced him to miss his team's championship run in 2011, and he's out for the rest of 2015. After getting the best crowd reactions by any wrestler since maybe Stone Cold Steve Austin, Bryan finally won the WWE World Heavyweight Championship at WrestleMania 30. Injuries, however, have kept him out of the ring for much of the time since then, and his in-ring career is in jeopardy.
Yasiel Puig is Bray Wyatt
Puig is one of the best young talents in baseball, and he took the Majors by storm when he made his big league debut in 2013. His brash nature also intrigued fans, and he was able to back up his attitude with stellar play on the field. Wyatt had a lot of hype as well when he joined the main roster in WWE, and he instantly became one of the most fascinating characters WWE had seen in a long time. The Los Angeles Dodgers' outfielder has been productive when on the field, but he's battled injuries and has never been quite as good as he was during his rookie season. Wyatt has a lot of promise and he's had some big matches, but many of his promos have become tiresome, and WWE hasn't properly utilized him.
Felix Hernandez is Dolph Ziggler
The Seattle Mariners' starting pitcher made his MLB debut 10 years ago, and he's been as good as any player at his position over the past decade. Ziggler made his "Monday Night Raw" debut in 2006, and he consistently puts on some of the best matches in WWE. But Hernandez has been trapped on a bad team, never even making the playoffs, while Ziggler is still waiting to get the push that he deserves.
Robinson Cano is Randy Orton
Cano plays baseball just like Orton wrestles. His swing is smooth like Orton is smooth in the ring, and the game comes so easy to him that it often looks like he isn't breaking a sweat. Cano has been to the playoffs almost every year, and Orton has held the world title 12 times. Even with all the success they've achieved, they still have several years left.
Zack Greinke is Kevin Owens
Greinke and Owens have been among the best in their field for years, but they are now doing their best work on the biggest possible stage. Greinke is a former AL Cy Young winner, but he's now having the best season of his career in Los Angeles Dodgers, instead of pitching in Kansas City and constantly missing the playoffs. Owens was a big star on the indies, but now he's come to WWE and gone toe-to-toe with the company's top star.
Bartolo Colon is Mark Henry
Only one player in baseball is older than Colon, and Henry made his WWE debut all the way back in 1996. The New York Mets' pitcher's frame is unlike that of any player in MLB, and Henry is known for his size and strength. While no longer in their primes, both can still produce at a high level on occasion.
Kris Bryant is Neville
At just 23 years old, Bryant has superstar written all over him. Neville has only been on the main roster for a few months, and he can do things in the ring that no other WWE superstar can. Only injuries and poor booking can prevent them from having long, successful careers.
Nelson Cruz is Ryback
Both Cruz and Ryback are known for their power. The outfielder led the AL in homers last year, and Ryback's in-ring style revolves around his strength. Cruz was suspended for performance-enhancing drugs two years ago, and Ryback didn't do much of anything last year. But Cruz is one of the AL's best power hitters, and Ryback gets a good reaction from most crowds, enabling WWE to put the Intercontinental Title on him.
C.C. Sabathia is Big Show
Both are known for being big, and their best days are behind them. Sabathia is a borderline Hall of Famer, but injuries and Father Time have caused him to be an unproductive player. Big Show will certainly make the WWE Hall of Fame, but he hasn't been in an interesting storyline in some time, and his constant babyface and heel turns make it nearly impossible to care about his character.
Matt Kemp is The Miz
Kemp had a short run as the National League's best player, earning that title in 2011. The Miz was in the main event of WrestleMania that same year, but he hasn't come close to doing so again. Kemp hasn't played at an All-Star level in a few years, and some fans might remember him more for dating Rihanna than being a great player. The Miz seems to star in more WWE movies than wrestling matches these days, and it's almost hard to believe that he headlined WrestleMania as the WWE champion.
Ryan Howard is Kane
Both are large in stature and headed towards the end of their careers. Howard was once one of the most-feared sluggers in the game, and Kane scared every child that watched WWE during the Attitude Era. But Howard is a .220 hitter on the league's worst team, while Kane seemingly loses every match that he's in.
Jose Bautista is Sheamus
Both have battled some injuries, but they've been pretty consistent when healthy. Sheamus has had a permanent place in the upper mid-card for the past few years, and Bautista has been very good, though never an MVP winner. Bautista's power and Sheamus' hard-hitting style also make them comparable.
Josh Hamilton is King Barrett
It's not as if Hamilton and Barrett haven't had good careers. The outfielder was a top power hitter for a few seasons, and Barrett has held the IC Title five times. But off-the-field issues and injuries have prevented Hamilton from playing up to his potential, and too many injuries will probably prevent Barrett from ever becoming WWE World Heavyweight Champion.
Justin Upton is Cesaro
Upton has had his share of good seasons, but he's bounced around the league a few times and has yet to become a consistent All-Star. The fans have taken to Cesaro, who is terrific in the ring, but he hasn't found his footing as a top star in WWE. He's bounced around the tag division and been paired with multiple managers, still waiting for his big push.
Derek Jeter is The Rock
Both have transcended their industries and become pop culture icons. The way Jeter carried himself, as well as his performances in big moments, made him an all-time great. The Rock's WWE career wasn't incredibly long, but he had such an impact that he was able to make the transition to movies and become one of the biggest actors in Hollywood.
Mariano Rivera is The Undertaker
Rivera retired in 2013 and The Undertaker wrestles once a year with probably just one match left in him. The sport's greatest reliever has always been well-respected, and The Undertaker was always known as a locker room leader. Rivera never won the Cy Young and The Undertaker only held the WWE title for 63 total days, but their consistency is unmatched and they are two of the best ever.
FOR FREE to continue reading
✔️ Unlock the full content of International Business Times UK for free
offer available for a limited time only
✔️ Easily manage your Newsletters subscriptions and save your favourite articles
✔️ No payment method required
Already have an account?
Log in
© Copyright IBTimes 2023. All rights reserved.