Yankees News: Aaron Judge, Gary Sanchez Injury Updates, Giancarlo Stanton Carrying New York
The New York Yankees are likely headed back to the AL Wild-Card Game. While it might be impossible to ask the team to catch the surging Boston Red Sox even at full strength, the Bronx Bombers haven't been able to keep pace without a couple of their best players.
Aaron Judge and Gary Sanchez have both been out of the lineup since July 28. Judge suffered a chip fracture in his wrist just a few days after the catcher went on the disabled list, and New York has essentially fallen out of the AL East race.
Even after a four-game winning streak, the Yankees are 7-6 since Judge got hurt. That's not nearly good enough to compete with a team that's on pace to win 114 games and seemingly loses once in a blue moon.
When Judge was initially diagnosed with his injury, the Yankees were hopeful that he could return to playing in major-league games in only three weeks. That timetable seems to have been premature since New York's best player hasn't begun swinging a bat two weeks after getting hit by a pitch.
"The wrist, it's feeling all right," Judge told reporters Friday at the Oakley Store in Manhattan to promote his new endorsement deal. "It could be better. But I'm still right on track. Hopefully, I'll swing the bat here in the next couple of days, next week, at some time. We don't have a timetable on that yet. But I know pretty shortly we should start ramping it up and get going, get swinging again."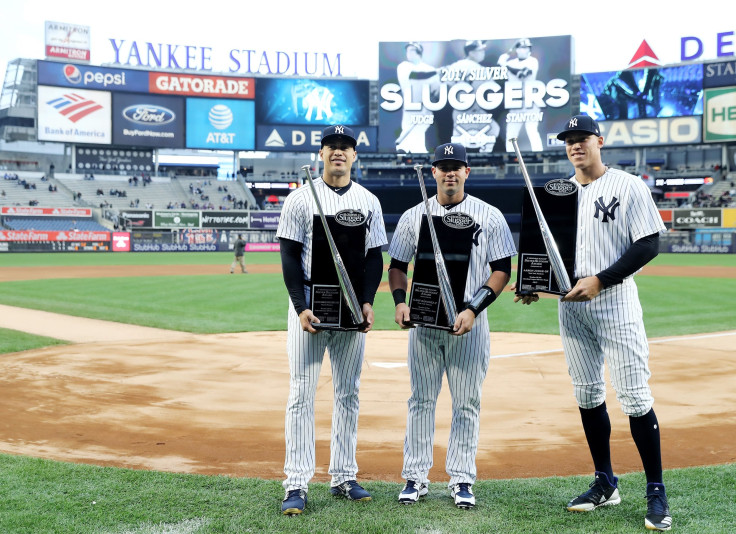 Judge picked up where he left off last year when he was the runner-up in the AL MVP race, hitting .285/.398/.548 with 26 home runs in 99 games.
The loss of Sanchez hasn't hurt the Yankees nearly as much as Judge's absence. The catcher has struggled in 2018 in between two DL stints because of a groin injury.
Sanchez's .188/.283/.416 splits are a far cry from his production in the previous two seasons, though he's still among the best hitting catchers in MLB. Austin Romine is a suitable backup catcher, but he's got a paltry .496 OPS since the All-Star break.
The Yankees could have their starting catcher back before their No.1 right-fielder returns to the lineup. Sanchez is rehabbing in Tampa and appears to be on track to hit the initial target of late August or early September to rejoin the team.
"He's going to stay in Tampa through the weekend because we have the two day games," Yankees manager Aaron Boone said Thursday, via MLB.com. "It's just better work days for him there. He's due to head back up here Sunday night, and then hopefully start getting out on the field with us and moving around, starting to do his catching stuff. Hopefully, he'll start to take off from there."
The injuries have temporarily broken up the Aaron Judge-Gary Sanchez-Giancarlo Stanton trio that once occupied the Yankees' lineup. Stanton has done his best to keep New York among the league's top offenses, picking up the slack in his teammates' absence.
Yankees' fans no longer have a reason to boo Stanton like they did when he struggled at the beginning of the season. The slugger leads the AL in hits since June 18, and he's got a 1.017 OPS in August. Stanton has 17 home runs since June 1, and he's brought his overall season numbers up to .279/.343/.521 despite a .661 OPS in April.
Stanton has played in all but one game this season. He leads the Yankees in homers, RBI and hits.
© Copyright IBTimes 2023. All rights reserved.
FOLLOW MORE IBT NEWS ON THE BELOW CHANNELS