Yankees News: Nestor Cortes Injured, Jordan Montgomery Trade Looks Even Worse
The New York Yankees are losing another pitcher to the injured list. Nestor Cortes is expected to go on the IL with a groin injury, The Athletic reports, an ailment that could keep him off the mound until mid-September.
Cortes joins a long list of Yankees' pitchers who have been injured in the last several weeks, a stretch that has coincided with New York posting one of the worst records in baseball. The loss of Cortes highlights the Yankees' issues in the rotation, making the decision to trade Jordan Montgomery even more damaging.
Yankees' fans were taken by surprise when it was announced that the team sent Montgomery to the St. Louis Cardinals in exchange for injured outfielder Harrison Bader right before the trade deadline. The deal has been nothing short of a disaster for New York, which could certainly use the left-hander in their rotation.
In four starts with the Cardinals, Montgomery has been as good as any pitcher in MLB. The 29-year-old has allowed just one earned run and 16 baserunners over 25 innings. In his most recent start, Montgomery threw a one-hit shutout against the Chicago Cubs, needing only 99 pitches to toss a complete game.
Montgomery shut out the Yankees over five innings in his St. Louis debut.
To make matters worse for New York, Montgomery's de facto replacement in the rotation has been a major disappointment. Frankie Montas has made four starts for the Yankees since coming over from the Oakland Athletics at the trade deadline. Even after a solid outing against the New York Mets in his last start, Montas has a 7.32 ERA during his limited time in pinstripes.
Montgomery won't keep up this pace in St. Louis, and Montas' numbers should improve. Still, Yankees General Manager Brian Cashman could have a lot to answer for in regards to the Montgomery trade come October.
In Cortes' absence, Jameson Taillon, Domingo German and Clarke Schmidt make up the backend of the Yankees' rotation. Taillon has been up and down with a 4.00 ERA. German has put together a strong August, but he has a career 4.48 ERA and a lot to prove. Schmidt has three career starts and was becoming a valuable member of New York's struggling bullpen.
Closer Clay Holmes is on the IL, along with relievers Scott Effross and Albert Abreu. Starter Luis Severino has been on the IL since mid-July.
General manager Brian Cashman traded Montgomery assuming that they had a playoff berth locked up and the left-hander wouldn't be part of their postseason rotation.
Since the trade deadline, it's become clear that New York has plenty on the line in the regular season, and their playoff rotation is far from set in stone.
As the Yankees' hitting and pitching have gone into an extended slump, their lead atop the AL East has shrunk to seven games in the loss column ahead of both the Tampa Bay Rays and Toronto Blue Jays. New York has fallen to 3.5 games behind the Houston Astros for the No. 1 seed in the league.
If the Yankees have another cold stretch following their latest three-game winning streak, their hold over the AL East could be in jeopardy.
Gerrit Cole is in line to be the Game 1 starter in New York's first playoff series. That's just about the only certainty when it comes to the Yankees' playoff rotation.
Will Cortes and Severino be ready for the postseason? Probably, but there's no guarantee that either will be at the top of their game after stints on the IL. It remains to be seen how effective Montas will be as a Yankee.
Montgomery might not have the same upside as Montas, Cortes or Severino, but he also doesn't have as many question marks. The veteran was a consistent performer in New York. Montgomery's 3.69 ERA with the Yankees in 2022 was almost identical to the 3.76 ERA he's put together during his six MLB seasons.
It's not certain when Bader will make his Yankees' debut. The center fielder has been out since late June with plantar fasciitis. Bader has five home runs and a .673 OPS in 72 games this year.
Assuming Bader does return in time to be part of New York's playoff roster, much of his value will come on defense, the Yankees' biggest strength. New York leads MLB in defensive runs saved, according to FanGraphs.
The Yankees' pitching was their strength when they were winning games at a record-setting pace. That hasn't been the case for quite some time. Since the All-Star break, New York's 4.03 ERA ranks 19th in the MLB.
The Yankees only have one starter who ranks in the top-30 in ERA. Cortes is 11th in the majors with a 2.68 ERA, and he'll be on the shelf for the near future.
Montgomery ranks 21st in baseball with a 3.08 ERA.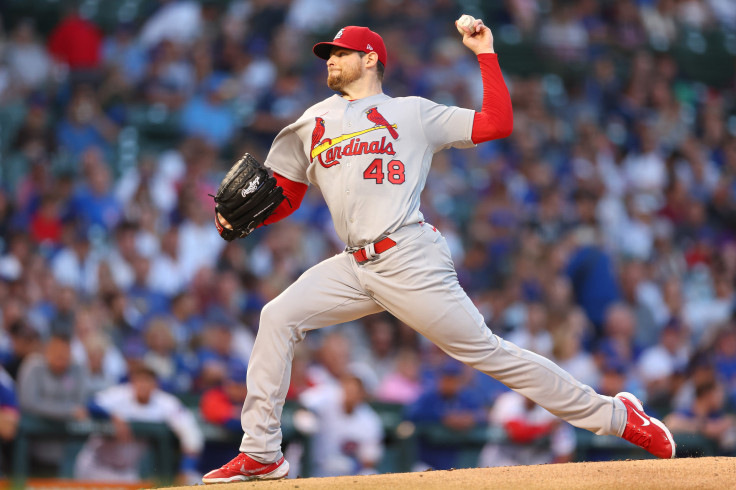 © Copyright IBTimes 2023. All rights reserved.