Yankees News: Who Will Replace Derek Jeter At Shortstop In 2015? Free Agents Include Hanley Ramirez, JJ Hardy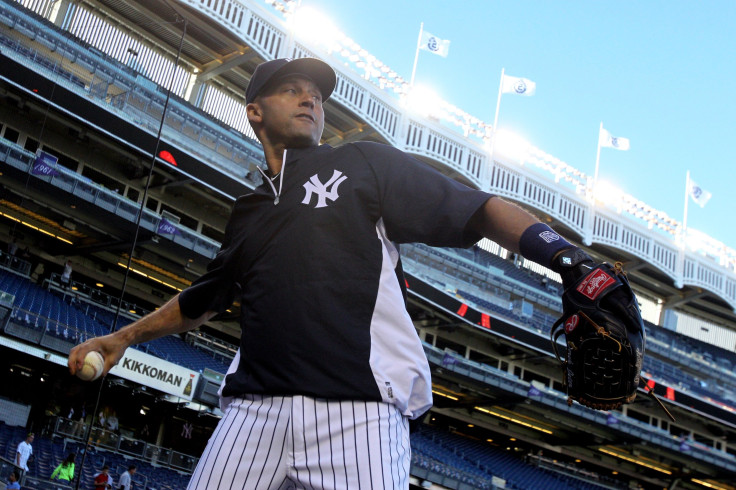 The 2015 Major League Baseball season will mark the first time since 1996 that someone other than Derek Jeter will serve as the permanent shortstop for the New York Yankees, which means that some as-yet unknown player will face the unenviable task of replacing one of baseball's most beloved figures. As of now, most believe that the Yankees' next shortstop will come from outside the organization.
Without an obvious heir to Jeter's legacy in the farm system, the Yankees are expected to turn to free agency or the trade market to find their next shortstop. Hanley Ramirez, 30, will likely be the most coveted shortstop on the free agent market this offseason.
A career .300 hitter, Ramirez has spent the last two and a half seasons as a member of the Los Angeles Dodgers. Despite missing a large portion of the 2013 season due to injury, he hit .345 and was considered a major contributor on the team's run to the National League Championship Series.
He has been less effective this season -- he hit just 13 home runs and recorded an OPS, or on-base slugging, nearly 60 points below his career average – and is notoriously prone to injury. However, his offensive pedigree would certainly benefit a Yankees lineup that struggled to produce runs in 2014. Jeter himself recorded an OPS of just .614 this season, 25th among players who played at least 100 games with shortstop as their primary position, USA Today notes.
Ramirez's price tag could present an obstacle to the Yankees' pursuit. He is reportedly seeking a contract in excess of $130 million, Jon Heyman of CBS Sports reported in May. Jeter's $12 million salary will be off the Yankees' books by 2015, but money is rarely an issue for the Bronx Bombers. The team's payroll exceeded $200 million in 2014, second only to the Los Angeles Dodgers, who spent nearly $240 million, according to ESPN.
Baltimore Orioles shortstop J.J. Hardy will also be a free agent this offseason. Throughout his career, the 31-year-old has been a consistent source of power, recording at least 20 home runs in five of his 10 MLB seasons. A two-time Gold Glove winner, Hardy would be a major defensive upgrade over Jeter, who has struggled to cover ground in the later stages of his career.
From there, the 2015 free agent shortstop class wears thin. Asdrubal Cabrera of the Washington Nationals and Jed Lowrie of the Oakland Athletics will each be available, though neither player has done enough offensively this season to qualify as more than a stop-gap option. Current Yankee Stephen Drew has played second base alongside Jeter since midway through the 2014 season, but is a natural shortstop that will be available for next season. But given his .150 batting average with the less-than-positive light in which he is viewed by Yankees fans, he does not appear to be an ideal fit as Jeter's replacement.
The Yankees could also opt to trade for Jeter's replacement. Colorado Rockies shortstop Troy Tulowitzki is an MVP-caliber player who could fill the hole in the middle of the Yankees' lineup while providing solid defense in the field. Moreover, Tulowitzki grow up idolizing Jeter – he wears No. 2 in the Yankees legend's honor. But, given the depleted state of the Yankees' farm system, it seems unlikely that they will be able to present a trade package that will surpass that of a prospect-rich franchise, such as the New York Mets. The same issue applies to other potential trade targets, such as Jose Reyes or Elvis Andrus.
Regardless of whom the Yankees chose to pursue, no current player can match Jeter's leadership on the field or his gravitas in the locker room. Without a clear option in sight, some have begun to express worry about the hole that Jeter's absence will leave – former Yankee pitcher David Wells described the lack of a waiting replacement as "sad" during a recent appearance on the YES Network's "CenterStage" program.
"I don't know what's going to happen with New York after this," he said.
© Copyright IBTimes 2023. All rights reserved.
FOLLOW MORE IBT NEWS ON THE BELOW CHANNELS