Yankees Start Spring Training With Best 2018 World Series Odds, Lofty Expectations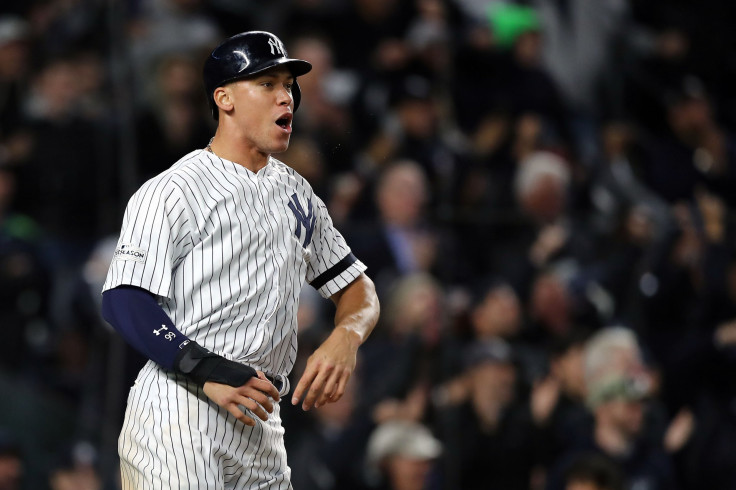 Pitchers and catchers reported to spring training for the New York Yankees Tuesday, 115 days after they were eliminated from the playoffs. After coming one victory shy of reaching the World Series for the first time in eight years, the club has its eyes on winning a 28th championship.
The Yankees found themselves in a unique position in the 2017 MLB season, surprising the rest of the league with a wild-card berth and a trip to Game 7 of the American League Championship Series. In what was supposed to be another rebuilding year, New York exceeded expectations by becoming a legitimate contender.
That won't be the case in 2018.
The Yankees had their short-lived run as underdogs, able to call a season in which they didn't even win the pennant a success. No one is going to overlook New York this year. It's World Series or bust again for the most-storied franchise in professional sports.
"We understand the expectations," first-year manager Aaron Boone told reporters at a press conference in Tampa. "A lot of these guys came of age and viewed [last year] as a very successful season, but what stands out being in that room right now, each guy I've spoken to, there isn't satisfaction.
"From what I can tell, the hunger in these guys is real."
Prior to the start of last season, nine teams had better World Series odds than the Yankees, and their over/under for wins was set at 83.5. Heading into spring training this season, New York is third in MLB with a 94.5 projected win total. They are the betting favorites to win the 2018 World Series with slightly better odds than either the Los Angeles Dodgers or the defending champion Houston Astros, according to OddsShark.
Just take a look at the rosters around the league. Who has a more balanced roster than the Yankees?
Houston won the title with baseball's best offense, and they even added Gerrit Cole to a rotation that features two aces, but their bullpen leaves a lot to be desired. L.A. led the National League in ERA with the league's best starter and a group of relievers that were historically great in the playoffs, but there are several lineups around the league that are more dangerous.
The Yankees have the players necessary to boast a top-five lineup, starting rotation and bullpen. It's what they did a year ago, and the team only got better over the offseason.
It all starts on offense, where the Yankees have a chance to set records in 2018. New York finished last season second in runs scored, and their MLB-leading 241 home runs ranked ninth all time. That total might only go up after trading Starlin Castro and a couple of minor-leaguers for reigning NL MVP Giancarlo Stanton.
Stanton led all players with 59 home runs, while AL MVP runner-up Aaron Judge finished second with 52 homers. Gary Sanchez hit 33 balls over the outfield fence, and Greg Bird could be a lethal power threat if he remains healthy.
No longer are the Yankees relying on up-and-coming players with untapped potential. The lineup is filled with superstars and MVP candidates that have higher expectations than any other team.
Players like Judge, Stanton and Sanchez can make it easy to undervalue New York's starting pitching, which had the AL's second-best ERA a year ago. Even without adding the likes of Cole or Yu Darvish—the Yankees flirted with acquiring both—the team's combination of youth and experience makes for a championship-level rotation.
Luis Severino was third in the 2017 AL Cy Young voting. He'll be just 24 years old on Opening Day and could be even better after leading the team with a 2.98 ERA. Sonny Gray has posted an ERA of 3.55 or better in four of his five MLB seasons. Jordan Montgomery had a 3.88 ERA and a winning record as a rookie.
Maybe Masahiro Tanaka will never be the Cy Young winner that some predicted, but he still might be the most important member of the rotation. Despite a handful of inexplicably bad starts last season, the right-hander has a 3.56 ERA in four seasons with the team. Most importantly, Tanaka was as impressive as any pitcher not named Justin Verlander in the 2017 playoffs, surrendering just 13 baserunners and two runs in 20 innings.
New York brought back C.C. Sabathia on a one-year contract after he posted a 2.37 playoff ERA in four starts, including a victory over the Cleveland Indians in the deciding Game 5 of the ALDS. Sabathia has posted a sub-4.00 ERA in each of the last two seasons.
At 37 years old, Sabathia isn't the innings-eater that he once was. He doesn't have to be when he's got some of the sport's best relievers closing out games for him.
Most teams have one or two dominant pitchers in the bullpen. New York has five relievers that could potentially be closers around the league—four if you want to discount Dellin Betances for his horrid finish to last season.
Betances (2nd), Tommy Kahnle (7th), Chad Green (9th), David Robertson (12th) and Aroldis Chapman (18th) were all among the MLB leaders in strikeouts per nine innings last year. No other team even has more than two players that ranked as high as New York's relievers.
Chapman had the highest ERA of the group at 3.22. Kahnle, Green and Robertson combined for a 1.79 ERA and 190 strikeouts in 130.2 innings with the Yankees.
"We're going out there with an intensity and an expectation of greatness."

Aaron Boone talks team chemistry & championship aspirations in the @Yankees clubhouse. pic.twitter.com/EpE6NNq1jA

— YES Network (@YESNetwork) February 13, 2018
After going 91-71 last season, the Yankees might have their best team since 2009. They won 103 games and their first World Series in nearly a decade that year.
Nothing is guaranteed, of course.
The Yankees might be relying on rookies at both second and third base with the departures of Castro, Chase Headley and Todd Frazier. It'd be hard for Judge and Stanton to match the production they had in 2017. There isn't a proven sixth starter on the roster, and it would only take a couple of injuries to make that a glaring hole on the roster.
General manager Brian Cashman has left the team equipped to deal with any unexpected obstacles. Six teams enter spring training with a higher payroll than New York, according to Spotrac. The Yankees have the flexibility and the talent in the minor leagues to make significant mid-season additions if need be.
The pieces are in place for the Yankees to win another title. Back are the days of anything less than a World Series championship being considered a failure.
"We're not going to run from (expectations)," Boone said. "We're going to embrace that. We're going to expect to be great."
© Copyright IBTimes 2023. All rights reserved.