Yankees stings Rays to clinch AL East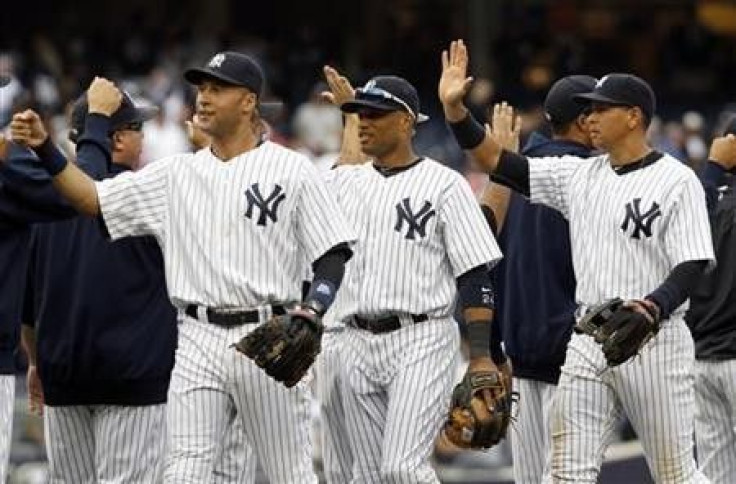 The New York Yankees clinched the American League East to enter Major League Baseball's postseason for the 16th time in the last 17 years with a doubleheader sweep of the Tampa Bay Rays on Wednesday.
Having pulled off a 4-2 comeback victory in the early game, the Yankees got a go-ahead two-run single from Jorge Posada in the eighth inning to win by the same score in the nightcap.
CC Sabathia pitched 7 1/3 innings and allowed two runs in a no-decision and New York sealed their division with Derek Jeter resting on the bench, having taken the night off.
This is a special group, Yankees manager Joe Girardi told reporters after the game. Our season didn't start off real good the way we played against (the Red Sox).
This is a group that knows how to bounce back and when things don't go well they don't panic.
The Yankees (95-60) were in position to clinch after the fading Boston Red Sox lost to Baltimore 6-4 on Wednesday.
In New York's opener, they trailed 2-1 in the eighth inning but rallied with a leadoff home run by Eduardo Nunez off Rays starter and loser James Shields (15-12).
A two-run double from Robinson Cano against lefty reliever J.P. Howell followed to grab the lead.
Mariano Rivera, pitching for the first time since he became MLB's all-time saves leader with his 602nd on Monday, added to this total by setting the Rays down in order in the ninth to give reliever Luis Ayala (2-2) the win and notch his 44th save of the season.
There was no celebration after Game One for the 27-times World Series champions, but they let loose after clinching the division.
The Yankees improvised their pitching lineup in the opener when scheduled starter Phil Hughes was unable to play due to back spasms.
Hector Noesi started in place of Hughes and was the first of eight pitchers stitched together by Girardi to get through the game.
New York took a 1-0 lead in the first inning on an RBI-double from Alex Rodriguez that scored Jeter, but the Rays went ahead 2-1 with a two-run home run by rookie outfielder Desmond Jennings in the third.
Noesi was removed in the third inning and a procession of relievers followed to hold down Tampa Bay until the Yankees playoff-clinching rally in the eighth.
© Copyright Thomson Reuters 2023. All rights reserved.