Yankees Trade Rumors: Is Gary Sanchez Available? GM Denies New York Offered Catcher In Proposed Deal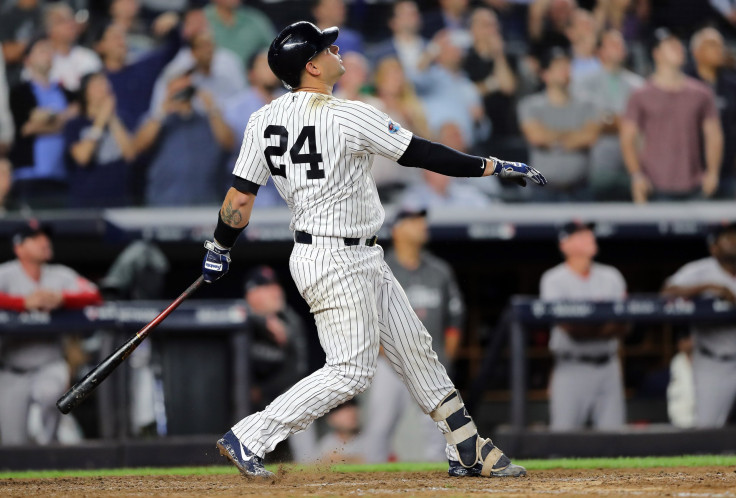 The New York Yankees are not looking to trade Gary Sanchez, according to general manager Brian Cashman. The GM denied a recent report that the team has explored the idea of dealing the catcher this offseason.
Fancred's Jon Heyman reported Thursday that the Yankees might be willing to send Sanchez to the Miami Marlins in exchange for catcher J.T. Realmuto, but a deal hasn't been agreed upon because New York won't include other assets. Cashman said the Yankees never offered Sanchez to the Marlins.
"I have been asked about Gary Sanchez. He's not for sale," Cashman said in an interview with YES Network's Jack Curry.
Realmuto is being pursued by several teams around MLB. Miami is reportedly willing to deal the 27-year-old, who made his first All-Star team in 2018 by hitting .277/.340/.484 with 21 home runs in 125 games.
One year ago, Sanchez was considered to be among the most untradeable players in all of baseball. The catcher hit 20 home runs with a 1.032 OPS in just 53 games as a rookie in 2016. He followed that up by hitting .278/.345/.531 with 33 homers in 122 games in 2017.
Sanchez didn't look like the same player in 2018. In addition to his defense behind the plate regressing, he hit .186/.291/.406 with 18 home runs as injuries limited him to 89 games.
The Yankees believe Sanchez will bounce back in 2019 when he's fully healthy. The catcher underwent shoulder surgery last month to repair an issue he's been dealing with since the 2017 season.
Sanchez turned 26 years old Sunday. He won't be eligible to become a free agent until after the 2022 season.
New York has already made one trade this offseason, dealing highly touted pitching prospect Justus Sheffield and two other minor leaguers to the Seattle Mariners for starting pitcher James Paxton. The Yankees will be active this winter, though Sanchez is expected to be the team's starting catcher on Opening Day.
© Copyright IBTimes 2023. All rights reserved.