You Can Play: New Foundation Supports LGBT Athletes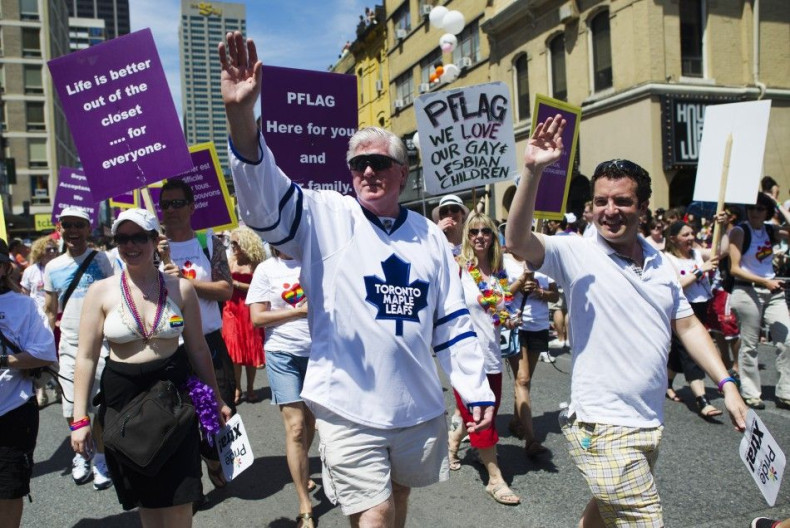 Patrick Burke, a scout for the Philadelphia flyers and son of Toronto General Manager Brian Burke, launched You Can Play late last week, a foundation seeking to end casual homophobia in hockey and in sports around the world.
The group was founded in memory of Burke's brother Brendan who died in a car accident in 2010, little more than a year after he came out publically as a gay man.
Brendan played youth hockey as a goalie until his senior year of high school, then as a student at the University of Miami in Ohio he became a manager for the men's team, tracking goaltending stats.
When he came out, he was embraced by the team and coaching staff at Miami in what was a major victory for acceptance in hockey at some of its highest levels.
His story sparked debate throughout the sports world, in large part because of his father. Brian Burke was a hard-nosed grinder as a player, a man's man, and he prized those kinds of players as an executive in Hartford, Vancouver, Anaheim and Toronto.
But, despite being a traditional symbol of masculinity, Burke supported his son and became one of the most outspoken supporters of acceptance in professional sports.
After his death, the rest of the Burke family took up the cause. Brian now marches in the Toronto Gay Pride Parade in memory of his son, and is a member of the board of You Can Play.
The name of the organization reflects what Patrick felt was his brothers legacy in hockey. He wrote a tribute to his brother for Outsports.com a website dedicated to LGBT issues in sports. That tribute contained the line, Can he play? We need to make it clear to every hockey player - gay, straight, black, white, religious, atheist, tall, short, whatever - if you can play, we welcome you.
The new foundation is targeting the language of the locker room, an entrenched place of crude jokes and juvenile humor, but not one of hate, according to Patrick.
Those guys are using homophobic slurs but not meaning them in a homophobic sense. You see a guy say 'don't be gay' and he's not saying 'don't be a homosexual,' he's saying 'don't be an ass,' Patrick told Yahoo. We're all about makin' fun of each other. I understand how guys bond. But we need to cut out that language so those athletes that are hiding can feel safe.
At this point, at least 30 current NHL players have signed on to be a part of the effort, joining players like Sean Avery who have already been outspoken in their support of homosexual athletes.
Check out the video here which features Rick Nash, Duncan Keith, Brian Boyle, Matt Moulson, Joffrey Lupul, Claude Giroux, Daniel Alfredsson, Scott Hartnell, Corey Perry, Andy Greene, Dion Phaneuf and Henrik Lundqvist as well as Brian and Patrick Burke.
This effort is the first of its kind in American Sports, though it does share some similarities with the Kick It Out - anti-racism campaign in soccer throughout the world.
Though no athlete has come out as gay in any of the four major sports, John Amaechi a forward who played for numerous NBA teams from 1995-2004 came out as a gay man after his retirement. As have former NFLers Esera Tuaolo, Roy Simmons and Dave Kopay as well as baseball players Glenn Burke and Billy Bean.