Young Rangers Fan Woos Girl With Fake Foul Ball, Keeps Real One After Hidden Ball Trick [VIDEO]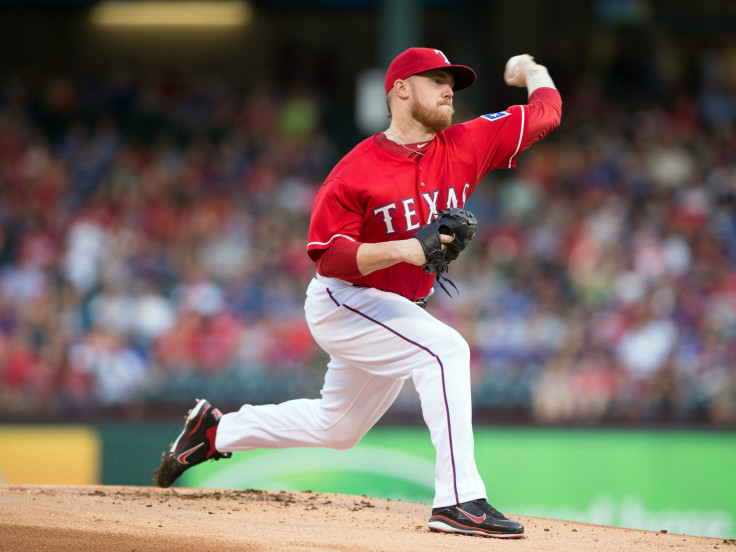 A young Rangers fan pulled off the smoothest play of the night during Texas' game against the Toronto Blue Jays on Saturday night.
During the fourth inning of the Rangers-Blue Jays game at Rangers Ballpark in Arlington, Toronto outfielder Kevin Pillar pulled a ground ball down the line and into the waiting hands of Luis Rivera, the team's third base coach. Rivera tossed the ball to the young Rangers fan, looking to be about 11 years old, who decided to use the opportunity to impress a female fan sitting behind him.
The young Rangers fan was already holding a baseball, so when Rivera tossed him the foul ball, he kept that prized possession safely in his glove and held up the other baseball as if it were the game ball. Next, he turned around and handed the decoy ball to the female fan, who was thrilled by his gesture.
Everyone in the vicinity (including the girl's friends) was impressed by the move, and a video of the stunt went viral on Sunday. It's unclear if the Rangers fan meant to deceive his female admirer, but he's already gained a reputation as the smoothest young man in America.
A video of the young Rangers fan's impromptu hidden-ball trick can be viewed below.
[h/t For The Win]
© Copyright IBTimes 2023. All rights reserved.