Zion Williamson To Knicks? College Star Would 'Love To Play' In NYC
New York Knicks fans can get a little more excited about next summer as top college prospect Zion Williamson openly spoke about the prospect of playing with the organization.
Williamson featured at Madison Square Garden on Thursday night, as he helped Duke come from behind to an eventual 69-58 win over Texas Tech, contributing with 17 points and 13 rebounds in 25 minutes of action, though he would be fouled out towards the end of the game.
After the game, the 18-year-old was asked about potentially playing in Madison Square Garden regularly if he were to be drafted by the Knicks next year, and he was all for it.
"Forty-one games at the Garden, I mean, it would probably be incredible," Williamson said, as per ABC 7. "... This is the Garden. A lot of greats have come through here."
"My favorite great to come through here was probably Bernard King because my stepdad talked about him a lot how he just put the ball in the basket. ... I had to go watch his highlights. He could really score the basketball. He was incredible how he did it. Playing 41 games here wouldn't be so bad."
In another interview, he added he would love to play for the Knicks, but ultimately, it's all down to the team that wants to make the most of his talents.
"I think this is R.J. [Barrett]'s team. R.J., do you want to play for the Knicks? If they draft me, I'd love to play for the Knicks," he added. "I don't really care where I go, just the experience of being in the NBA. Whoever wants me and whoever sees the most in me, that's where I want to be."
Williamson is one of the most talked about college players in recent times and is projected by many to be the No. 1 overall pick in the 2019 NBA Draft next year.
A physical freak at 6'7 and 285 pounds, the Duke freshman is averaging 19.8 points and 9.4 rebounds over 12 games this season. He has already drawn comparisons to LeBron James while earlier this month, Kevin Durant even labeled him as a "once-in-a-generation athlete."
"He's a once-in-a-generation athlete, I've never seen somebody like that before," Durant said. "Zion Williamson, I've never seen anybody that's lefty that can dunk with his right hand like that, and cock the ball back so far and jump so high off two feet. I've seen people jump high, but not that way, you know what I'm saying?"
"... He moves good. Zion, he's protecting the rim in the half court, that's how athletic he is. He'll be a great team defender."
Williamson is not the only standout player at Duke either, as the likes of R.J. Barrett and Cam Reddish are also expected to be high picks. The Knicks are currently 9-24 for the season so far, but are expected to sign a high-profile free agent like Durant next summer.
If they continue to be among the worst teams in the NBA this season, they'll have a good shot of getting the No. 1 pick and maybe teaming up Durant and Williamson next season.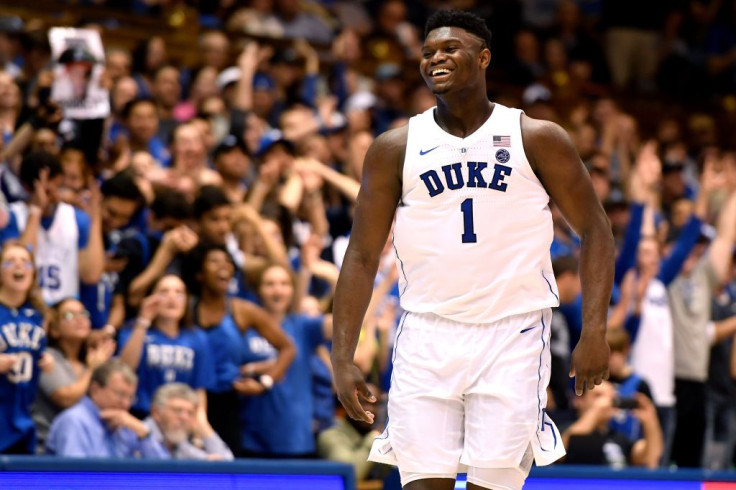 © Copyright IBTimes 2023. All rights reserved.