Latest Presidential Polls: Donald Trump With A Lead? Hillary Clinton With Swing State Edge? Gary Johnson, Jill Stein Playing Spoiler?
Photo: REUTERS/Chris Keane

Photo: Reuters
Hours, not days, remain until the next President of the United States is elected, with polls showing a one-sided race in an election cycle that has span roughly 575 days. Hillary Clinton, who withstood a surprisingly arduous challenge in the Democratic primaries from Sen. Bernie Sanders of Vermont, appears on the path to capture more than the 270 electoral votes need to win and hold off Republican nominee Donald Trump.
In a four-way race among likely voters, Clinton has opened up at least a 3-point advantage in recent polls conducted by Bloomberg, ABC News/Washington Post tracking, Fox News and Monmouth University. To add to Trump's woes, early voting has tilted toward Democrats in crucial swing states Florida (29 electoral votes) and Nevada (6 electoral votes). President Barack Obama has stated that if Clinton wins Florida, she will win the election, and Clinton already has a jump on Obama when it comes to early voting amongst black voters in Florida.
Hillary passed Obama in total black voters who participated in Early Voting in Florida.



2012: 539,000

2016: 564,000 (not counting today)

— Adam Smith (@AdamSmith_usa) November 7, 2016

However, there are some factors that could lead to some consternation for the Clinton campaign. An Investor's Business Daily (IBD) and TechnoMetrica Market Intelligence (TIPP) poll actually shows Trump leading Clinton 43 percent to 41 percent, with Libertarian nominee Gary Johnson at 6 percent and Green Party nominee Jill Stein at 2 percent.
There are also fears of low turnout in Democratic strongholds like Philadelphia due to a transit strike, and rising fears of voter intimidation. A low overall turnout could also potentially allow Trump to pull off an upset.
Meanwhile, there is perhaps stronger support for third-party candidates that could perhaps cut into Clinton's lead. Both Johnson and Stein failed to capture 1 percent of the vote in the 2012 election, but have experienced an uptick in support in 2016. Polls show both Johnson and Stein's poll number fading in recent months, but not by a substantial amount.
Johnson has polled as high as 6 percent this week, while Stein has hovered at about 2 percent. Other candidates, like independent Evan McMullin, may siphon some votes from the Never Trump movement that may have considered voting for Clinton.
But there are questions whether "spoiler" candidates actually influence a presidential race since the 2000 election, which saw Green Party candidate Ralph Nader receive 2.74 percent. Nader, who campaigned to the left of Democratic nominee Al Gore, received 97,488 votes in Florida, and 22,198 votes in New Hampshire—two states which Republican George W. Bush carried by 537 votes and 7,211 votes, respectively.
Since 2000, no third party candidate has come close to matching Nader's 2.74 percent. Dan Schnur, director of the Jesse M. Unruh Institute of Politics at the University of Southern California, doesn't believe momentum for third-party candidates will continue into Election Day.
"It appears that a lot of the earlier support for third- and fourth-party candidates has been dissipating," Schnur told International Business Times in a phone interview. "That's fairly typical. The closer we get to an election, the more reluctant many voters are to cast a ballot for someone they don't think has much of a chance.
"While [Johnson and Stein] attract more support this year than in 2012, it will be much less than the polls predicted earlier this fall."
While it's unclear how much third-party will influence the general election results, they may still play a factor in a few key swing states. A new New York Times/Siena College survey showed Clinton tied with Trump at 44 percent in North Carolina, with Johnson at 3 percent.
In Ohio (18 electoral votes), polls by CBS News/YouGov and Remington Research both had Trump leading Clinton by 1 percent, with Johnson polling at 3 percent and 4 percent, respectively. Stein received 2 percent in the CBS News/YouGov poll.
Johnson, the former governor of New Mexico, has unsurprisingly polled well in his home state. New Mexico (5 electoral votes) has voted for the Democratic nominee in five of the last six elections, but Clinton's lead over Trump is just 46 percent to 44 percent in a recent ZiaPoll, with Johnson at 6 percent and Stein at 1 percent.
But Clinton still leads Trump in New Hampshire (4 electoral votes)and Colorado (9 electoral votes). Should she carry both states, Clinton can still lose Florida and Ohio and still win the election.
Below is a "worst-case scenario map" for Clinton that shows her with enough electoral votes to win.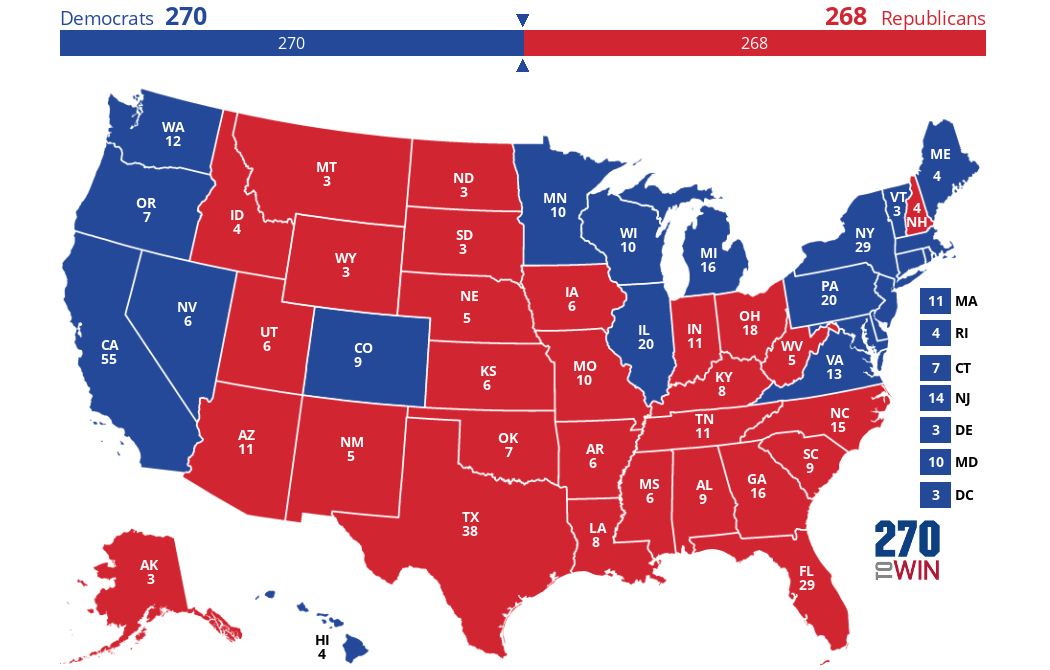 Click the map to create your own at
270toWin.com
But the most likely electoral map is expected to look more in favor of Clinton.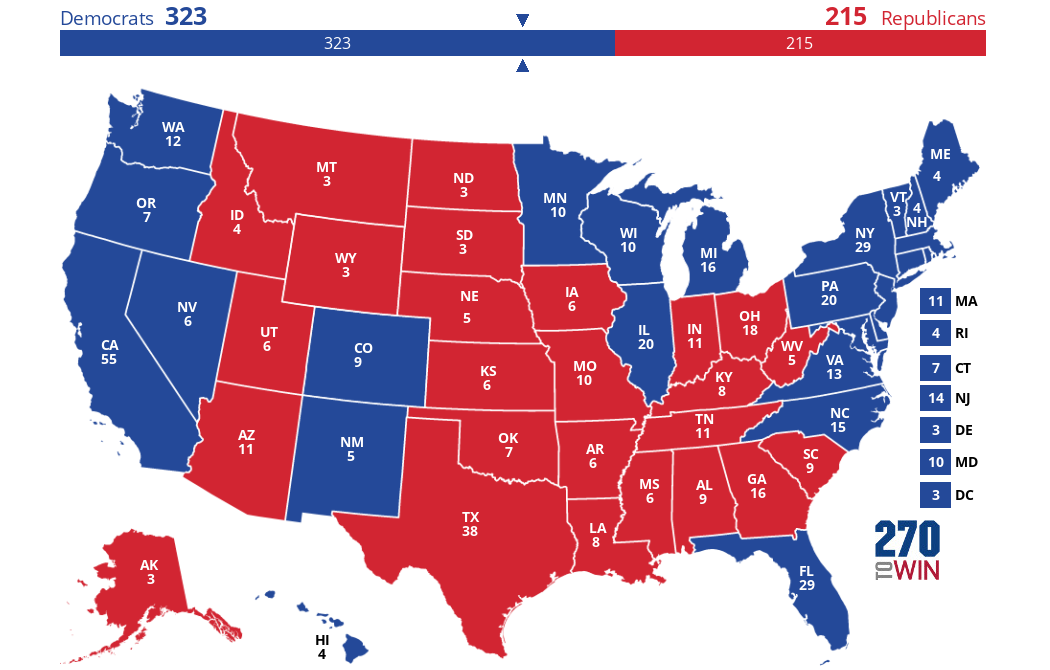 Click the map to create your own at
270toWin.com