1,200 Decomposing Bodies Of Dead Ukrainians Have Not Been Identified
KEY POINTS
Ukrainian authorities have still not identified 1,200 decomposing bodies
Criminal cases have been opened in connection with the 12,000 people found dead across Ukraine
Around 75% of the dead were men, 2% were children and the rest were women
Around 1,200 bodies that were recovered in areas of Ukraine previously held by Russian forces have yet to be identified, according to Ukrainian police.
"This process is lengthy and quite painstaking because a lot of bodies are in a state of decomposition," Igor Klymenko, the head of the National Police of Ukraine, said in an interview with Interfax.
"We take DNA from those relatives who contacted us on the hotline, then compare the profiles of these relatives with the profiles of the dead who were buried, shot, who could not be identified. Relatives should be only direct - father-mother-children. That's the only way we work," the police chief explained.
Authorities have opened criminal cases in connection with the more than 12,000 people found dead across Ukraine, including those discovered in mass graves, according to the police official.
More than 1,500 civilians died in Ukraine's Kyiv region alone, and the figure suggested that they were killed as a result of a "conscious decision by the Russian military," Klymenko said.
"They knew what they were doing, they knew the consequences, and they did it anyway," he said.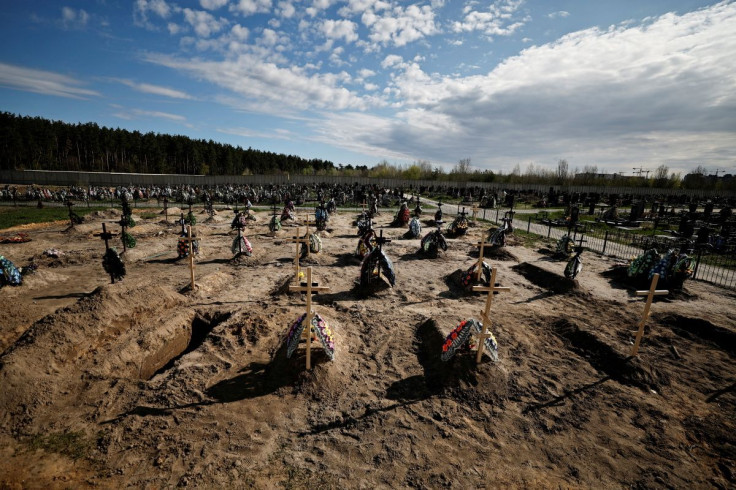 Ukrainian authorities find between two to three bodies in mass graves every week, according to Klymenko. At least 116 people were buried in one such grave in the city of Bucha.
"There were smaller burials - five to seven people. Residents collected the bodies of the dead and buried them in parks. In Irpin, two to five people were buried in such graves. Whole families that were killed were buried separately," Klymenko said.
"A lot" of people were found dead in the streets of Bucha, Irpin, Gostomel and Borodyanka, according to police. Snipers shot them from tanks and armored personal carriers even though they were wearing the white armbands that the Russians had forced them to wear, Klymenko said.
The armbands reportedly signaled support for Russian troops, who have been accused of using the cloth to confuse Ukrainian forces.
Meanwhile, Ukrainian explosives technicians, forensic experts and investigators also found "many" dead bodies in apartments, according to Klymenko. The deaths were caused by mine injuries.
Approximately 75% of the dead that have been recovered were men, 2% were children and the rest were women, authorities said.
"This is a civilian population, people had nothing to do with the military or law enforcement agencies," Klymenko said.
Under Article 8 of the Rome Statute of the International Criminal Court (ICC), "intentionally directing attacks against the civilian population as such or against individual civilians not taking direct part in hostilities" is considered a war crime.
Russia has denied claims that its forces committed war crimes in its invasion of Ukraine. However, Ukrainian prosecutors said they have identified 15,000 suspected war crimes in the ongoing conflict.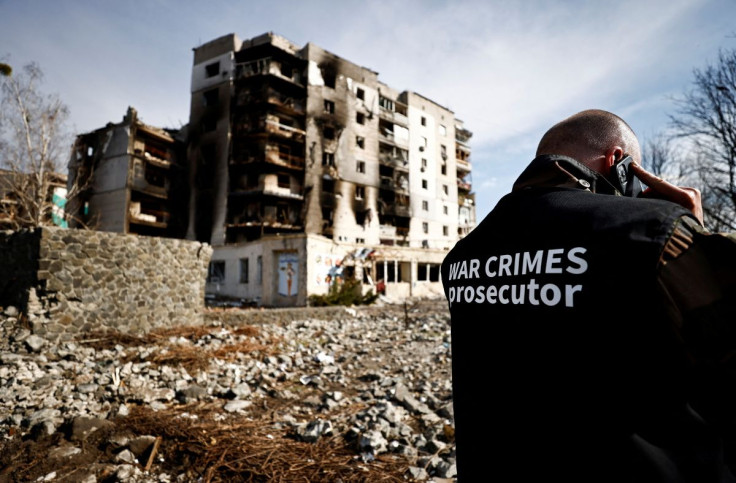 © Copyright IBTimes 2022. All rights reserved.
FOLLOW MORE IBT NEWS ON THE BELOW CHANNELS