1,500 Refugees In Hungary Flee Roszke Camp Amid Concerns Raised About Food, Water, Hygiene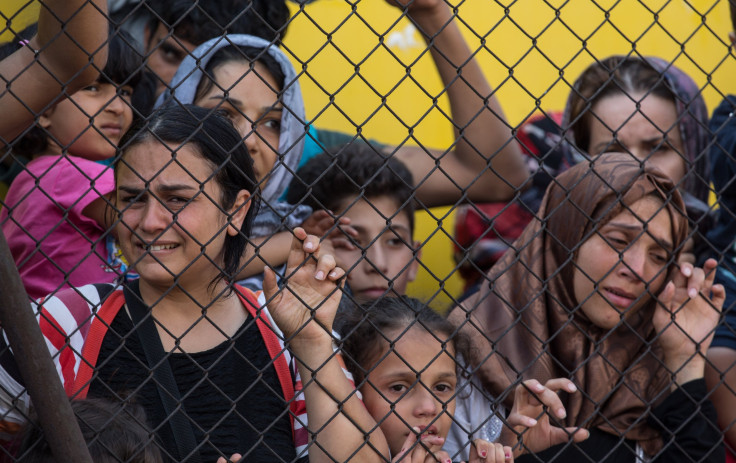 UPDATE 9:18am EST:
Around 300 of the refugees that escaped from a makeshift shelter Friday morning were captured by the Hungarian police and forced to return to the Roszke camp, Wall Street Journal's Matt Bradley reported via Twitter.
Some of the around 300 #migrants who were captured after they tried to flee return to #Hungary's Röszke #refugee camp pic.twitter.com/EL2WiTBUBl

— Matt Bradley (@MattMcBradley) September 4, 2015
Original Story:
Hungarian police were searching Friday for 1,500 people who had escaped from a refugee camp, a German foreign correspondent reported. Refugees had been stranded in the Keleti train station in Budapest for days, unable to leave the station or board trains headed for Western Europe. Refugees said they feared being taken back to the trash-strewn camps, where there was little food or water, and a train of refugees was reportedly tricked into being taken there by being told they were boarding a train for Austria.
Refugees -- many from Iraq, Syria, and other war-torn Middle Eastern and North African countries -- have been fleeing violence in their homelands by trying to cross into Europe. People have been arriving throughout the summer by the thousands every day, mostly landing in southern or eastern Europe because of its proximity to Turkey, and as many as 340,000 people have arrived since January.
Thousands of refugees have been stranded in Hungary since Monday, after Hungarian authorities closed down the train station in an attempt to seal the nation's borders. For most refugees, Hungary is just a pit stop and serves as an entrance to the Schengen area, a group of 26 European nations in which people can travel freely without border controls. Refugees have said they want to go to Germany or the U.K. most often, and many of the people who were turned away from Keleti train station in Budapest had already purchased tickets for Germany.
Roszke camp in Hungary, about 30 kilometers (about 18.5 miles) outside of Budapest, quickly became well-known among refugees as an abysmal place. Refugees said they did not have enough food or water in the camp, which was surrounded by barbed wire and monitored with multiple security cameras. Authorities barred journalists from entering the camp, and some have filmed it from outside, where only heaps of trash and Syrian refugees standing behind barbed wire can be seen.
"These refugees always will find their way to the West no matter what barriers are put in their way," Gabor Gyulai of the Helsinki rights committee told the Times of Israel Wednesday. "This just makes them wait and suffer and spend their last pennies on train tickets they cannot use," he said.
© Copyright IBTimes 2022. All rights reserved.
FOLLOW MORE IBT NEWS ON THE BELOW CHANNELS