$1M Bitcoin Price Prediction A 'Ruse,' John McAfee Admits To Deceiving People
KEY POINTS
John McAfee admits that $1 million Bitcoin was a ruse
McAfee believes BTC is ancient technology
McAfee introduces a blockchain for politics
John McAfee finally admits to his apparent ploy and won't be doing the unthinkable of feasting on his genitalia after all.
McAfee who pioneered the eponymous anti-virus software is known as a Bitcoin bull in the crypto community, and back in 2017, when the entire market seems to be going nowhere but up, McAfee predicted that a $1 million price for the flagship crypto is sure to take place by the end of 2020. And although sky-high BTC predictions are nothing new, what latched on was McAfee's wager to eat his private parts should his forecast fail.
Back in October last year, McAfee explained to Benjamin Pirus of Forbes that Bitcoin would reach that extortionate value because of its limited supply. He even pointed out that 7 million BTCs are lost forever and that if Satoshi is dead, a few million more should be deducted to the already limited supply. What McAfee is alluding to is that the actual math states that crypto investors will only be fighting for something much less than the 21 million BTCs that will ever be in existence. And, a $1 million BTC is still a conservative figure if Bitcoin gets to process 20 percent of the world's financial transactions that, according to McAfee, will be worth about $10 million by then.
But 2020 arrives, and the cybersecurity expert called off his wager early. There are still 12 months to go, but McAfee seems to have taken a step back despite a few key fundamental events that BTC will undergo this year -- one of which is the halving in May.
McAfee tweeted, "Eat my d--- in 12 months? A ruse to onboard new users. It worked. Bitcoin was first. It's an ancient technology. All know it. Newer blockchains have privacy, smart contracts, distributed apps and more. Bitcoin is our future? Was the Model T the future of the automobile?"
With that comment, it appears as though McAfee is bailing out on Bitcoin, and what it all was is just a trick to get new users to prop up BTC prices. What became useful for McAffe, though, is the notoriety he garnered, which he used recently to generate hype for his new platform: a blockchain for politics.
"We're applying Blockchain to the Political Process by tokenizing Political leaders. We'll show, scientifically, how power grows, accumulates and flows throughout politics. We'll link news, decisions and actions to perceptions in the minds of American voters," he said.
So, as McAfee dismisses BTC as ancient tech, can a $1 million BTC be ruled out? Billionaire investor Tim Draper may say otherwise, but his estimate is far more modest than McAfee's at $250,000 by 2023, and he attributes this projection to technical analysis and the increasing number of women who will further Bitcoin adoption. Another billionaire in Twitter CEO Jack Dorsey is working on the crypto with a dedicated team to make it more mainstream.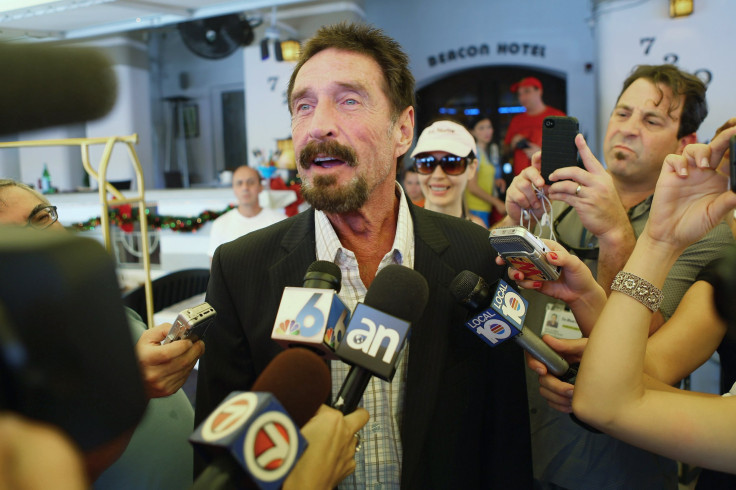 © Copyright IBTimes 2023. All rights reserved.
FOLLOW MORE IBT NEWS ON THE BELOW CHANNELS