2012 Laws: California Immigration to Illinois Penalties, What You Need to Know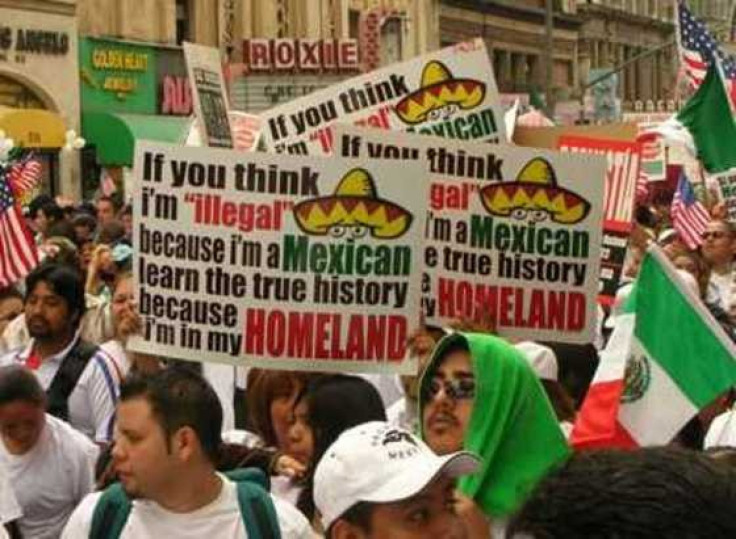 A series of groundbreaking (and sometimes head-scratching) laws have been passed by states like California, Tennessee, Illinois and Florida, covering everything from illegal immigration and underage abortions to LGBT history and a public database for first-degree murderers.
Here's everything you need to know about the laws that will ring in the New Year, from harsher penalties for child rape in Illinois to the legalization of same-sex marriage in Delaware.
Why should you care about an abortion law in New Hampshire? What's so important about the new 2012 election laws in Rhode Island? Scroll through for all the details.
2012 Immigration Laws
Harsher Laws in Alabama, South Carolina
Alabama, Georgia, South Carolina and Tennessee have all passed laws that will make it harder for illegal immigrants to find and keep work in the United States.
Alabama, which now has America's toughest immigration laws, will require employers who do business with any government entity to use a federal system known as E-Verify to check that all employees are in the country legally. Georgia will enact a similar law dealing with businesses that have 500 employees or more in 2012 and for business with 10 employees or more by July 2013.
Tennessee will allow new employees to submit a driver's license rather than E-Verify, but South Carolina is veering hard to the right, with a bill allowing officials to take away the operating licenses of businesses that don't check whether their employees are illegal immigrants.
South Carolina even had provisions that would have required police to check the immigration status of suspects or even those stopped fro traffic violations, and make it a crime for illegal immigrants to transport and house themselves. Last week, however, a federal judge ordered those sections of the 2012 law blocked.
California Immigration Law: Why It's Important
California, in contrast, is the only state to prep a law for 2012 that makes adjusting to American life easier for illegal immigrants, albeit for students rather than workers.
A new bill will allow students who entered the country illegally to receive private financial aid at public schools. By doing so, the state avoids using tax dollars to fund illegal immigrants in college, but also allows those students to receive an education.
In Georgia, meanwhile, critics of the 2012 immigration law are already challenging the right of a state to enact immigration laws, and argue that portions of the law are already hurting Georgia's economy, not helping it.
It is destroying Georgia's economy and it is destroying the fabric of our social network in South Georgia, said Uvalda mayor Paul Bridges, whose small town is devoted to onion farming and agriculture. According to Chron.com, he already is part of a lawsuit challenging the law in 2012.
2012 Abortion Laws

New Hampshire, Arkansas Enact New Restrictions
In New Hampshire, girls seeking an abortion will be required to tell their parents or a judge first, an old law that has been reinstated by a conservative majority. In Arkansas, meanwhile, facilities that perform more than 10 nonsurgical abortions per month must now be licensed by the state Health Department and will be subject to routine inspections.
Why New Hampshire Law Changes Everything
The Arkansas abortion law affects two Planned Parenthood facilities that offer the abortion pill, but they're not singled out in the statute and are likely to applaud the bill as a sign that women's health, not their right to choice, is what's under examination.
In New Hampshire, however, the abortion law may have a big effect in 2012. The law as it stands has been on the books for eight years, but a series of lawsuits and a recent gubernatorial veto stopped the law from actually being enforced. Not that a Republican majority has overturned the veto, however, the law will be upheld after the New Year.
2012 LGBT Laws
Delaware Legalizes Gay Marriage, California Demands LGBT History
Delaware and California have both passed monumental state laws for LGBT rights, which should go into effect at the start of 2012. After the New Year, same sex civil unions will be legalized in the state of Delaware, and gay and lesbian couple will have the same rights under law as heterosexual married couples.
California, meanwhile, has passed a law that will require schools to include the effect that the LGBT community has had on U.S. history, and to add gays and lesbians as well as people with disabilities to a list of social and ethnic groups whose contributions must be noted in history and social studies classes.The law also bans teaching materials that are offensive to the LGBT community or disparage particular religions.
California Law Already Under Fire
As New Year Eve 2012 draws closer, opponents to the law have already filed five potential initiatives to restrict its influence or overturn it completely.
While some demand an outright repeal of the LGBT history requirement, others are moving to give parents the right to remove their children from class when LGBT history and the contributions of gays and lesbians to American culture are being taught.
2012 Penalty Laws
Tennessee, Illinois Increase Penalties
Tennessee will increase the penalties for both child rape and illegal gun use in 2012. A minimum of 25 years will be implemented for criminal sexual assault of a child, and people who fire a gun into an occupied home will also face harsher penalties as part of an effort by officials to curb drive-by shootings.
Illinois, meanwhile, gave its school boards license to suspend or expel students who make explicit threats on web sites like Facebook, their blog ro twitter against fellow students or school employees.
Illinois Launches New Public Database

In addition to its new school threat law, people who have been convicted of first degree murder in Illinois will now be added to a public database when they are released from prison, allowing their neighbors as well as local and federal authorities to know who they are and requiring them to register as such for at least a decade after release.
In the past, public databases like these were usually only used for sex offenders, ranging from peeping toms to rapists and pedophiles, but Illinois already has databases for child murderers, sex offenders and arsonists. The 2012 bill will apply retroactively for those convicted after 2002.
2012 Athletic Laws
Starting in 2012, state law will require football coaches to bench athletes as young as 11 if they're believed to have suffered a head injury. In order to get back in the game, the player must go through a medical check and receive clearance to play.
The new law also requires coaches in public and private schools, on Little League teams and in Pop Warner football to go through annual online training to recognize the symptoms of a concussion. The training is free, and a dozen other states have enacted similar law with the support of the National Football League
2012 Traffic Laws
Illinois now requires students 18 and under to wear seat belts while riding in taxis for a school-related purpose, such as going on a field trip or getting a ride to school.
On the flip side, however, motorcyclists will now be allowed to ride through red lights. In the new Illinois law, a rider may go through a red light after waiting a reasonable amount of time to check traffic.
2012 Minimum Wage Laws
Florida is one of eight states with automatic increases in the minimum wage starting New Year's Day, 2012. The others, with increased ranging from 28 to 37 cents, are Ohio, Arizona, Colorado, Montana, Oregon, Vermont and Washington.
2012 Budget Laws
Federal Laws
Congress passed a measure last week extending Social Security tax cuts and federal unemployment benefit programs. It raises the insurance fees on new mortgages and refinancing backed by Fannie Mae, Freddie Mac and the Federal Housing Administration by about 1 percent starting Jan. 1, 2012.
Since about 90 percent of those programs are effected, this will raise monthly payments for borrowers on a new mortgage (around $200,000) by roughly $17 more a month.
Delaware, Nevada Target State Employees

In Delaware, new state employees will be required to contribute more to their pensions. In Nevada, meanwhile, employees will have to pay their own health care costs after retirement.
2012 Election Laws
Election Law Changes in Rhode Island, Tennessee
Rhode Island and Tennessee will require voters to present photo ID starting in 2012. Those who support the measure argue it will prevent voting fraud. Those opposed, however, say it will make it harder for the poor and the elderly to cast ballots, as they are far mroe likely to have an expired ID or to not have one at all.
Ohio Cuts Primary
The Ohio primaries will now simply be the Ohio primary, with the state cutting one of its electoral events for March 2012 and going into effect in late January. This will save the state roughly $15 million.
2012 Texting Laws

Nevada's October ban on texting while driving is about to get even tougher. Instead of warnings, police are now advised to give tickets to those who text and drive beginning with the New Year.
In Pennsylvania, police are also about to enforce a new ban on texting. The 2012 law, however, is not expected to go into effect until the early spring.
2012 Food and Alcohol Laws
Florida plans to take control of lunch and other school food programs for public schools from the federal government. Beginning after the New Year's break, the state will be putting more Florida-grown fresh fruits and vegetables on the school menu. Agriculture Commissioner Adam Putnam said in a statement that the change would help children eat healthier in 2012.
In Utah, meanwhile, a new law has been passed prohibiting daily drink specials at bars. Essentially, this means that the state has banned happy hours.
For more information on the new laws coming in 2012, from the crucial to the obscure, visit government sites like the National Conference of State Legislatures.
© Copyright IBTimes 2023. All rights reserved.
FOLLOW MORE IBT NEWS ON THE BELOW CHANNELS