2012 Presidential Poll: Obama Beats GOP Despite National Pessimism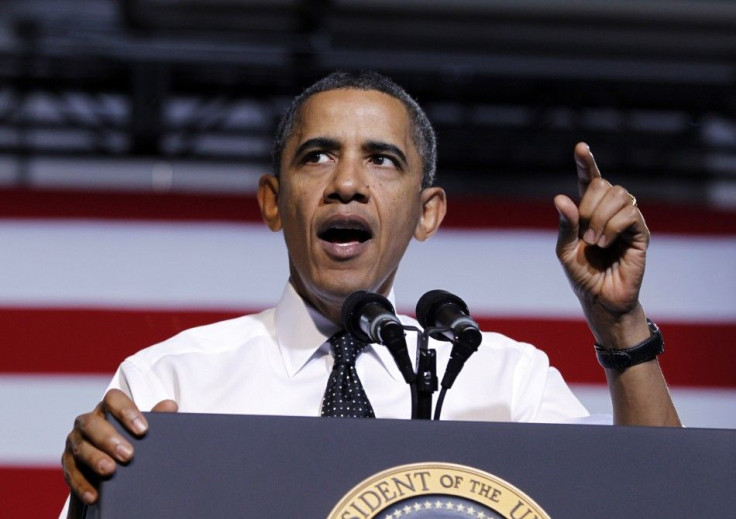 Exactly two months before the Iowa caucus and with one year to go before the presidential elections, a new poll shows President Obama is beating all his GOP contenders for the 2012 elections, despite low approval ratings and a pervading air of pessimism within America at large.
In the WSJ/NBC poll, released Nov. 7, 2011, Obama's approval rating is shown to remain at 44 percent, the same mediocre number as the past three months. 51 percent of Americans, a slim majority, disapprove of his presidency, but a more significant 57 percent disapprove of Obama's handling of the economy, despite his efforts in recent weeks to champion economic reform and lay blame for the financial crisis on Republicans.
As the president prepares for re-election in 2012, the poll also indicates a more general feeling that Obama has failed to live up to almost all voter expectations. Taking twelve domestic and foreign policy issues and asking whether the President has lived up to them or fallen short, Obama received high marks in only two areas, improving race relations and the war in Iraq.
In ten other categories, including the war in Afghanistan and even health care, participants rate Obama as having failed to live up to voter expectations. Obama 's rating was higher on handling terror crises, but it was not one of the dozen issues presented.
Such results however, do not preclude a succesful re-election bid by President Obama, and in fact may end up indicating the opposite. President Obama still beats every GOP contendor for the presidency, including significant wins over the most likely candidates for the Republican primary.
Obama leads Republican challenger Mitt Romney by six points in the NBC poll, and beats businessman Herman Cain by 15 points.
Cain is likely to see a drop in his own position this week following a tie with Romney for GOP support. Though his poll numbers held steady at 23-27 percent in recent ABC and NBC polls, results were calculated before Sharon Bialek's press conference Nov. 7, in which the cloud of sexual harassment allegations that has dogged the Cain campaign was upgraded to full-on sexual assault. Rick Perry meanwhile, has dropped even further in the polls. Teh one-time frontrunner is now below Newt Gringrich, tying Ron Paul for fourth.
Disappointment with President Obama meanwhile, seems more to be an indication of national pessimism than a marked dissatisfaction with the commander-in-chief himself. When asked to describe the state of the U.S. in a word or phrase, Americans chose overwhelmingly negative terminology, with the most prevelant phrases being disappointing, wrong direction, downhill and need to work together. The general mood of the nation was painted as negative and uncertain, with another emphasis on unfairness.
Feelings of unfairness and dissatisfaction were also represented in questions about the Occupy Wall Street and Tea party movements. A whopping 50 percent of those polled said they strongly identified with or were a part of either of the populist movements, with roughly 25 percent calling themselves Tea Partiers and the other 25 percent supporting the Occupy Wall Street protestors.
With the 2012 presidential election one year away, and the all-important Iowa caucuses approaching fast, the new WSJ/NBC poll is indicative of great unrest in a country where the election is still anyone's game. The President is leading comfortably while the GOP remains candidate-less, but the race will likely become closer once a Republican presidential candidate is chosen.
© Copyright IBTimes 2023. All rights reserved.